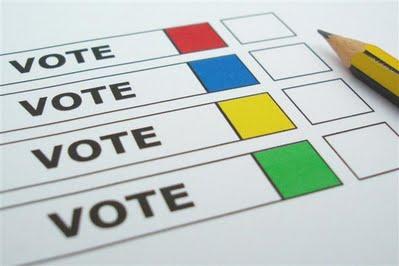 Election day for the at-large city council seat, vacated by Kwame Brown upon taking the position of Council Chairman, is tomorrow, April 26. If you talk to people about the at-large council election, many of them will tell you this is one of the most important council elections in DC's history. Whoever wins may well be the deciding vote on many critical issues.
Currently, the council is swarming with division—Chairman Kwame Brown is seen as being in big trouble, and Mayor Gray's office is muddled with difficulties which have yet to resolve themselves, and his influence over council matters is currently seen as sharply reduced.
Into this mess have stepped a number of candidates for the at-large council chair, including one on the council now, familiar faces, fresh faces and able candidates.
Here is a rundown of the frontrunner candidates in the campaign—Vincent Orange, Sekou Biddle, Patrick Mara and Bryan Weaver—from their professional history to their accomplishments and goals for the city's future. Please explore the candidate's own web pages for more comprehensive information on their specific platforms on key issues such as education reform, the city's budget, sustainable energy and green innovations, development, and government regulation and oversight. Whatever your decision, be sure to vote tomorrow and have a say in the future of this city.
Vincent Orange
Orange was defeated in the bid for Council Chairman by Kwame Brown in the previous election, but this longtime city servant has a great deal to offer the District. Trained as a CPA and attorney, Vincent spent years working for local businesses and non-profits including the National Children's Center, Inc. He served two previous terms on the City Council as Ward 5 Chairman, spearheading efforts to bring much-needed development to underserved communities. He is a champion of school reform, inner city development through partnerships with local business and sustainable energy innovations to reduce energy costs.
His history with the city, as well has his fundamental and holistic understanding of its needs, is what The Georgetowner believes this city needs right now.
For more information visit (OrangeAtLarge.com)[http://www.orangeatlarge.com/]
Sekou Biddle
Currently serving as interim councilor, Biddle was supported in his selection by the Democratic Committee to be interim councilman by Mayor Gray and Council Chairman Brown. He comes from the same school reform background that helped form Michelle Rhee and her successor as Chancellor Kaya Henderson. However you feel about his selection as interim council member, it's given him a leg up in terms of dealing with present council members, the kind of experience only Orange has.
He was born and raised in Columbia Heights and has spent his professional career devoted to improving public schools, through Teach for America, Knowledge Is Power Program (KIPP) DC, and other inner city teaching programs, with almost two decades of experience in urban public education reform.
Biddle is a member of the Council's committees on Housing and Workforce Development, Aging and Community Affairs and Libraries, Parks and Recreation.
For more information visit (SekouBiddle.com)[ http://sekoubiddle.com/atlarge/]
Patrick Mara
Mara, the lone Republican candidate, has been endorsed by the Washington Post as a strong candidate to offer an independent voice to the DC council.
Mara, with his young(ish) Irish charm, got some political seasoning when he ran against Carol Schwartz (a GOP stalwart, albeit of the liberal sort for years) and beat her in a primary, only to lose the general election to the newly minted Independent Michael Brown a few years back. We assume Mara has learned a thing or two from that experience, and he stayed in the fray, winning election to the school board. Mara considers himself socially liberal, having supported gay marriage rights and needle exchange programs (shed by the GOP), while being financially conservative.
Having begun his career on the staff of the US Senate Committee on Environment and Public Works, Mara is also a past contractor at the Department of Energy and NREL where he specialized in renewable energy and green transportation projects.
For more information visit (PatrickMara.com)[http://patrickmara.com/about/]
Bryan Weaver
Weaver is a longtime Ward 1 community activist who has spent plenty of time on his local Adams Morgan ANC board. He has worked on coalition building in local and national politics, promoting liveable and affordable urban neighborhoods, crime prevention, education, community and economic empowerment, affordable housing issues and nonprofit work geared toward youth leadership development. He is a true believer in the economic and cultural diversity of Washington D.C.
Weaver began got his start in politics as an aide to the late Senator Paul Wellstone and as an aide to Reverend Jesse Jackson.
For more information visit (BryanWeaverDC.com)[http://bryanweaverdc.com/]