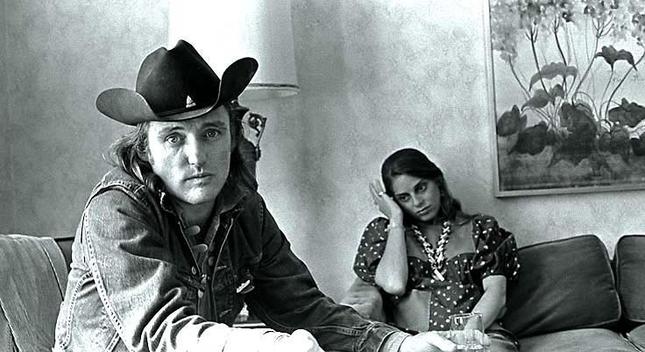 Dennis Hopper
Dennis Hopper, the iconoclastic Hollywood actor who died of prostate cancer last week at the age of 74, was famous for his groundbreaking, very un-mainstream '60s movie "Easy Rider," which he both directed and starred in.
One or two things you can say: Hopper's life was no easy ride, nor was he easy to work, live or fall in love with. Any number of mainstream Hollywood directors, ex-wives, shrinks and, no doubt, some drug dealers could attest to that.
Yet Hopper was a flaming original, a balls-out rebel, whose work as an actor, and certainly as the director of "Easy Rider," will outlive him and last.
James Dean, the actor Hopper emulated and admired the most, would have been 79 now, had he not flamed out in a fatal Porsche-at-100-miles-an-hour crash at 24, after completing "Giant," the last of only three major films, thus assuring him of not living the life of Dennis Hopper.
Hopper appeared with Dean in small parts in "Giant" and "Rebel Without a Cause." The latter, directed by another edgy sort, Nicholas Ray, was practically a nuthouse full of unconventional, rebellious and troubled young actors, sort of like a busload of Lindsay Lohans. There was the mercurial Sal Mineo, who played the suicidal outsider Plato, there was hep-cat Nick Adams, there was Natalie Wood, young and gorgeous, who became a big star but never quite grew up and died in a drowning accident in her 40s.
And there was Hopper, who played a gang kid, who outlived them all. (Who would've thunk that one?) Not that he didn't come close to running his life over a cliff several times. He acted in Westerns and became friends with John Wayne, who at one point saved his career.
Still, always plagued by drug addiction, he was skidding down again when he and Peter Fonda, a troubled son of his famous father Henry and sister to Jane, got up enough money (half a million) and made "Easy Rider," about a couple of low-life drug dealers on a journey through America in the counter-culture '60s. Fonda played a cat named Captain America, Hopper a guy named Billy (as in the Kid). They get gunned down by rednecks at the end, but not before roaring across small town America and New Orleans in their own rolling thunder, hooking up with a drunken, young lawyer played by Jack Nicholson and drugging out to acid and acid music.
It was a huge hit, and it made Hollywood feel stupid for doing stuff like "Doctor Doolittle." Hopper had a gift, it was plain to see, and he encouraged other young directors like Spielberg, Coppola and Scorsese. He made a legendary movie called "The Last Movie," which almost turned out to be prophecy, a Western in Peru in which the hero (Hopper) ends up crucified. This kind of hubris and spend-thrifting gets punished, and eventually, he landed in an asylum, skipping rehab altogether.
From then on, he was legend: he played psychos, creeps, drunks ("Speed," "Blue Velvet" and "Hoosiers") with elan and honesty, and revived his career yet again. His looney, whispery, dangerous voice became a little like unnerving muzak, his face got craggy and he became a beloved icon.
He was in the midst of the television series "Crash," playing a Hollywood type with his usual rough irony, when he contracted prostate cancer. True to form, even in the middle of dying, Hopper was also in the middle of a nasty divorce battle from the woman who will be forever known only as the last Mrs. Hopper.
But you haven't seen the last of Hopper. Get a bunch of his best (and worst) films for a weekend, and please include "Apocolypse Now" and a John Wayne Western. Afterward, you'll feel enlightened, hung over, in a daze, a little fuzzy. Afterward, have a boilermaker for Dennis the Menace.
'LITTLE BENNY' Harley
Go-go is pure Washington, D.C. music.
You better know that, because if you don't know that, you don't know nothing.
Ask former Mayor Anthony Williams, who, being from out of town, and wearing a bow tie, appeared not to be steeped in the lore and legend of D.C.'s go-go music and musicians, and was roundly dissed for it by those who were.
Now, the D.C. go-go scene lost one of its most vital and influential members with the death of Anthony Harley, 46, who was famously known by his nickname "Little Benny" as a trumpet player and singer.
Harley was a member of Rare Essence, one of the top go-go bands. If Chuck Brown is generally considered the god-father of the funk that is go-go, and endless rhythmic jamming style that keeps old hearts young, then Little Benny is the guy that deserves to stand alongside him, because he kept the music when Brown, now in his 70s, went on tour. In fact, Little Benny had played with Brown right before he died.
Harley was one of those classic D.C. musicians (like Buck Hill) who did other things to live, even working in electronics. He came out of Ballou High School and had a father who had a singing group, Frank Harley and the Bell Chords.
Most of all, he was a D.C. man, playing D.C.'s music all the time. You can listen to go-go on a CD all you want, but you won't get the rare essence of go-go unless you're there. For that, there's only memory.