The Washington International Horse Show
By
October 24, 2011
0
805
•
---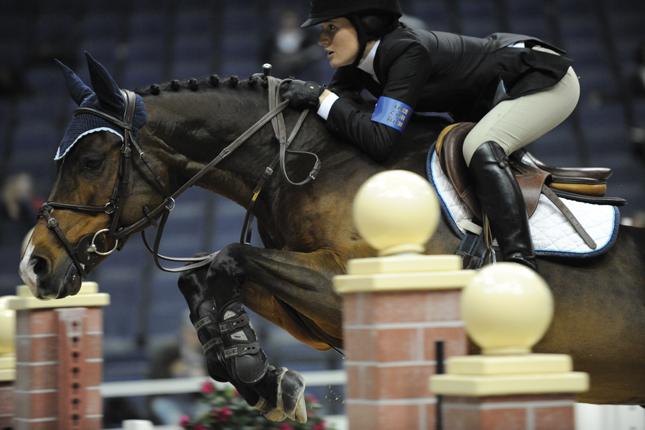 At this moment, equestrians worldwide eagerly await a letter bestowing the honor of competing in D.C.'s 52nd Annual Washington International Horse Show (WIHS). For many riders, the summons will not come. Yet, between October 26th and 31st, 500 elite-level riders will enter the ring at the Verizon Center, vying for prize and prominence.
The last indoor championship horse show to be held in a major metropolitan area each year, WIHS has been months in the making. Only recently has the deluge of numbers from qualifiers across the country ceased. Now it's up to show officials to invite only the best riders based upon points and money won in previous competition over the last 12 months.
As WIHS CEO Eric Straus puts it, "Many people want to come and compete at Washington, but you've got to earn your way in legitimately." This requires a tremendous commitment from the most skilled of riders.
"Most of our competitors will have competed at a minimum of 20 shows [in the last year] to try and get qualified," says Straus. "In most cases it's going to be closer to 30."
That's a remarkable amount of effort considering the horse show lasts six days, but WIHS is one of the last shows of its kind. Indoor metropolitan championships have been on the wane for years now, largely due to their failed business models — reliant upon wealthy patrons for funding. Additionally,
shows such as Madison Square Garden's National Horse Show are municipal in name only, with the actual event occurring in Syracuse, NY.
The fact that WIHS still manages to have a $7 million impact on the District each year, according to a report by Dr. Stephen Fuller of George Mason University, is a testament to Washington's enduring equestrian tradition. Straus raves, "It's vibrant. It's alive. D.C., Maryland, and Virginia have a huge equine competition population."
While the surrounding region serves as the backbone for the pool from which riders are pulled, WIHS attracts star riders from across the globe. Last year's competition included amateurs and professionals from five nations, some of whom were Pan American, World Cup, and Olympic champions.
Jockeys and their Horses
It's often easy to forget that there are two athletes in the ring at any given time. But like any sports star, a horse's abilities must be developed through rigorous training. While light work can start as early as age two, international rules stipulate that a horse cannot be entered in open international
competition until the age of six. This is done to protect the bones in a horse's knees, which, much like an infant's developing bone structures, are not fully fused until it has matured. However, with proper stable management and care, horses have been known to compete well into their 20's.
Rodrigo Pessoa, a talented Brazilian show jumper and Olympic gold medalist, was in attendance at last year's competition. Additionally, show jumper and Olympic gold medalist McLain Ward was a contender. Hailing from Brewster, NY, Ward and his horse Sapphire are known to steal the show. Just two weeks ago, they topped the richest prize money class in the United States, the $1 Million Grand Prix. Their partnership, says a pensive Straus, reveals how beautiful the bond between horse and rider can be.
The Main Events
Interested parties, keen on witnessing this spectacle firsthand, need not worry about lacking horse show experience. WIHS is bound to have something for everyone. Some basic information for the amateur observer is that WIHS features two types of jumping horses. Hunters emulate foxhunting
with their visually appealing routines and are judged subjectively on performance, style, manners, and way of going. Jumpers, on the other hand, are judged objectively based upon whether or not they jump clean (no faults), and time serves as the deciding factor, according to class specifications.
WIHS also features a class unique to the show, known as puissance, which means "strength" in French. Time is not a factor in this high jump class, where riders start with six fences in the ring. With each clear round, jumps are eliminated until two remain. One of these, the wall or vertical, goes as high as seven feet. WIHS holds the North American indoor record for rounding the wall, set in 1987, with an astonishing jump of nearly seven feet six inches. Feel and timing are critical, as neither horse nor rider can see over the wall. Puissance is a perilous class to compete in, but an exhilarating class to watch.
Barn Night
Aside from the actual competition, WIHS has various side events scheduled to take place throughout the week. Thursday night is Barn Night, which has become something of an institution in Washington.
The evening is designed to draw crowds from Pennsylvania, Maryland, and Virginia, as well as the District. Groups will compete in contests, including Best Costume, Best Banner, and Largest Group by state. Divided into several parts, the evening will feature a parade of group representatives, the Gamblers' Choice Class, a speed class for jumpers, and autograph signings and photo opportunities to bring things to a close.
Kid's Day
Saturday is Kids' Day, which will run from 10:00 a.m. – 2:00 p.m. Expect pony rides and plenty of games in addition to photo opportunities with the new WIHS mascot, Major, and characters from the newly revived television series, My Little Pony. That evening, WIHS will host the Caisson Platoon Therapeutic Riding Program.
The Charity
On top of being a world-class horse show, WIHS functions as a charity that has raised $2 million for its partners in its 52-year existence. This year, WIHS has partnered with the Tragedy Assistance
Program for Survivors (TAPS), Operation Silver Spurs, and ThanksUSA, while highlighting the Caisson Platoon. The platoon operates out of Fort Myer and performs honor burials at Arlington Cemetery. Moreover, their horses are used in equine-assisted therapy at the Walter Reed Army Medical Center in Bethesda. The work the platoon does with the nation's wounded warriors and amputees is under-publicized, according to Straus, and their exhibition is intended to promote their cause.
In 1961, Jackie Kennedy commissioned Tiffany's to create the President's Cup, the only equestrian cup with the President of the United States' seal. As the old guard, charged with protecting the President, the Caisson Platoon exhibition precedes the presentation of the President's Cup.
A military ticket program and the introduction of a new trophy, the Armed Forces Cup, are among WIHS's other charitable endeavors. WIHS has stated that, for every clear round over six-foot-three, a donation will be made to the three military charities.
Vendors
For those still feeling left out, there will be plenty of vendors hawking their wares on site. Saratoga Sadderly & Outback Survival Gear specializes in Australian oilskin coats and Pikeur. Stablecloth will be supplying custom riding apparel, and Vogel Custom Boots offers made-to-measure boots and shoes. Vandermoore Jewelry is among the higher-end vendors available, and for those with a sweet tooth check out Lady Ann Candies. These are just a sample of the medley of vendors that are sure to be present throughout the week.
The WIHS is sure to be a success, in large part due to the individuals helming it and their dedication to the District. Said WIHS Director of Community Relations, Diana Hosford, "What I bring to the show is different than what [WIHS horse experts] bring to the show, but we're basically trying to create something that the equestrian world will love and that the local community will embrace."
WIHS President Juliet Reid, who is responsible for assembling the team that includes Straus and Hosford, has lived in Georgetown with her family for 10 years. "I assumed the role of President last year because my daughter rides," said Reid, "Washington is our home, and while we travel to shows all over the country, Washington is very special."
Lifelong equestrians like Straus do not shy away from promoting their sport in and around Washington. Having grown up in Texas, Straus recalls traveling to Middleburg and the Plains to purchase horses. While he no longer rides, he still officiates and urges: "If you're a young person or an adult who wants to start, you need to find a barn that specializes in beginners. Because everyone needs a good foundation. There is a multitude of barns in the Maryland and Virginia area that provides that."
If you're still not convinced that the Washington area is an equestrian mecca, visit the Verizon Center during the Washington International Horse Show. As Reid put it, "Something magical happens for six days in downtown D.C. at the end of October — Streets become stables, and the country comes to the city."