Spring 2010 Performance Preview
By
November 3, 2011
0
700
•
---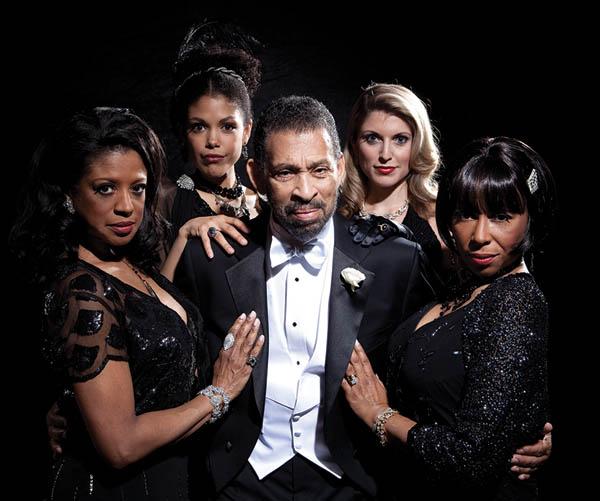 What does Washington's performing arts scene have in store for the first spring of the decade? Our resident theater experts weigh in with their top picks.
Duke Ellington's "Sophisticated Ladies," Arena Stage at Lincoln Theatre
Maurice Hines, a legendary Broadway song and dance performer stars in and choreographs this production, which is a pure, atmospheric act of serendipity of the man (Duke Ellington), the place (The Lincoln Theatre, where Ellington first performed), and show (a stylish, spectacular showcase of the "beyond category" music of an American master and legend). (1215 U St., April 9 to May 30.)
"Voices from a Changing Middle East Festival," Theater J
The third installment of the "Voices from a Changing Middle East Festival" is being staged by Theater J, this one focusing on "Voice of the Woman," with six one-night events by female writers, including Hadar Galron's "Mikveh." For more information, go to www.theaterj.org. (1529 16th St., May 5 to June 7.)
"American Buffalo" and "Reasons To Be Pretty," Studio Theatre
Two new productions of plays by two top American playwrights. "American Buffalo," David Mamet's classic, blunt, tough-talk tale of three Chicago grifters and thieves, will be directed by Joy Zinoman, the Studio's founder and outgoing artistic director, but it also has the prime-time actor Ed Gero heading its cast. (May 5 to June 13). Neil Labute's "Reasons to Be Pretty" is the third play in which the acerbic master observer of contemporary American life takes our fascination with how people look or don't, the others being "The Shape of Things" and the hugely successful "Fat Pig," all performed at Studio. (1501 14th St., March 24 to May 2.)
The Terrence McNally "Nights At The Opera" Festival, Kennedy Center
Three of McNally's plays dealing with opera, including his latest, "Golden Age," a bristling back-stage drama about the premiere of Bellini's "I Puritani." (Through April 4.) There's also "The Lisbon Traviata," about two men's obsession with a Maria Callas recording of "La Traviata." (Through April 11.) Finally, there's a play about Callas herself in "Master Class," starring Tyne Daly as Callas, no slouch in diva roles herself. (March 25 to April 8.) Visit www.kennedy-center.org for details on dates, times and theaters.
"Thurgood," Kennedy Center
A new play about the pioneering civil rights giant and Supreme Court justice Thurgood Marshall, starring Laurence Fishburne. The production was written by George Stevens, Jr., founder of the American Film Institute, film and television director, producer of the Kennedy Center honors, Georgetown resident, and author and son of Oscar-winning director George ("Shane", "A Place in the Sun") Stevens. (June 1 to 20.)
The Mary Lou Williams Women in Jazz Festival, Kennedy Center
It's the 15th time around for this landmark festival, with three nights of jazz focusing on women artists and musicians May 20-22 on the occasion of Williams' 100th anniversary year of her birth. (May 20 to 22.)
"Clybourne Park," Woolly Mammoth Theatre
The original and caustically sharp voice of playwright Bruce Norris is heard again in "Clybourne Park", where Norris' work has been performed before. This time, Artistic Director Howie Shalwitz directs this off-Broadway hit, in which a Chicago neighborhood suffers demographic and ethnic explosions several times. (Through April 11.)
"Hamlet," Washington National Opera at The Kennedy Center
That would be the opera version, composed by Ambroise Thomas. "Hamlet" will close out the 2009-2010 WNO season, which includes a famous Ophelia mad scene, as it should. A Kansas City Lyric Opera production in French. (641 D St., May 19 to June 4.)
"Fiddler on the Roof," National Theatre
The Jerome Robbins-created musical about a shtetl milkman named Tevye who cares about tradition has by now become a tradition itself, and this time it's headed up by playwright-actor Harvey Fierstein ("Torch Song Trilogy"), who carries on a play-long debate with Jehovah, mostly in song. On the other hand, it's a show that still works, it still has something to say (and sing) to contemporary audiences and it will do so. (1321 Pennsylvania Ave., April 13 to May 9.)
"Anoushka Shankar," Sixth and I Historic Synagogue
The Washington Performing Arts Society is known for the world-wide, top-drawer musical and dance talent and groups that it brings to places like the Kennedy Center and the Music Center at Strathmore, but its footprints can also be increasingly found in smaller venues. This time it's the downtown Sixth and I Synagogue, where the accomplished and high-pedigree sitar player and composer Anoushka Shankar, daughter of the renowned Ravi Shankar, will perform "Sudakshini," a musical journey from North and South India with richly varied musical influences and sounds. (600 Eye St., April 17.) – Gary Tischler
—
Laura Benanti, Kennedy Center
Let her entertain you. Benanti won a Tony for her role as Louise in the most recent Broadway revival of "Gypsy," and she's part of the excellent Barbara Cook's "Spotlight" series at the Kennedy Center. (Terrace Theatre, April 30.)
"Sycamore Trees," Signature Theatre
Ricky Ian Gordon is one of the most interesting and prolific contemporary composers (he's worked in genres from opera to musicals to ballet), and he's a recipient of Signature Theatre's American Musical Voices Project Award. His new work for the company, "Sycamore Trees," has highly personal and bittersweet roots, as it follows his family from the Bronx to the suburbs in a search of a better life. (4200 Campbell Ave., Arlington, May 18 to June 20.)
"Genius3," The Washington Ballet at Sidney Harman Hall
TWB's "Genius3" program promises to live up to its name. Twyla Tharp's giddy "Push Comes to Shove" and George Balanchine's coolly modernist masterwork "The Four Temperaments" are about as far from each other in style as you can get, but each is a knockout in its own way. Add Mark Morris's "Pacific" and Nacho Duato's "Cor Perdut" and you've got the makings of a terrific evening of dance. (610 F St., May 19 to 23,)
"Mrs. Warren's Profession," Shakespeare Theatre Company at Sidney Harman Hall
Morality and money were two of George Bernard Shaw's favorite triggers for drama, and the two clash in high style in "Mrs. Warren's Profession." The Shakespeare Theatre mounts the story of a young woman who discovers her education was paid for by her mother's ill-gotten gains, and it's a work that still has plenty to say about the choices we make — and their price. (610 F St., June 8 to July 11.)
"A Man of No Importance," Keegan Theatre
You'll enjoy this chamber-sized musical, based on the Albert Finney film, about a Dublin bus driver who yearns for beauty in both romance and the theatre. The show should be a good fit for the Irish-focused Keegan Theatre. (1742 Church St., June 10 to July 11.)
"Tempest," Folger Consort
The stars have aligned for this production, a combination of Matthew Locke's 17th-century music for the play with dramatic selections performed by actors, including Sir Derek Jacobi and Lynn Redgrave. Countertenor David Daniels is part of the ensemble. (Lutheran Church of the Reformation, 212 East Capitol St. N.E., June 10; Music Center at Strathmore, 5301 Tuckerman Lane, Bethesda, June 11.)
"Zaide" and "A Midsummer Night's Dream," The Barns at Wolf Trap
The Wolf Trap Opera Company has a well-deserved reputation as the place to catch young American singers at the start of great careers, and the company's choice of repertory always offers surprises. This year's rarity is Mozart's little-heard "Zaide" (with its shimmering aria, "Ruhe sanft, mein holdes Leben"), and it's got a gimmick: audiences will choose an ending for this unfinished work. Britten's "A Midsummer Night's Dream" received a beautiful and hypnotic staging a number of years ago, and we can look forward to the company's new production this summer.
(1645 Trap Road, Vienna; "Zaide": June 11, 13, 15, 19; "Dream": August 13, 15, 17.)
"Babes in Arms," American Century Theatre
"Hey, kids, let's put on a show!" "Babes in Arms" has one of Rodgers and Hart's best scores ("Where or When," "My Funny Valentine," and "Johnny One Note" are among its many gems), but this 1937 tale of youngsters with show-biz dreams is rarely staged. American Century Theatre offers a series of concert performances of the classic musical — and they're free. (2700 South Lang St., Arlington, June 24 to 27.) – Robert Sacheli