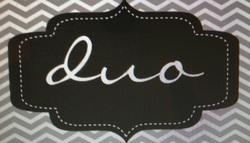 Georgetown's newest addition of contemporary women's clothing, duo (with a little "D"), will celebrate its grand opening this Saturday, February 11. A sibling venture—as Georgetown is becoming known for, with the Cupcake Sisters and the Pie Sisters, among other family-owned and operated businesses in the area—duo is the work of sisters Kyle and Elizabeth Barber, who promise to bring affordable, contemporary fashion to the neighborhood.
The newest boutique in town features upscale, designer apparel and one-of-a-kind hand-crafted accessories, catering to the trendy fashion sense of the District and offering a mix of established and up-and-coming designers, including Greylin, Ali Ro, Amanda Uprichard, Addison Story and more.
"We also have Cynthia Steffe's new line Cluny, that's just been released through Neeman Marcus," says Elizabeth. "That's one of our favorites."
"Addison Story isn't around as much either, but I love it," adds Kyle. "It's kind of whimsical, with flowy tops and mixes of silk and fun patterns. Stuff that be worn to work, but also out to happy hour."
Duo is looking to be a wonderful addition to Georgetown's retail district, appealing to young professionals, who want to wear designer clothes without having to pay typical designer prices. The store's price points are generally between $150 and $250, but there are plenty of items around $50.
The shop will also carry Kyle's custom designed, handmade jewelry. "I started making jewelry years ago for family and friends, and people loved it," Kyle says. "And I was tired of looking around and seeing people wearing the same stuff, that was also way more expensive than I thought it was worth. My jewelry definitely has a bohemian edge—it's a combination of designs and materials. I love to find vintage earrings and incorporate them into more modern materials. To me—and everyone else has been very excited about it, too—it's affordable and totally unique. You'll never see anyone else wearing it."
One line of Kyle's jewelry will be putting a portion of all proceeds toward charity.
Kyle and Elizabeth have been working toward duo for a while now. Kyle has her Masters in education and has always been rather crafty. The store is something the sisters have always wanted to do. "And now seemed like a good time to join our interests together," says Elizabeth.
Join duo on Saturday for champagne, mimosas and hor d'oeuvres all day, from 10am to 7pm, and welcome them to the neighborhood. Duo is located at 1624 Wisconsin Ave., just next door to Urban Chic.
For more information visit duoDC.com