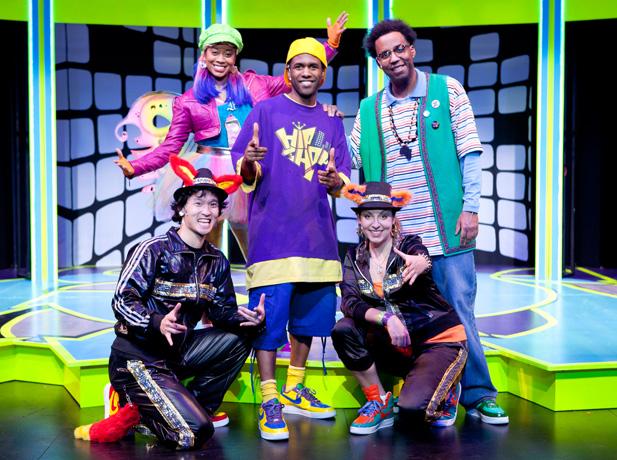 Fall—inevitably, surprisingly—is coming. Do you want to know how we can tell?
No, it is not all the training camp stories about the Redskins, tres banality. It's not all the back-to-school commercials. It's fall preview time. As in, it's August we've got to put together a fall preview issue (or two).
It's that time of year when the media which cover such things notice that they've run out of comic book movies and that "The Addams Family" has left town. It's almost September, which must mean that fall is coming, which must mean that its fall arts—performance, visual, and many other categories—preview time.
So, to that end, this is the Georgetowner fall preview issue—the first of two—which, in addition to the visual side of the arts, concerns itself with Washington area theater.
Back in the day, theaters and performing arts venues used to do what everybody else did: they closed pretty much for the whole month of August which meant the end of summer and that fall was coming. People went to the beach, or to the Hamptons or on an educational trip to the Galapagos Islands. They packed their white navy jackets and unfiltered Gitanes and went away.
Nowadays, the performance arts and theater seasons do not fold themselves into the four seasons as neatly. Nowadays, it's basically one long season with not much let-up. We noticed this trend, especially this year. Companies are starting their seasons earlier and earlier so that you can't just leave town for fear of missing something. And with theater, there is no premium channel to catch up.
We're giving you a peek on the theater head-starts. Signature Theater has already started its season with a production of "The Best Little Whorehouse In Texas," a terrific musical that mixes sex with politics and big boots and hats, a revival of a musical that refuses to date. In addition, we'll take a closer look at what's becoming a godsend for Washington theatergoers and bard acolytes, the annual Shakespeare Free For All, which this year gives us a production of the ironically titled "All's Well That Ends Well," in which a smart, beautiful young girl is smitten with a prince who's blind to her charms because she's not to the manor born, among other sundry things. It's at the Harman Theater until Sept. 2. Tickets? They're free.
Last, but not least, we have among us the presence of two larger-than-life, by-God big personality and big gift women—the one, being the brimming with magnetism and unforgettable voice actress Kathleen Turner, and the other, being the brimming with sharp, pointed and passionate opinion and humor political columnist Molly Ivins. On stage at Arena, they are one and the same in "Red Hot Patriot: The Kick Ass Wit of Molly Ivins," a play by Margaret Engel, in which Turner manages the not inconsiderable feat of bringing Ivy, who died of cancer several years ago, back to life. "Patriot" runs through Oct. 28.
We had occasion to talk with Turner on the phone and to witness her in action at a special, full-house event at the Newseum that gave us an opportunity to give you both a preview and a flashback.
In addition, we've selected as many theaters—and there are many theaters here—and previewed their season-openers which occur late this month, through September.
Look carefully at this list and see what you like, choose and go. Go to all of them, if you can. Everything you will see, if you let it, will stay in your mind forever, because really, that's the way you remember an evening or afternoon at the theater. There is no adequate video, no rerun, no recreation, and if you go back, well, it will not be the same. That's the special part of plays in performance, it's why they make you shut off your smart phones, and open up your heart and mind. No need to multi-task. Let the words wash over you like fresh, clean water.
Plays, it should be noted over and over again, are not movies. If you see a movie over again, it will be the same thing: blue people in "Avatar," people who get the blues in a Woody Allen movie, the sharks in the "Deep Blue Sea."
Looking at the plays that are being performed, we can say that we've seen "Whorehouse" at least once on stage with Ann Margaret in the role of a madam, and the movie version featuring—Lord, have mercy—Dolly Parton and Burt Reynolds. We know for darn sure that the Signature version won't be anything like either. We've seen "All's Well That Ends Well" a number of times and as happens so often with Shakespeare, each time is different, something emerges that was lost before, and someone, a Marsha Mason here, a Philip Goodwin there, brings out a different queen, a different Parolles than I saw in Teresa Wright or Floyd King.
Looking forward to things on that list, we know someone and some thing some word or whisper will surprise you, even in a familiar way. Perhaps they'll do the Texas two-steps in three steps. Or one of playwright Annie Walker's (she has two plays upcoming in town) characters will move in an unexpected way. Look: there'll be a Hamlet from the Globe, wrestlers, Russians, a strangely silent Dr. Hyde, Scots in Iraq, a toilet seat made of gold, World War II, modern super heroes, a French balladeer. On and on it goes.
These are our players, and our plays, and directors and theaters and the hours we will spend with them. Get out and enjoy.
Kennedy Center—2012 Page to Stage Festival, Sept. 1-3. It's the 11th annual such festival, in which theater artists show off their upcoming wares in various stages of development. It's a three-day event of free readings, open rehearsals of plays and musicals developed by local, regional and national playwrights, librettists, and composers.
War Horse, Oct. 23 to Nov. 11, in the Opera House. The Broadway play about a boy and his horse and World War 1, which won the Tony Award for best play and features stirring, magical life-size puppets.
The Druid Theatre Company—Oct. 17 to 20, "Plays By Tom Murphy." One of the most admired and critically acclaimed Irish theatre companies return with "Conversations on a Homecoming," "A Whistle in the Dark" and "Famine" by Tom Murphy, one of today's best playwrights.
Round House Theatre Bethesda—4545 East West Highway. Season opener: "Bengal Tiger at the Baghdad Zoo," Sept. 5-30. A new play by Rajiv Joseph, in what is a growing literature of our Middle Eastern wars (see "Black Watch"). It is directed by Jeremy Skidmore and involves "the intertwined lives of a quick-witted tiger, two homesick U.S. marines and a troubled Iraqi gardener as they roam the streets of war-torn Baghdad in search of meaning, redemption and a toilet seat made of gold. A Broadway hit and Pulitzer Prize finalist.
Shakespeare Theatre Company—Sidney Harman Hall, 610 F St., NW. "Black Watch," Sept. 19 to Oct. 7. A special event, this riveting, blood-pounding, energetically choreographed play about a group of restless, tough members of an elite Scottish unit in Iraq sold out its run at Harman last year and remains a must-see.
At the Lansburgh Theatre—450 7th St., NW. The Shakespeare Theatre Company begins its season with "The Government Inspector," a satiric comedy by Nikolai Gogol, the first Russian play to be a part of an STC season, directed by Michael Kahn, with an all-star cast of Washington actors, including Floyd King, Nancy Robinette, David Sabin and Sarah Marshall. Sept. 13 to Oct. 28.
Forum Theatre—Roundhouse Silver Spring, 8641 Colesville Road, Silver Spring, Md. Season opener: "Holly Down In Heaven" by Kara Lee Corthron, a story about a 15-year-old born again Christian who becomes pregnant and banishes herself to her basement. Sept. 27 to Oct. 20.
Olney Theatre Center—2001 Olney-Sandy Spring Road, Olney, Md. "Over the Tavern" by Tom Dudzick, directed by John Going. The line: "Sometimes, a boy just wants to have a little fun." Sept. 26 to Oct. 21.
Theater Alliance—H Street Playhouse, 1635 H St., NE—opener: "Reals," a hip, tough new play about superhero wannabes in a world premiere by Gwydion Suilebhan, directed by Shirley Serotsky, Aug. 27 to Sept. 16. (Watch also for Christmas co-production with Hub Theatre "Wonderful Life" and Alliance's own "Black Nativity.")
Spooky Action Theater—1810 16th St., NW. Season opener: "Reckless" by noted playwright Craig Lucas involving Christmas Eve, "a cheery suburban mom thrust into a a looking glass journey to a place where it is always Christmas Eve." Oct. 4 to 28.
Woolly Mammoth—641 D St., NW. "The Elaborate Entrance of Chad Deity" by Krisoffer Diaz, directed by John Vreek, kicks off Woolly's Season 33, "My Roots, My Revolution." Diaz's play explores the volatile, testosterone world of professional wrestling with a fall guy named Macedonio "Mace" Guerra and the charismatic champ Chad Deity. Sept. 3 to 30.
Keegan Theatre—1742 Church St., NW. "Osage County" through Sept. 2. Traci Letts's Pulitzer Prize-winning and quite savage family saga. Beginning Sept. 21: "A Couple of Blaguards," the McCourt (Frank and Malachy) brothers' entry into wonderful Irish blarney and remembering.
Metro Stage—1201 North Royal St., Alexandria, Va. "Jacques Brel is Alive and Well and Living in Paris," directed by Serge Seiden, Aug. 30 to Oct. 21. The area's liveliest cabaret and musical stage company does the Frenchman who embodied the spirit of cabaret.
Synetic Theatre at Crystal City, 1800 S. Bell St., Arlington, Va. Opener: "Jekyll and Hyde," Sept. 20 to Oct. 21. The gifted, mostly silent movement theater group, headed by Paata and Irina Tsikurishvili, takes on Robert Louis Stevenson's classic horror story of conflicted identity in its own inimitable fashion. Look also for Jules Verne's "A Trip to the Moon" on Dec. 6.
Signature Theatre—4200 Campbell Avenue, Arlington, Va. "The Best Little Whorehouse in Texas" is a tried and true musical about social shenanigans and political bull in a Texas town where politics and sex get together in a little house but not on the prairie. Directed with new verve by Eric Schaeffer, based on a true story, a Broadway hit musical and a movie, it runs through Oct. 7. "Dying City," a contemporary new drama about Americans and Iraq, by Christopher Shinn; Oct. 2 to Nov. 25.
Theater J—at the Jewish Community Center, 1529 16th St., NW. Opener: "Body Awareness" by the rising young playwright Annie Baker, whose "Circle Mirror Transformation" was a big hit at the Studio Theater two seasons ago. It is part of Theater J's "Beginnings, Belonging, Becoming and Breaking Through" season and is directed by Eleanor Holdridge; Aug. 25 to Sept. 23. Arriving on Nov. 8 is "Woody Sez: The Life and Music of Woody Guthrie."
Ford's Theatre—514 10th St., NW. Season opener, "Fly" by Trey Ellis and Ricardo Khan and directed by Ricardo Kahn, is the story of four African American officers and fighter pilots in World War II, based on the experience of the famed Tuskeege Airmen; Sept. 21 to Oct. 21. The season also includes the traditional "A Christmas Carol," "Our Town" and a co-production with Signature Theater, "Hello Dolly."
Folger Theatre—in the Folger Elizabethan Theatre at 201 East Capitol St., SE Its opener is direct from London and a stripped down, mean and lean version of "Hamlet" from Shakespeare's Globe Theatre, directed by Dominic Dromgoole and Bill Buckhurst; Sept. 8 to 22.
The Studio Theatre—1501 14th St., NW. Opener: "Invisible Man" (begins Sept. 5), adapted by Oren Jacoby, based on the landmark, lyrical novel of identity in America by the great African American novelist Ralph Ellison ("Juneteenth"), co-produced with the Huntington Theatre Company. An upcoming highlight: "The Aliens" by Annie Baker (See "Body Awareness" at Theater J), Nov. 14.
Arena Stage—1101 6th St., SW. "One Night With Janis Joplin", written and directed by Randy Johnson, starring Mary Bridget Davies; Sept. 28 to Nov. 4. Upcomer to watch: "My Fair Lady," directed by artistic director Molly Smith; Nov. 2.
Gala Hispanic—3333 14th St., NW—"In Spite of Love" from Spain's Golden Age, a romantic comedy about reluctant lovers by Agustin Moreto, directed by Hugo Medrano; Sept. 13 to Oct. 7.
Teatro de la Luna—Gunston Arts Center, 2700 South Lang Street, Arlington, Va.—The 15th International Festival of Hispanic Theater, the best of the Americas and Spain; Oct. 9 to Nov. 17.
CHILDREN'S THEATER
Adventure Theater—7300 MacArthur Blvd, Glen Echo, Md.—"If You Give a Moose a Muffin," based on the popular series of books by Laura Numeroff, starring Michael Russotto; through Sept. 2. Beginning Sept. 21, "Big", the much-anticipated Theater for Young People-Adventure Theater musical production of the popular Tom Hanks comedy, with a book by John Weidman, music by David Shire and lyrics by Richard Maltby, Jr., and directed by artistic director Michael Bobbitt; through Oct. 28.
Imagination Stage, 4908 Auburn Avenue, Bethesda, Md. "P. Nokio: A Hip-Hop Musical" marks the return of a hugely popular musical, written by hip-hop theatre artist and playwright Psalmayene 24, a show that updates the Pinocchio story with a brand new and flamboyant beat; Sept. 29 to Oct. 18. It was a world premiere at Imagination Stage and was recommended by the Helen Hayes Award. Upcoming on Nov. 14: "Seussical."