Georgetown University Dedicates Regents Hall
By
October 15, 2012
0
1091
•
---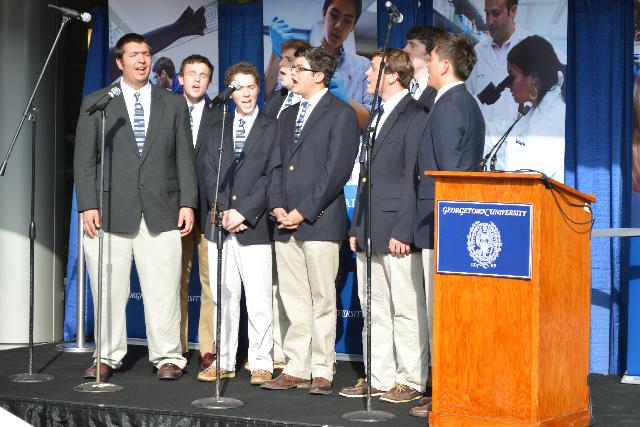 Georgetown University administrators, alumni and others gathered Oct. 4 on the fourth floor of Regents Hall to dedicate the new science building. The five-story, 154,000-square-foot facility was finished at the end of this summer. The new building is the home of Georgetown's biology, chemistry and physics departments. It also houses numerous student lounges and a café.
The building is named for the university's board of regents, a group of 100 individuals who disperse information about the university and build upon both new and existing relationships to galvanize support for Georgetown University.
The ceremony opened with a performance by the Georgetown Chimes, a men's a capella group.
During his invocation, Rev. Kevin O'Brien, S.J., the university's vice president of mission of ministry, called for a moment of silence in remembrance of the Whiting-Turner employee killed during the construction of the building in March 2011.
University president John DeGioia welcomed attendees, and Chester Gillis, dean of Georgetown College, remarked on the new building. "Georgetown is serious about science," Gillis said.
Jane Dammen McAuliffe, a former dean of Georgetown College and the current president of Bryn Mawr College, remarked on her efforts as dean to make the building a reality.
The new building is the most environmentally friendly structure on campus. The university is seeking its first LEED Gold certification.
A reception followed the ceremony with catering by Susan Gage. Laboratory beakers and multicolored cocktails were served in keeping with the spirit of the dedication of the new science building.