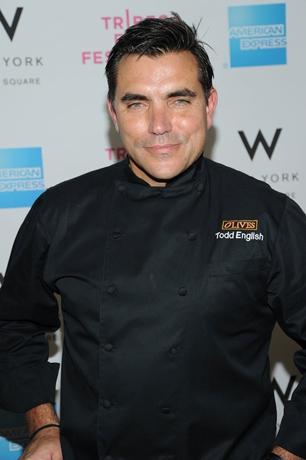 Chris Watson will be chef/owner of a new Italian restaurant Ovvio, slated to open in Merrifield at the new Halstead Square apartment project (outdoor movie pavilion, fire pits, virtual yoga and golf), near Dunn Loring Metro. Most recently, Chris was chef de cuisine at BRABO by Robert Wiedmaier at the Lorien Hotel & Spa in Old Town, Alexandria. Ovvio means ?obvious? in Italian, leaning in to what Chris loves to cook. An opening is planned by end of summer.
Chef Todd English returns to DC to open a Mexican restaurant called MXDC, with partner Aziz Safi who owns Panache in DC and Tysons Corner. Juan Carlos Pavlovich will be chef de cuisine. He worked for Todd at Todd English P.U.B. in Las Vegas. MXDC will open at the former Galileo III location near 14th & F Streets, NW. Todd?s last venture in DC was Olives at the corner of 16th & K Streets, NW, where P.J. Clarke?s is now. A June opening is planned.
Chef & GM Update: Amy Brandwein is currently consulting for the Italian Embassy while she is in planning mode for her next venture. Max Sagastizado is the general manager for the new Mi Cocina restaurant in Chevy Chase. He had worked at Ruth?s Chris Steakhouse in Annapolis and Zola in DC. Billy Klein is now executive chef and partner at Pulpo in Cleveland Park. He was at Caf? Saint-Ex. Brian Nance is the chef at C.F. Folks in downtown DC, since George Vetsch left. It?s now a Loews Madison Hotel and The Federalist?s chef, Harper McClure, has taken the executive sous chef position at Marcel?s in DC?s West End. The hotel?s former Executive Chef Tim Recher is now heading the kitchens of the Army Navy Country Club.
Congratulations to Tortilla Coast, celebrating 25 years on Capitol Hill. Oh, if those walls and bar top could talk. There will be a variety of ways to mark the occasion, June 19-23, including 1988 happy hour prices and celebrity guest bartenders. It wouldn?t hurt to know a little 1988 trivia too.
Quick Hits: Smashburger is planning a mid-July opening in Dupont Circle. The owners of Cantina Mexicana have opened a second location just off of Columbia Pike in what used to be a Se?or Pan. The original store is on 23rd Street in Crystal City. In addition to opening its second location, Beau Thai is also making improvements to its original location. Alba Osteria will be the name of the Mt. Vernon Triangle restaurant to be opened by summer?s end by Hakan Ilhan and Al Dente chef, Roberto Donna. Andy Shallal of Busboys & Poets has signed a lease to open a restaurant at Takoma Central, a mixed-use development located in Takoma (DC) at Carroll and Maple Streets, NW near the border with Takoma Park, Md. It will be his fifth Busboys & Poets. Brasserie Beck?s former GM, Thor Cheston, is opening a new brewpub in the Shaw neighborhood this October. The casual restaurant and brewery called Right Proper will feature fresh, inexpensive food and ?yeast-forward? beer from head brewer Nathan Zeender.
Greg Kahn and his father, Donald opened Mama Lucia?s in Reston. Now they plan to open Gregorio?s Trattoria, where Umberto?s was in the Cabin John Shopping Center. They are aiming to open by summer?s end, and to change the name of the Reston restaurant to Gregorio?s as well (yes that would be named for the owner?s Italian alter ego).
Penn Quarter News: Shophouse, from the folks who brought us Chipotle, signed a lease at 710 7th St., NW. FroZenYo plans to open right next door at 712 7th St. Red Apron Butcher at 709 D St. NW, in Penn Quarter slated to open this month. Danny Meyer?s Shake Shack plans its second store in the Spy Museum at 800 F St., NW. Lime Fresh Mexican Grill plans to open where Potbelly?s was. Jackpot opens in the lower level at 726 7th St., NW from the folks that brought us Rocket Bar and Iron Horse. A fall opening is planned.
Dino Tapper has partnered with old friends, brothers Ari and Micah Wilder, to open Fed, a modern American restaurant on 18th St. NW in Adams Morgan. It?s a twofer: Fed Restaurant on street level and Federal Lounge on lower level. Scott Perry is the chef there, formerly of Pulpo in Cleveland Park. Dino owns Pulpo as well as Floriana, so expect a new drink menu at Pulpo, care of mixologists Ari and Micah. Federal?s ?kitchen bar? will create cocktails with seasonal ingredients from the Wilder brothers.
Openings Update: Baltimore-based Attman?s Deli now plans to open this month at Cabin John Shopping Center in Potomac, Md. Instead of renovating Celebrity Deli, Marc Attman decided to gut the space completely, hence the (worthwhile) delay. Tom Yum District also plans to open this month in Rosslyn, from the folks who brought you Bangkok Joe?s. Mussel Bar & Grille will open in Ballston at 800 N. Glebe Rd. It will be Robert Wiedmaier?s third Mussel Bar, as the first is in Bethesda and the second in Atlantic City?s Revel Hotel. Yes, there will be a motorcycle hanging above the bar in this one too. A summer opening is scheduled.
Benson Fischer, co-founder of Yummy Yogurt, has recently opened Benny?s Bar & Grill at the Cabin John Center as well with Chef Andrew LaPorta at the helm. The 240-seat space features American food with 1940s d?cor. It is not named for Benson, but for his late grandfather Benny Bortnick, a boxer, wrestler, referee and restaurateur who lived in the District.
*Linda Roth is president of Linda Roth Associates, a public & marketing firm that specializes in the hospitality industry, providing creative connections through media relations, marketing initiatives, community outreach and special events. [www.lindarothpr.com](http://www.lindarothpr.com)*