Get Shuckin'! Oyster Festivals Around the Region
By
August 15, 2013
0
991
•
---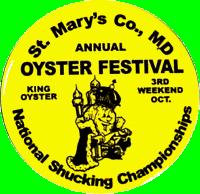 Oysters occupy a unique intersection on the cultural and culinary map. The salty little pearls bring us together, bridging the gap between working class bar fare and high-society gastronomic opulence. As far back as ancient Rome, where an oyster would fetch its weight in gold, the seduction of these bivalve delicacies is proven to be irresistible to coastal dwellers. And for a Washingtonians, it's in the blood.
Going back to the turn of the 20th century, Washington had more than 150 oyster bars, which were frequented by all members of society. Fueled by the oyster populations of the Chesapeake Bay, it is part of our city's cultural heritage. Unfortunately, Chesapeake Bay oysters had dwindled to about one percent of their population from the late 19th century due to overfishing, bay pollution and disease. Thankfully, due to population restoration efforts, sanctuary reefs have been set up to redeem the species, and more efforts are in the works. The reefs, set up almost a decade ago, are now home to over 180 million native oysters.
Washington is full of places to indulge oyster cravings, from Old Ebbitt Grill—where tickets for their Annual Oyster Riot last year sold out in ten minutes flat—to Hank's Oyster Bar, which offers a half-priced raw bar every night from 10 p.m. to midnight. Now is the time of year that the surrounding area holds its most popular oyster festivals. From wine and beer pairings, to barbecuing and shucking contests, there are plenty of ways to enjoy oysters in the next few weeks. So
don't waste these prime "R" months, and make sure to catch these seaside festivals for all the shucking oysters you could ask for.
Old Ebbitt Grill's Oyster Riot
Washington, D.C.
November 16 & 17
Back for the 18th consecutive year, the Oyster Riot is one of Washington's most anticipated annual events. Traditionally held on the Friday and Saturday before Thanksgiving, each night sees nearly 1,000 guests devour tens of thousands of oysters, paired with the gold medal winners of the International Wines for Oysters Competition, which selects the best "oyster pairing" wines from over 200 entries from vineyards worldwide. And, of course, there will be some righteous tunes.
The Saturday afternoon Matinee Riot, a recent addition to the festival, will be from noon to 3 p.m. on Saturday, with a portion of proceeds benefiting the oyster restoration efforts of the Oyster Recovery Partnership. The music won't be quite as riotous as the evening before, so those who want to slurp and taste without the usual cacophony of sounds are free to do so. For more information or to purchase tickets, visit www.Ebbitt.com.
Urbanna Oyster Festival
Urbanna, Va.
November 2 & 3
The official oyster festival of the Commonwealth, the Urbanna Oyster Festival is a celebration of the town of Urbanna and the oyster's role in its economy. The festival has grown steadily over the years, and so have the crowds, which no approach nearly 75,000 for the two-day event. Food and craft booths number well over 100, and the Oyster Festival Parade has become the focal point of the weekend. With numerous marching bands, all the bizarre oyster
costumes you could dream of, and the crowning of a "Queen" and "Little Miss Spat" (a "spat" is a baby oyster), this is an annual tradition that cannot be missed. Let's not forget the food. Over fifty vendors will be there to deliver the goods, in ample supply and in a variety of presentations: raw, roasted, fried, smoked, steamed, in fritters, in a stew and everything in between. For more information, visit www.UrbannaOysterFestival.com.
St. Mary's County Oyster Festival
Leonardtown, Md.
October 20 & 21
On the weekend of October 20 the St. Mary's County fairgrounds, just an hour and a half outside of Washington, turn into an oyster lover's Mecca. Among the annual festival events, there is the National Oyster Cook-Off, where nine finalists from all over the country compete for the $1,000 prize. There is also the National Oyster Shucking Championship Contest, held both days of the festival, featuring the fastest shuckers representing ten states and the fastest local tidewater shuckers. On Saturday, at 2 p.m., an amateur oyster-shucking contest will also take place. As far as eating goes, "Oysters any way you like 'em" has always been the trademark of the festival: served up raw, scalded, grilled, on bread, on the half shell, stewed, nude, cooked in savory sauces, in salads, even in desserts—just about every way imaginable, and a few more to boot. Other seafood lovers can feast on fried clams, scallops, softshell crab, crabcakes, shrimp, fried fish, seafood chowder and more. For more information visit
www.USOysterFest.com.
OysterFest
St. Michael's, Md.
November 3
In St. Michael's, Md., the Chesapeake Bay Maritime Museum's (CBMM) OysterFest will celebrate the local oyster heritage. The event features live music, oysters and other food, children's activities, boat rides, oyster demonstrations, harvesting displays, an oyster stew competition among regional chefs and more. Festival-goers can join in or just watch an oyster slurping contest, while others enjoy sampling the oyster stew by local restaurants, who will also perform cooking demonstrations of signature oyster dishes throughout the day. This festival also boasts plenty of family-friendly waterfront activities designed to help kids get to know the oyster and its importance to the Chesapeake Bay. You can explore an oyster nursery, learn how oysters clean the Bay by building your own filter, participate in a scavenger hunt or face painting, or watch dip-net making and knot-tying demonstrations. For more information, visit www.cbmm.org/ OysterFest.