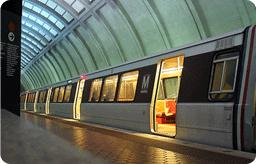 Water infiltration at Metro's Friendship Heights and Medical Center stations on the Red Line could cause future major repair and closings at those stations.
The Red Line, one of the oldest on the Metrorail system, is suffering from water damage that will take longer than a weekend to repair. Water seeping through the walls at the stations is due to the geology surrounding the Red Line tunnels between Friendship Heights and Medical Center, according to a statement from Metro deputy general manager Rob Troup.
News4 reported the two stations could see complete closures for weeks, even up to a month and a half. However, Troup's statement on WMATA.com said no decision has been made on the nature of repairs or the timeline and effect on service.
Troup also stated that the issue is not a safety concern, but a long-term reliability of the aging section of Metrorail.
"Currently, we are advancing the engineering work to determine the best course of action," Troup said. "Once the engineering work is finalized, we will be able to tell you more about future plans to improve Red Line reliability."
While Friendship Heights and Medical Center wait for repairs, the Red and Green lines will see work this weekend.
Red Line (this weekend)
Buses replace trains between Rhode Island Avenue and Forest Glen stations.
Brookland, Takoma and Silver Spring stations will be closed with No Red Line service at Fort Totten. Work at the stations includes platform reconstruction, new emergency trip station boxes, tie and insulator renewal and joint elimination.
Green Line (this weekend)
Buses replace trains between College Park and Greenbelt stations. Greenbelt station is closed. However, trains will run on Labor Day.
Labor Day Closings and Schedules
Offices, transportation and more change schedules in observance of Labor Day on Monday.
Closed —
Most banks, all federal and local government offices, Post Office (No USPS mail delivery except for Express Mail), courts (excluding adult arraignments and new juvenile referrals in the District), schools, libraries.
Parking
District: No city parking enforcement (except in National Stadium neighborhood). Maryland: Meters not enforced in Montgomery and Prince George's counties (except for New Carrollton garage and National Harbor). Meters enforced in Howard County and Annapolis. Virginia: HOV restrictions lifted. Meters not enforced in Alexandria and Arlington County.
Trash & Recycling
District: No pick-up, collection slides to next-day for remainder of week. Transfer station closed. Maryland: No pick-up. Anne Arundel and Montgomery counties, collection slides to next day. Prince George County pick-ups are on next scheduled day. Anne Arundel Calvert, Charles, Frederick and Howard landfills and Montgomery transfer stations closed. Virginia: Arlington and Fairfax counties and Fairfax City, regular pick-up. No collection in Alexandria as pick-up slides one day through end of week. Landfills closed in Fauquier, Loudoun and Prince William counties.
Transportation
Metrorail runs on a Sunday schedule, beginning at 7 a.m. until midnight. Track work on Red Line between Forest Glen and Rhode Island Ave. stations will cause shuttle buses to replace trains. Orange Line trains run every 24 minutes between Vienna and New Carrollton stations. Metrobus on Sunday schedule. Metro Access on regular schedule (subscription calls are cancelled). CUE, Ride On, Dash, and Fairfax Connector all on Sunday schedule. ART (routes 41 and 51 only) on Sunday schedule. MTA Commuter Bus (route 201 only running) on weekend schedule. PRTC Omiride, Loudoun Bus, MARC and VRE not running.