The Auction BlockOctober 9, 2013
By
October 10, 2013
0
1160
•
---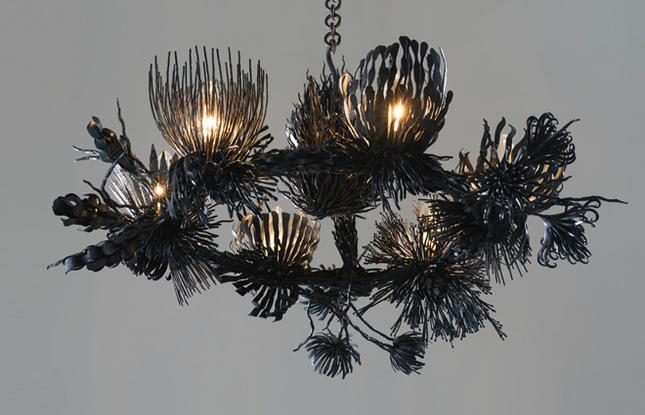 **SOTHEBY?S**
*Junko Mori
Plants Exotica, Chatsworth Chandelier
Modern Makers*
As part of the Devonshire Collection, Sotheby?s will host Modern Makers, a selling exhibition
of contemporary art in Chatworth?s galleries. Leading international artists have created furniture,
textiles, ceramics and metalwork for the exhibition. Featured is ?Plants Exotica,? one of two chandeliers
designed by Junko Mori, this one created in response to the Devonshire family?s history of
and passion for collecting exotic plants. The collection is currently on sale through Dec. 23.
**BONHAMS**
*An antique turquoise and diamond brooch,
circa 1840
Auction Date: Oct. 17
Estimate: $ 8,000 – 10,000*
**What?s selling**: Bonham?s Fine Jewlery auction will feature
an antique brooch from the early 19th Century. Estimated total
diamond weight: 10.00 carats; mounted in silver and 14 karat
gold; length: 1 ? in. **What sold**: Chased brass overlaid teak side
chairs designed by Lockwood de Forest estimated at $50,000-
$80,000 sold for $242,500.
**CHRISTIE?S**
*Dewitt Limited Edition Semi-Skeletonized
Tourbillion Wristwatch
Auction Date: Oct. 29
Estimate: $40,000 ? $60,000*
Christie?s Important Watches auction will feature
modern and vintage watches, from leading
brands such as Cartier, IWC, Rolex and Tag
Heuer with estimates ranging from $1,500 –
$60,000. This rare 18K pink gold and titanium
limited
edition
semi-skeletonized
Tourbillion
watch with
a 5-day
power reserve
and
signed by
Dewitt and
was made
around
2011.
**FREEMAN?S**
*Stanley William Hayter
?Tangram I?
Auction Date: Nov. 3
Estimate: $1,500 – $2,500*
**What?s selling**: Freeman?s will auction selected
works from the distinguished collection of
Domini Morrell in a Modern & Contemporary
Art auction on Nov. 3. This oil on canvas by
British artist Stanley William Hayter is signed
and dated ?83, from the estate of Robert G.
Luckie, Tuscon, Ariz.
**DOYLE NEW YORK**
*Classical Carved Mahogany
Settee
Height 37 inches; length
82 1/2 inches; depth 24
1/2 inches
Auction Date: Oct. 16
Estimate: $5,000
– $10,000*
**What?s selling**:
Doyle New York?s
will auction American Furniture,
Decorative Arts & 19th Century Paintings from the Colonial period through the Federal
and Classical styles. This settee, attributed to Samuel Field McIntire (1780-1819), Salem,
Mass., features intricate carved detail above a loose cushion seat with acanthus carved arms.
The sette is raised on reeded acanthus carved sabre legs ending in brass paw casters. **What
sold**: Cartier, Diamond Bracelet-Watch, estimated at $6,000 – $8,000, sold for $34,375.