ANC 2E Tonight: West Heating Plant Raze Permit, Hyde-Addison Construction
By
November 18, 2013
0
1068
•
---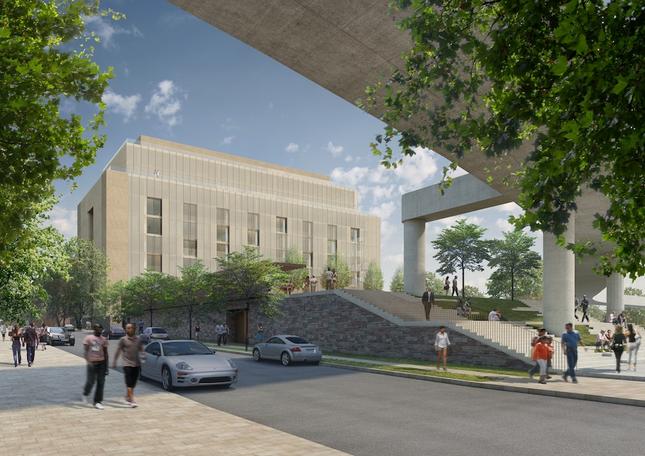 Advisory Neighborhood Commission 2E will meet 6:30 p.m, Nov. 4, at Georgetown Visitation Preparatory School, 35th Street and Volta Place, Heritage Room, first building on left by gatehouse, second floor. Highlights include discussions on the West Heating Plant (Four Seasons Residences), Hyde-Addison School, alley off R Street and Rose Park.
The following is the agenda, as provided by ANC 2E.
Approval of the Agenda
• Approval of November 4, 2013, ANC 2E Public Meeting Agenda
Administrative
? Approval of September 30, 2013, Meeting Minutes
? Public Safety and Police Report
? Financial Report:
1. Resolution approving a FY 2014 budget for ANC 2E
2. Resolution approving Melanie Gisler's employment and salary for FY 2014
3. Resolution approving hiring Marsh Bookkeeping Services
? Transportation Report
? DPW Report
Community Comment
? Comcast – construction information / presentation on four updated junction boxes to be installed (underground) in ANC2E
? DC Sustainable Energy Utility – information regarding energy efficiency and renewable energy services
New Business
? 24th Annual Lawyers Have Heart 10K Run and Fun Walk – Saturday, June 14, 2014
? CAG legislative proposal re neighbor notification of exterior remodeling plans
Zoning
? Georgetown University Northeast Triangle Residence Hall, 3700 O Street, NW, Zoning Commission Case No. 10-32A, Application to permit (a) the construction of a new residence hall on the University's main campus and (b) the use of the former Jesuit residence on campus for potential future residential / campus life / athletic use as student housing (Hearing November 25, 2013)
? 3343 Prospect Street, NW, BZA Order No. 18555, request for minor modification of plans to extend the permitted space for a yoga studio
ABC
? Cafe Milano, 3251 Prospect St NW, request for extended hours for December 31, 2013 and March 8, 2014 (Spring Daylight Saving)
? Kafe Leopold/L2, 3315 Cady's Alley NW, request for extended hours for December 31, 2013 and March 8, 2014 (Spring Daylight Saving)
? Prospect Dining, t/a George, 3251 Prospect Street, NW, ABRA No. 78058, request for extended hours for Wednesday, November 27 (the night before Thanksgiving)
until 3 am,Tuesday, December 31 (New Year's Eve) until 3 am, Saturday, March 8 (Daylight Savings "spring forward") until 4 am
License renewals:
? Rialto (formerly The Guards), 2915 M St – Petition date 11/4
The following establishments are not anticipated to be reviewed by ANC 2E for license renewal. Please contact ANC 2E by Friday, November 1, if you have an issue.
? Modern, 3287 M St – Petition date 11/18
? El Centro, 1218 Wisconsin Ave – Petition date 11/18
? Rhino's, 4395 M St – Petition date 11/25
? Kintaro, 1039 33rd St – Petition date 11/25
Old Georgetown Board
PUBLIC AND MAJOR PROJECTS
SMD 03, Government of the District of Columbia, Department of General Services, OG 14-020 (HPA 14-024), 3219 O Street, NW Hyde-Addison Elementary School, Addition with construction below elevated playground, Concept
SMD 07, Government of the District of Columbia, DC DDOT, Paving of residential alley off R St between 31st and 32nd St. NW, Final
SMD 05, 1051 29th Street, NW, OG 14-012 (HPA 14-016) West Heating Plant, Residential, New building, site work and glazed connector over canal, Concept
SMD 05, 1055 29th Street, NW, OG 14-013 (HPA 14-017) West Heating Plant, Raze Permit
PRIVATE PROJECTS:
1. SMD 02, 1625 33rd Street, NW, OG 14-015 (HPA 14-019) Residence, Alterations to rear, site work, replacement fence, Permit
2. SMD 02, 1689 34th Street, NW, OG 13-342 (HPA 13-610) Residence, Alterations to stoop, Permit
3. SMD 02, 1649 35th Street, NW, OG 13-345 (HPA 13-616) Residence, Two- story rear addition, site work, swimming pool, Concept
4. SMD 03, 3310 N Street, NW, OG 14-018 (HPA 14-022) Residence, One- story rear addition, parking pad at alley, Concept
5. SMD 03, 1335 Wisconsin Avenue, NW, OG 14-028 (HPA 14-032) Commercial, Addition on public space for new ATM, mural, Permit
6. SMD 03, 1351 Wisconsin Avenue, NW, OG 14-007 (HPA 14-011) Commercial, Rear addition, alterations, demolition, Concept
7. SMD 05, 1025 31st Street, NW, OG 13-317 (HPA 13-540) Commercial, Alterations to rear, outdoor seating terrace; glass enclosure of rear yard, paving – existing, Concept
8. SMD 05, 3320 M Street, NW, OG 13-299 (HPA 13-521) Commercial, Banner for "Maxalto" at third floor facing alley, Permit
9. SMD 05, 3319 Cady's Alley, NW, OG 14-006 (HPA 14-010) Commercial, Banner for "Steven Alan," Permit
10. SMD 05, 2822 Pennsylvania Avenue, NW, OG 14-023 (HPA 14-027) Commercial, Alterations to storefront, awning and sign for "Amina Rubinacci," Permit
11. SMD 05, 1214 Wisconsin Avenue, NW, OG 14-005 (HPA 14-009)
Commercial, Awning, signs and blade sign for "Goorin Bros. Hat Shop," Permit
12. SMD 06, 1421 29th Street, NW, OG 14-017 (HPA 14-021) Residence, Replacement door, alterations to rear, deck, Concept
13. SMD 06, 3008 P Street, NW, OG 14-004 (HPA 14-008) Residence, Site work on rear yard, Permit
No Review At This Time by ANC 2E: The following additional projects, which are on the upcoming November 7, 2013, agenda of the Old Georgetown Board, have not been added to the ANC meeting agenda for OGB-related design review and we do not propose to adopt a resolution on them at this time. If there are concerns about any of these projects, please contact the ANC office by Friday, November 1, 2013
1. SMD 01, 3800 Reservoir Road, NW, OG 14-022 (HPA 14-026) Institution (MedStar Georgetown University Hospital – Pasquerilla Healthcare Center), Five antennas for Verizon Wireless on penthouse, Permit
2. SMD 02, 1658 33rd Street, NW, OG 14-027 (HPA 14-031) Commercial, 1-story rear addition with basement, 2-story in-fill in dog leg – in progress, Permit – revised design
3. SME 02, 1622 34th Street, NW, OG 14-008 (HPA 14-012) Residence, One- story rear addition to replace one-story porch, alterations, Permit
4. SMD 03, 3330 P Street, NW, OG 14-001 (HPA 14-003) Residence, Solar panels, Permit
5. SMD 03, 3143 Dumbarton Street, NW, OG 13-260 (HPA 13-450) Residence, Replacement windows, replacement entry and garage doors, Permit – additional information
6. SMD 03, 3143 Dumbarton Street, NW, OG 13-261 (HPA 13-451) Residence, Third floor addition and alterations to rear, Concept – revised design
7. SMD 03, 3411 Prospect Street, NW, OG 14-002 (HPA 14-006) Residence, Replacement fence, Permit
8. SMD 03, 1365 Wisconsin Avenue, NW, OG 13-203 (HPA 13-359) Bank, Light fixtures for ATM at BB&T Bank, Permit
9. SMD 05, 3000 K Street, NW, OG 14-026 (HPA 14-030) Mixed-use, Replace sails with fixed awnings at "Farmers, Fishers and Bakers," Permit / concept
10. SMD 05, 3104 M Street, NW, OG 13-306 (HPA 13-528) Commercial, Rear
addition and replacement windows, Concept
11. SMD 05, 3213 M Street, NW, OG 13-346 (HPA 13-631) Commercial,
Alterations to storefront, awnings, signs for "Pandora," Permit
12. SMD 05, 3291 M Street, NW, OG 13-169 (HPA 13-292) Commercial,
Alterations to storefront – existing, Permit – revised design
13. SMD 05, 3299 M Street, NW, OG 14-021 (HPA 14-025) Commercial,
Alterations to storefront, new openings, replacement windows, Permit
14. SMD 05, 3100 Dumbarton Street, NW, OG 14-010 (HPA 14-014) Residence,
Alterations to rear dormers, Permit
15. SMD 05, 3104 Dumbarton Street, NW, OG 13-339 (HPA 13-607) Residence,
Exploratory demolition of garage, Permit
16. SMD 05, 3206 Grace Street, NW, OG 13-318 (HPA 13-541) Commercial,
Alterations, replacement windows, awnings, blade sign, flagpole, Concept –
revised design
17. SMD 05, 3616 Prospect Street, NW, OG 14-024 (HPA 14-028) Residence,
Alterations to rear windows, Permit – revised design
18. SMD 05, 1045 Wisconsin Avenue, NW, OG 14-025 (HPA 14-029) Residential,
Alterations to storefronts, Permit
19. SMD 06, 1202 30th Street, NW (also known as 3001 M Street, NW), OG 14- 003 (HPA 14-007) Mixed-use: retail / residential, Security panel, Permit
20. SMD 06, 2725 N Street, NW, OG 13-319 (HPA 13-545) Residence, Alterations to dormer at rear, Concept
21. SMD 06, 2912 N Street, NW, OG 13-313 (HPA 13-536409) Residence, Relocate existing rooftop mechanical equipment, Permit
22. SMD 06, 3040 O Street, NW, OG 13-183 (HPA 13-306) Residence, Enclose rear porch and alterations – existing, Permit – revised design
23. SMD 06, 3030 P Street, NW, OG 13-256 (HPA 13-446) Residence, Demolition of rear addition, 2-story rear addition, Concept – revised design
24. SMD 07, 1644 31st Street, NW, OG 14-009 (HPA 14-013) Tudor Place, Alterations to service entrance, chain-link fence and sliding gate, Permit
25. SMD 07, 1703 32nd Street, NW, OG 14-014 (HPA 14-018) Institution, Replacement roof, Permit
26. SMD 07, 3015 Q Street, NW, OG 14-016 (HPA 14-020) Residence, Replacement standing seam metal roof, Permit
27. SMD 07, 1815 Wisconsin Avenue, NW, OG 14-019 (HPA 14-023) Commercial, Alterations to opening – existing, and third awning, Permit – revision to permit