The Auction Block
By
December 5, 2013
0
805
•
---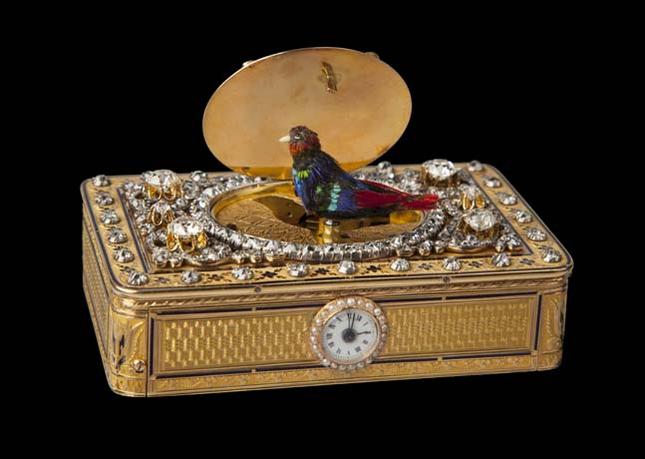 Doyle New York
Platinum, Fancy Vivid Yellow Diamond,
emerald and diamond ring
Auction Date: Sept. 12
Estimate: $80,000 – $120,000
Doyle New York's auction of Important Jewelry will offer exquisite jewelry spanning the Antique, Victorian, Edwardian, Art Nouveau, Art Deco and Modern eras by such designers as Cartier, Van Cleef & Arpels, David Webb and Tiffany & Co. Certain to attract attention will be this 1920 ring featuring an old-mine cut oval Fancy Vivid Yellow diamond flanked by emeralds and diamonds.
Sotheby's
Egyptian Revival faience and jeweled brooch from Cartier
Auction Date: Dec. 11
Estimate: $300,000 – $500,000
Designed as an Egyptian fan, centering an ancient green faience bust of the goddess Sekhmet, this jeweled brooch is among the highlights of Sotheby's Auction of Magnificent Jewels. Set against a lapis lazuli sky, twinkling with diamond stars and bordered by a black aureole and diamond-set lotus motif, there are a total of 100 diamonds throughout the piece. It is complete with the original fitted box stamped by Cartier.
Bonhams
Diamond-set engraved and enameled gold singing bird snuffbox with musical movement and watch
Auction Date: Dec. 12
Estimate: $120,000 – $180,000
Bonhams will auction this historic snuffbox as part of its Auction of Fine Watches, Wristwatches and Clocks. The box, with lozenge maker's mark of Jean-Georges Reymond, bears the monogram of the 19th-century Ottoman Prince Shehzade Mahmud Celaleddin Efendi, son of the Turkish Sultan Abdul Aziz, who likely had the box embellished for his son. The diamonds were added during the mid 19th century.
Sloans and Kenyon
Portrait of a nude Norma Jeane Baker Dougherty
(later known as Marilyn Monroe)
3D filmstrip
Circa 1945
Auction Date: Dec. 14
Estimate: $2,000 – $3,000
This rare filmstrip depicts a young woman named Norma Jeane Baker Dougherty, who later changed her name to Marilyn Monroe and became the seminal, sultry icon of American desire. This full-length image is attributed to W.O. Schwartz, located in 1945 just six blocks from the Blue Book Modeling Agency, Norma Jeane's first employer. Thought to be the first nude photograph of the future Marilyn, predating Tom Kelley's famous 1949 pinup image. The full image is on view at the Sloans and Kenyon gallery prior to auction.
Freeman's
Lemuel Everett Wilmarth (American, 1835-1918)
"Still Life with Wrapped Orange"
1893, oil on canvas
Auction Date: Dec. 8
Estimate: $50,000 – $80,000
Freeman's American Art & Pennsylvania Impressionists Auction has a wealth of consignments from private collections across the country, featuring this still life by Lemuel Everett Wilmarth, a rarely auctioned artist admired for his genre scenes and still-life paintings. As seen here, Wilmarth's still lifes are celebrated for their polished realism and deft display of textures. Additional works include portraits by William Merritt Chase and John Singer Sargent.