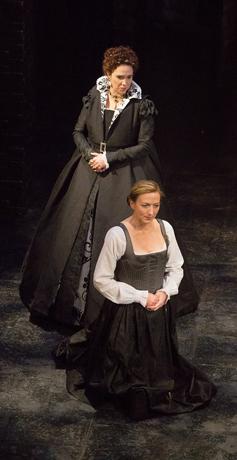 It's always an odd feeling interviewing actors you've seen on Washington stages in many guises. Such was the case during a three-way phone conversation with Holly Twyford and Kate Eastwood Norris.
Norris and Twyford, peers and longtime friends who have often shared the stage, are starring in the Folger's production of Friedrich Schiller's "Mary Stuart."
You feel as if you know them. You've seen them as a parade of fascinating women (and sometimes men and even a dog). Now, for the first time, both are playing royal queens.
Norris has the title role of Mary, Queen of Scots: the charismatic, passionate Stuart who has been imprisoned for 12 years, accused of plotting the assassination of Elizabeth I of England, her great political rival.
"They are both queens – powerful, strong women," Twyford says. "Elizabeth has to decide whether or not to order her execution. It takes place in a very short time period. Mary has days left to live."
These two women – Mary and Elizabeth, Elizabeth and Mary – are enemies, but they share the common ground of being female rulers in a world mostly ruled by men.
The problem for Elizabeth is that as long as Mary is alive, as long as people – Catholics in England and elsewhere, allies in France, her subjects in Scotland – look to her, she is a threat to Elizabeth's reign.
In 1800, the play premiered as "Maria Stuart" in Weimar, Germany, where Schiller and fellow poet and playwright Johann Wolfgang von Goethe gave birth to what became known as Weimar Classicism. Schiller, who also wrote "Don Carlos," "The Wallenstein Trilogy" and "William Tell," has been called the Shakespeare of Germany.
The play has not been done very often, though the two queens have been the subject of numerous novels, biographies and films. Actresses from Bette Davis to Helen Mirren have played Mary. A 1971 film, "Mary of Scotland," starred Vanessa Redgrave as Mary and Glenda Jackson as Elizabeth.
The Folger production uses a translation by Peter Oswald, also the basis of a production at London's Donmar Warehouse that moved to Broadway for a successful run in 2009.
"I wasn't all that familiar with the play, so we both read it," says Twyford. "The language is what drew me, and I think both of us. The clarity of it – I really dig it." Norris concurs: "It doesn't use archaic language. It has a contemporary feel to it, but remains natural and classical. It's not David Mamet, by any means – we just don't thee and thou a lot, for one thing."
The play is famous for including a scene in which the two monarchs meet face-to-face, a lengthy, emotionally wrenching episode that never took place. But it could have, and maybe should have, the two point out.
"And, oh my god, it's difficult. It's really hard to do." Norris says. "Sometimes, when I'm standing face-to-face with Holly and I see the look in her eyes, the anger, it's kind of scary, I've got to admit."
"I can't imagine doing this with anyone else," Twyford says.
The two women have a long personal and professional history, which makes things easier.
"Let's see, there's 'Taming of the Shrew,' 'As You Like It,'" Twyford says, rattling off a number of plays in which they've appeared together. "Shakespeare, there's seven right there." Twyford played a dog in "Two Gentlemen of Verona" and, famously, they both appeared as Hamlet in the Joe Banno-directed production of "Hamlet" at the Folger, which featured four different Princes of Denmark.
On the phone, you get a sense of the easy talk of friendships, of fun and laughs. But occasionally, just days until opening night, you get a hint of regal, royal edge in their voices.
They are after all – besides Kate and Holly – Mary and Elizabeth, and by play's end, you probably won't forget that. And likely, neither will they.
"Mary Stuart" opened at the Folger Elizabethan Theatre on Jan. 27 and will run through March 8.