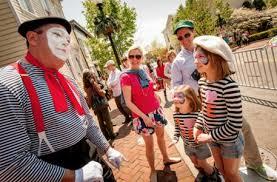 Click here to read the French Market preview in the current issue of The Georgetowner.
Lecture & Book Signing: All the Presidents' Gardens
APRIL 28TH, 2016 AT 07:00 PM | $25-$35 | PROGRAMS@DUMBARTONHOUSE.ORG | TEL: (202) 337-2288 | EVENT WEBSITE
Hear garden historian Marta McDowell speak on book "All the Presidents' Gardens: Madison's Cabbages to Kennedy's Roses, How the White House Grounds Have Grown with America." From George Washington's obsession with collecting trees to Michelle Obama's kitchen garden, find out how the White House grounds are a reflection of America's enthusiasms. A reception and book signing will follow the lecture.
Dumbarton House, 2715 Q St. NW
Friday Morning Music Club
APRIL 29TH, 2016 AT 12:00 PM | FREE | EVENT WEBSITE
Calvary Baptist Church in Penn Quarter present a free concert of chamber works for clarinet, violin, cello and piano by Schumann and Welcher.
755 8th St. NW
Zenith Gallery Opening Reception
APRIL 29TH, 2016 AT 05:30 PM | FREE | EVENT WEBSITE
Zenith hosts a meet-the-artist opening reception for "Burning Bright: The Fascinating Fire Paintings of Peter Kephart." The exhibition of works on paper burned over the remnants of a bonfire runs through June 25. There will be demonstrations at 3 p.m. on Saturday and Sunday.
1429 Iris St. NW
The Bronte Sisters: Their Life in Keepsakes
APRIL 29TH, 2016 AT 06:45 PM | $30 | TEL: 202-633-3030 | EVENT WEBSITE
Deborah Lutz, professor of English at the University of Louisville, performs a literary show-and-tell and signs copies of her book, "The Bronte Cabinet: Three Lives in Nine Objects."
S. Dillon Ripley Center, 1100 Jefferson Drive SW
"Tender Tears, and Love, and Life"
APRIL 29TH, 2016 AT 07:30 PM | $55 (INCLUDES WINE AND DESSERT RECEPTION) | EVENT WEBSITE
The Russian Chamber Art Society presents its last concert of the season, with three vocalists performing art-songs by Glinka, Arensky, Taneyev and Rachmaninov in Russian, accompanied by founder and artistic director Vera Danchenko-Stern.
Embassy of Austria, 3524 International Court NW
Bike Tour: The Landscapes of Oehme, van Sweden
APRIL 30TH, 2016 AT 10:00 AM | $25 MEMBER | $35 NON-MEMBER. | EFILAR@NBM.ORG | TEL: 202-272-2448 | EVENT WEBSITE
The Washington, D.C.-based firm of Oehme, van Sweden & Associates (OvS) revolutionized modern American landscape architecture through the use of ornamental grasses and perennials to create living tapestries requiring relatively little maintenance. Join Museum staff and OvS principals on a bike tour for an illuminating ground-level exploration of some of the firm's major D.C. projects, including Pershing Park and the Virginia Avenue Gardens.
National Building Museum, 401 K St. NW
Revolutionary War Encampment: The First Oval Office
APRIL 30TH, 2016 AT 10:00 AM | FREE WITH ADVANCE REGISTRATION | $5 PER PERSON AT DOOR | FHERMAN@TUDORPLACE.ORG | TEL: 202.965.0400 | EVENT WEBSITE
Long before the White House, George Washington's "Oval Office" was a humble camp tent. To celebrate its Bicentennial, Tudor Place welcomes a beautiful reproduction of this historic structure to the grand South Lawn. Experience how America's future first President slept, ate, and strategized during critical moments of the Revolutionary War. Washington Camp Tent on loan from the Museum of the American Revolution which will open in spring 2017 with the original tent on display for the public.
Tudor Place, 1644 31st St. NW
Bowen McCauley Dance Move Me Festival
APRIL 30TH, 2016 AT 01:00 PM | FREE | SAMANTHA@BMDC.ORG | TEL: 7039015175 | EVENT WEBSITE
Bowen McCauley Dance presents a family-friendly celebration of arts and culture featuring live performances and interactive demonstrations. Visitors will experience a poetic adventure through dance, theatre, music, fitness and the language arts.
Kenmore Middle School, 200 S. Carlin Springs Road, Arlington, Virginia
The Brooklyn Rider Almanac
APRIL 30TH, 2016 AT 08:00 PM | 30-35 | OFFICE@DUMBARTONCONCERTS.ORG | TEL: 2029652000 | EVENT WEBSITE
The Dumbarton Concerts season ends with the triumphant return of Brooklyn Rider. To celebrate its 10th anniversary together, the group commissioned a wide-ranging assemblage of musicians to write new works, including Wolco's Glenn Kotche, Deerhoof's Greg Saunier and a host of jazz luminaries, including Ethan Iverson of The Bad Plus, pianist Vijay Iyer and guitarist Bill Frisell.
3133 Dumbarton St. NW
Yoga Inspired by Sculpture
MAY 1ST, 2016 AT 11:00 AM | FREE | EVENT WEBSITE
Artist and certified yoga instructor Lisa Marie Thallhammer offers free pop-up yoga classes inspired by Arlington's award-winning collection of public art, leading participants through postures, intentions and breathing that are inspired and focused on three permanent public art works.
Verizon Plaza, 1320 N. Courthouse Rd., Arlington, Virginia
Jackson Art Center Open Studios
MAY 1ST, 2016 AT 12:00 PM | FREE | JACKSONARTCENTER@GMAIL.COM | TEL: 240-601-7185 | EVENT WEBSITE
Great local art and a chance to explore the historic Jackson School (1890-1971), home to local artists for studio space since the mid 1980s. Free event with food and drink, live music, children's workshop, and an opportunity to meet the artists and rummage through the old school building.
3050 R St. NW
Foghorn Stringband
MAY 1ST, 2016 AT 04:00 PM | FREE | EVENT WEBSITE
Foghorn Stringband features the intertwining harmonies of founding members Stephen "Sammy" Lind and Caleb Klauder along with powerhouse vocalists Reeb Willms and Nadine Landry.
Hill Center at the Old Naval Hospital, 921 Pennsylvania Ave. SE
The Washington Chorus Presents Parisian Spring
MAY 1ST, 2016 AT 05:00 PM | $18-$72 | STAFF@THEWASHINGTONCHORUS.ORG | TEL: 202-342-6221 | EVENT WEBSITE
Join us for an evening filled with glorious gems of the French repertoire, including At the Lighting of the Lamps, written by TWC's Music Director Julian Wachner in the French choral style. The program showcases the sumptuous Requiem of Maurice Duruflé. The concert features the Kennedy Center Concert Hall's Rubenstein Family Organ with renowned French organist Thierry Escaich – Duruflés' successor at Saint-Étienne-du-Mont Church in Paris.
Kennedy Center Concert Hall, 2700 F St. NW