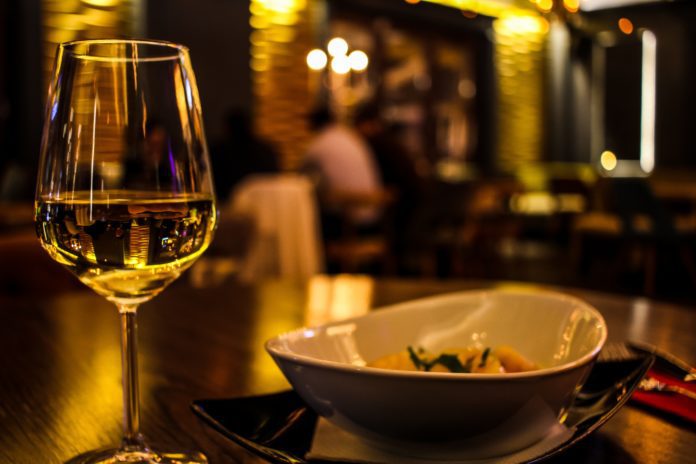 "Shop till you drop" is the wrong strategy when picking out presents for the in-laws. A thoughtful gift requires refueling, and plenty of it. When Georgetown is your holiday shopping destination, it's important to treat yourself as well. Remember that there's world-class dining (and drinking) here, along with the excellent wares.
The Classics
First, there are always the classics. Georgetown staples like Clyde's, Martin's Tavern, Café Milano, Filomena Ristorante and Peacock Café are all warm, sophisticated spots that know how to feed crowds — great places to take the parents or other family members if you're picking up something together.
The New
Sometimes, though, you want to try dishes you've never had before. The Georgetown dining scene is dynamic, so there's no scarcity of brand-new spots. After a boutique find up Wisconsin, travel across the Pacific to Korea at the new Zannchi, a stylish space with exposed-brick walls and striking wood furnishings. The owner's family ran a restaurant in her native Korea, and she's brought that expertise to the table, crafting bibimbop, bulgogi, rolls, mandu and hearty rice bowls. Next door, you'll find Via Umbria, a bright and festive Italian place. Lucky for shoppers, it's also a market, carrying fine Italian wines and everything from artisanal pasta to olive oil to ceramics. Be sure to visit the gallery next door. Finally, when Italy is calling but time is short, stop by just-opened &pizza, the D.C.-based mini-chain of quick, tasty, endless-topping pizzas. Stick with the classic margherita or go crazy and create your own pie with everything from jalapeño to arugula to fig balsamic sauce. You can take the 'za with you and snack while window-shopping for next time.
The Flavorful
Bright and exciting, these restaurants have the internationally inspired flavors you're looking for — along with a resting place for tired feet. On Wisconsin is Café Bonaparte, famous for its crepes and brunch (if you're around on the weekend). Francophiles will love the wine selection and the big windows are perfect for taking in your fellow shoppers. It's also easy to pop in for a quick café au lait and croissant or pain au chocolat. Bangkok Joe's, down at the waterfront, is a festive restaurant that brings the exotic flavors of Southeast Asia to Georgetown. Recently updated, its water views are also postcard-pretty. Speaking of water, Sea Catch is a favorite restaurant right on the canal, offering a fantastic raw bar. The best time to go, if you can brave the crowds, is for oyster happy hour. The historic, centuries-old building is a feast for the eyes.
At the Eastern Gateway
When the shops at Georgetown's eastern end, on M Street and Pennsylvania Avenue, are calling, there are a few hidden gems that shine through the sea of bags. Staying with the French theme, the old-world style of La Chaumiere transports diners back to an earlier time, when elegant Parisians escaped to the countryside. A few doors away on M is Das Ethiopian, where the fine Ethiopian cuisine, including favorites like doro wat, makes use of local and sustainable ingredients. White-tablecloth Indian food is also nearby at Taj of India, where servers plate fragrant tandoori dishes and hearty curries, just right when the temperatures dip and something hearty is necessary. After all, finding that perfect gift is naan too easy. At the end of your day, Eno Wine Bar will lift your spirits with excellent flights that accompany fine cheeses and charcuterie. Next to the Four Seasons Hotel, its warm, cozy atmosphere also pairs well with a truly extensive list.
Grace Street
When time permits, fine dining is a present unto itself. Sometimes, though, more
casual spots are what you need the most to pack in all the presents. Chaia Tacos bring veggies to the forefront in its chic new space (There's even a cool Georgetown Glow sculpture next door.) The service is quick and friendly and the corn tortillas are handmade containers for countless plant-based delights. The offerings are seasonal and local, so right now you'll encounter sweet potato hash or cumin-roasted cauliflower tacos. Pick up a few to go and make the holidays a bit healthier. Across the street is Dog Tag Bakery, where you can do good while getting lunch. Disabled vets bake cakes, bagels, scones and more under a dog-tag chandelier, which you can admire before getting on your way, munching on some thing for a quick and socially conscious pick-me-up. And just like the galleries and shops take you around the world, so does Sundevich — but with sandwiches. Eclectic tastes inspired by foreign locales are piled high between fresh bread. Journey to Buenos Aires, Moscow, Seoul and other delicious destinations, right here on your plate in Georgetown.
Whether you need a morning boost, midday meal, an afternoon pick-me-up or a decadent après-shopping dinner, these Georgetown spots will sate any appetite.