The Great Swindle: Works by Santiago Montoya
Art Museum of the Americas
"The Great Swindle," on view through March 26, looks at paper money as a platform of political propaganda, exploiting iconic pictures to bolster power and embed imagery in the national consciousness.
A multidisciplinary artist born in 1974, Columbian Santiago Montoya embraces traditional painting, found objects and video documentary, introducing meaning through materiality that results in appearance and concept holding equal weight. In doing this, he comments on a broad swath of political issues, from conservation and dispossession to the transmission of information. The series journeys through history, exploring iconography and idealism across a cultural spectrum, from model planes and boats inspired by Communist China's food coupons of the 1950s and 1960s to portraits of fallen dictators.
Melissa Ichiuji: Make You Love Me
American University Museum at the Katzen Arts Center
A doll reminds us of childhood, of comfort, companionship and imagination.
In all they come to embody for us as children, dolls are perhaps the first vehicle for our lifelong habit of anthropomorphism, the projection of ourselves onto the world around us by attributing human qualities to objects and animals. Born in 1968, artist Melissa Ichiuji uses dolls to bring us innocently into a world of the strange and macabre. A doll poses like a swimsuit model, exposing her back, which is split open to show the spine within. A French jester-like character lounges back in a seat, his cute little doll guts spilling out playfully from a door in his chest. In this exhibition, on view through Dec. 18, Ichiuji, who received her BFA from the Corcoran, confronts us with emotional and visceral contrasts: the continuity and discontinuity between internal and external body parts, idealized femininity, innocence and erotic scenes, graceful figures and delicate fabrics alongside entrails and other organs.
District II
National Building Museum
Works by street photographers Bill Barrett, Chris Earnshaw and Joseph Mills capture the changing streetscape of downtown Washington from the 1960s through the 1980s.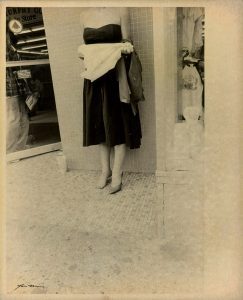 The three sections of the exhibition, on view through Feb. 12, are: Mt. Vernon Squared, with 14 images by Barrett from the Historical Society of Washington, D.C.'s Kiplinger Washington Collection; Billy Luck's Downtown, displaying about 50 "drugstore" prints and a dozen enlarged sepia reprints by Earnshaw, who calls himself a "cowbow poet"; and Inner City, nearly 20 hand-varnished photographs by Mills of 1980s street life downtown. On Dec. 15 at 6:30 p.m., there will be a free screening of "F Street, the Place on the Ridge," a video portrait of D.C.'s historic main street.