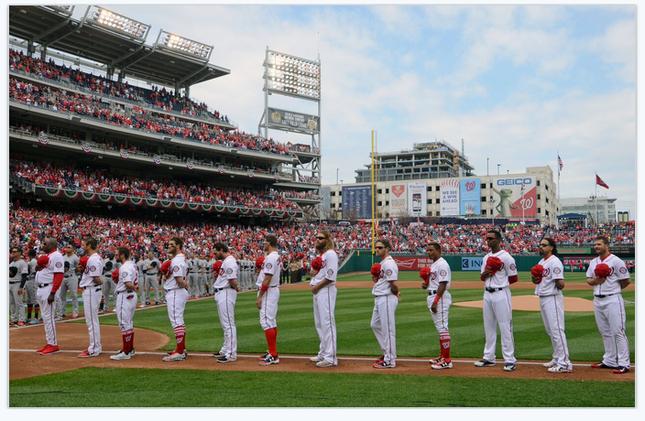 Spring is the season in which they tell us hope springs eternal.
It's the wipeout season of forgiveness and forgetfulness — everything that has gone before is instead of being a recent ache and pain a distant memory that only hurts if you bend your knee awkwardly.
Something about the air, the breeze, those unstoppable pansies, the buds that come out and the silly singing of birds that injects hope in every endeavor. You think this will be the year of boundless joy, teen love fulfilled as a nerd finds himself being called a cool dude by a cheerleader on her Facebook page. Anything could happen. People walk into a 7-Eleven and buy a pile of lottery ticket with a bounce in their step. Some people may even suggest that this is the year that President Donald Trump will apologize for something.
No tribe or group of people entertain and embrace hope so willingly and without a second thought as sports fans, sports writers  and athletes and the populations of entire cities that have in their midst or vicinity a sports team. Every spring, hope is as buoyant as a duck in bobbing waters. Anything is possible. Mighty Casey has not yet struck out. The World Series, distant in either direction, is a destination date, as are the Stanley Cup playoffs, the NBA playoffs and the hopes for a better season next year.
Then, Monday was the most hopeful of hopeful days. In a city where the Wizards and the Caps are headed for the playoffs (in spring), Georgetown University hired college and NBS star Patrick Ewing to be its head men's basketball coach. Less than two weeks ago, the university said it was not rehiring John Thompson III, the son of John Thompson, Jr., the coach as legend, who pulled Georgetown out of basketball obscurity and brought it national prominence and an NCAA title. It seemed like an end of an era, a snipping of a connection to the great days of the 1980s, of Ewing and his hoops stalwarts of yore.
But wait.
On Monday, Georgetown University hired the very same seven-foot tall Ewing, still casting as large shadow, to be its next basketball coach, thus re-connecting to its glory days, to the Thompson days and times, igniting a burst of hope among sportswriters, among the Thompson fans, and the Hoya heyday believers.
Sports writers cheered. They are fond of statistics, predictions, and, when not being pessimistic and critical of coaches, owners and players, are the most ebullient, the most unreasonably optimistic and predictive of people. "Hall of Famer Ewing may be slam dunk decision by Hoyas," boomed a Washington Post sports page headline, getting in a pun and a prediction and a little analysis all at the same time.
In 1984, Ewing was certainly a slam dunk, when the Hoyas won their one and only NCAA title, beating a very good Houston team, 84-75. Ewing, a dominant center, was certainly the star of the tournament — although it should be mentioned that the Hoyas barely escaped with a 37-36 win in the opening round game against Southern Methodist. The Hoyas won the title and finished with a 34-3 record. It was a moment of triumph that not even a subsequent NCAA final loss to Villanova the following year could not erase.
Ewing, 54, became a star NBA player and Hall of Famer with the New York Knicks, for the most part, and has been an associate head coach for the Charlotte Hornets. He is not that far removed from his Hoya days, and his standing, reputation and image as a player, coach and person are imposing. He is generally considered a class act. He brings a measure of authority, and not just because of his size.
Pat Riley, a hugely successful NBA coach, who coached Ewing for the Knicks, praised him and the choice, as did many sports writers. At first glance, it's a shot in the arm and a boost for the university, which saw its basketball fortunes decline during the last two years. Recruitment, no doubt, will improve on Ewing's stature and alone.
Still, spring is sprung,and some caution should be maintained and not be thrown to the wind. The idea of great players making great coaches is true up to a point — Thompson also played college ball, after all.  Jerry West of the Lakers did pretty well.  But let's remember, for instance, what happened when Michael Jordan, arguably the greatest basketball player ever, became a coach for the Wizards. Not much happened, except that ticket sales went up initially.
Still, I can safely say that in Ewing's first seasons, the Hoyas will win the Big East Tournament, and advance to the Sweet Sixteen, at least.
Why?
Because it's spring.
Speaking of that: The Washington Nationals (and down the road apiece), the Baltimore Orioles, had their Opening Days, also on Monday. Guess what? The Nationals beat the Marlins, and the Orioles beat the Toronto Blue Jays.
I'm buying my World Series tickets now.
Consider what happened with the Nationals.
They not only beat the Marlins,  4-2, a team that they sometimes have trouble with, but Stephen Strasburg, soon to be the best pitcher in baseball, allowed six hits over seven innings and won the game.
Bryce Harper, he of the beard and the charisma and star power and MVP award from two years ago, hit a solo homer, ran into the wall and made a great catch and generally behaved like the super star everybody says he is. A complete unknown named Adam Lind belted a pinch-hit two run homer and took a bow, which he almost bobbled, being not used to taking bows. Blake Treiner, the new closer, closed the game efficiently and very nicely. I believe the sun came out, too.
Thomas Boswell, arguably one of the best sports writers  around, put it this way, or at least the Washington Post headline for his column did:  "For one day, the pieces fall into the place" The companion headline had it this way: "Win shows Nat's plan is coming together."
I saw an opening game for the Nationals in 2013 that went exactly like this one did: Strasburg pitched a shutout, Harper hit two home runs and the Nats won 2-0. Perfecto. Happiness everywhere — and satisfaction, too.
I predict, however, that the Nats will win more than 100 games, despite the fact that Harper will crash into one wall too many and despite the fact that Max Schertzer will lead the league in strikeouts, wins and home runs allowed.
I know this for a fact.
How?
Because it's spring.
Of course, you know also that Mighty Casey struck out in October, erasing joy in the town of Mudville. You know also that in 2013, the Nats did not make the playoffs.  And that the only way the cheerleader calls the nerd a cool dude on Facebook is if it's a prank.   As for Donald Trump apologizing? Seriously?