Weekend Round Up March 30, 2017
By
April 6, 2017
0
131
•
---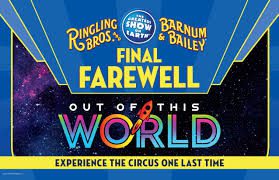 **Tolchin on Trump at Georgetown Village**
MARCH 30TH, 2017 AT 06:00 PM | FREE | LYNN@GEORGETOWN-VILLAGE.ORG | TEL: 202-999-8988
Martin Tolchin, longtime New York Times congressional correspondent and founder of The Hill and Politico, is a senior scholar at the Woodrow Wilson Center and a Georgetown Village member. With his wife, he is the coauthor of eight books on politics. Tolchin will give a free talk about what we can expect from the new administration, how much of a backlash there will be and what we should be doing.
Georgetown Village, 3240 O St. NW
**Ringling Bros. and Barnum & Bailey**
MARCH 31ST, 2017 AT 10:30 AM | STARTS AT $20 | MONICA.KHATTAR@QORVISMSL.COM | TEL: 202-420-1958 | [EVENT WEBSITE](https://verizoncenter.monumentalsportsnetwork.com/events/ringling-bros-and-barnum-bailey-out-of-this-world-1)
Ringling Bros. and Barnum & Bailey Presents Out Of This World is coming to the Verizon Center March 31 to April 2, to the EagleBank Arena in Fairfax April 7 to 16 and to the Royal Farms Arena in Baltimore April 20 to 30. Attendees will blast off on an intergalactic adventure for space-age family fun as the ultimate circus experience launches into the future.
Verizon Center, 601 F St. NW
**Opening Reception: 'Speaking Layers'**
MARCH 31ST, 2017 AT 06:00 PM | FREE | TEL: 202-965-4601 | [EVENT WEBSITE](http://www.callowayart.com/listing//speaking-layers)
Living most of her life in relative isolation on the island of Menorca has allowed painter Lindsay Mullen — now based in D.C. — the unique opportunity to work in a quiet and peaceful space. Her work is intended to draw the observer into her meditative space, where light and color merge into visceral sensations. This is an opening reception for "Speaking Layers," an exhibition of Mullen's paintings on view through April 29.
Susan Calloway Fine Arts, 1643 Wisconsin Ave. NW
**Falu's Bollywood Orchestra**
MARCH 31ST, 2017 AT 08:00 PM | $25-$35 | WOLFTRAP@WOLFTRAP.ORG | TEL: 703-255-1900 | [EVENT WEBSITE](http://www.wolftrap.org/tickets/calendar/performance/1617barns/0331show17.aspx)
Lauded as "ethereal and transcendent" (Billboard) and "a rare brand of timeless elegance" (Vogue), the internationally acclaimed Indian vocalist who has collaborated with Yo-Yo Ma, Ricky Martin and A.R. Rahman returns to the Barns.
Barns at Wolf Trap, 1635 Trap Road, Vienna, Virginia
**Washington Printmakers Opening Reception and Talk**
APRIL 1ST, 2017 AT 01:00 PM | FREE | TEL: 202-669-1497 | [EVENT WEBSITE](http://www.washingtonprintmakers.com)
"Wild about Spring," an exhibition by eco-artist Marian Osher on view through April 29, celebrates both the beauty of spring and the importance of diversity in the natural world, presenting a visual parade of colorful monotypes and paintings of wildlife and circular photos of flowers. Osher will speak about her work at this reception.
Washington Printmakers Gallery, 1641 Wisconsin Ave. NW
**April Fools! Urban Adventure**
APRIL 1ST, 2017 AT 02:00 PM | $25/PLAYER | BOBBY@RAVENCHASE.COM | TEL: 800-282-3169 | [EVENT WEBSITE](http://www.ravenchase.com/public-events/april-fools-dc)
Every year it's the same: crank calls, fake news articles and your favorite show is coming back (it's never coming back). This year, Ravenchase Adventures invites Washington residents to race through a citywide April Fools experience using landmarks and oddities to find clues, solve puzzles and compete for the glory of first place. The deadline to register teams of two to six players is March 30.
Location to be announced on game day
**National Philharmonic Plays Mozart**
APRIL 1ST, 2017 AT 08:00 PM | $28 TO $88 | TEL: 301-581-5100 | [EVENT WEBSITE](https://www.strathmore.org/events-and-tickets/np-mozart-40)
Three magnificent works showcase Mozart's genius: the humorous and satirical "A Musical Joke," which pokes fun at uninspired composers; the sublime "Piano Concerto No. 23," with soloist Eric Lu, one of the youngest prize winners of Warsaw's International Fryderyk Chopin Competition; and the popular "Symphony No. 40 in G Minor."
Strathmore, 5301 Tuckerman Lane, North Bethesda, Maryland
**Artomatic Children's Day**
APRIL 2ND, 2017 AT 01:00 PM | FREE | [EVENT WEBSITE](http://www.artomatic.org/event/artomatic-childrens-day/)
Children's Day at the D.C. area's annual showcase for the arts will include a roaming magician, the creation of a children's art mural, a community weave kick-off, an origami project (cranes and butterflies) and workshops on cellphone photography and public speaking for kids.
1800 S. Bell St., Crystal City, Virginia
**'Starry Messenger' at the Folger**
APRIL 2ND, 2017 AT 02:00 PM | $40 | TEL: 202-544-7077 | [EVENT WEBSITE](http://www.folger.edu/events/starry-messenger)
Galileo's revelations of the planets' motions, published in his "Sidereus Nuncius (Starry Messenger)," revolutionized how people saw the universe. Folger Consort celebrates this age of revelations with operatic arias and dramatic songs by Monteverdi; lute music by Galileo's father Vincenzo Galilei; and brilliant early violin sonatas. Also Friday 3/31 at 8 p.m. and Saturday 4/1 at 3 and 7 p.m.
Folger Theatre, 201 East Capitol St. SE
**Architecture Tour: Museum of the Bible**
APRIL 2ND, 2017 AT 02:00 PM | $15 | TEL: 202-347-9403 | [EVENT WEBSITE](http://www.aiadc.com/event/tour-museum-bible)
As part of Architecture Month, AIA DC offers a construction tour of the Museum of the Bible. Due to open in November, the museum will be a nonsectarian museum focusing on the history, impact and narrative of the Bible, with a core collection of more than 40,000 biblical antiquities, rare biblical texts and artifacts. Due to the fast-track nature of the project, participants will see the various stages of construction in the public spaces, in the back of the house and on the roof.
Meet at the corner of 3rd and D Streets SW