'A New Day' at Golden Globes
By
January 8, 2018
0
382
•
---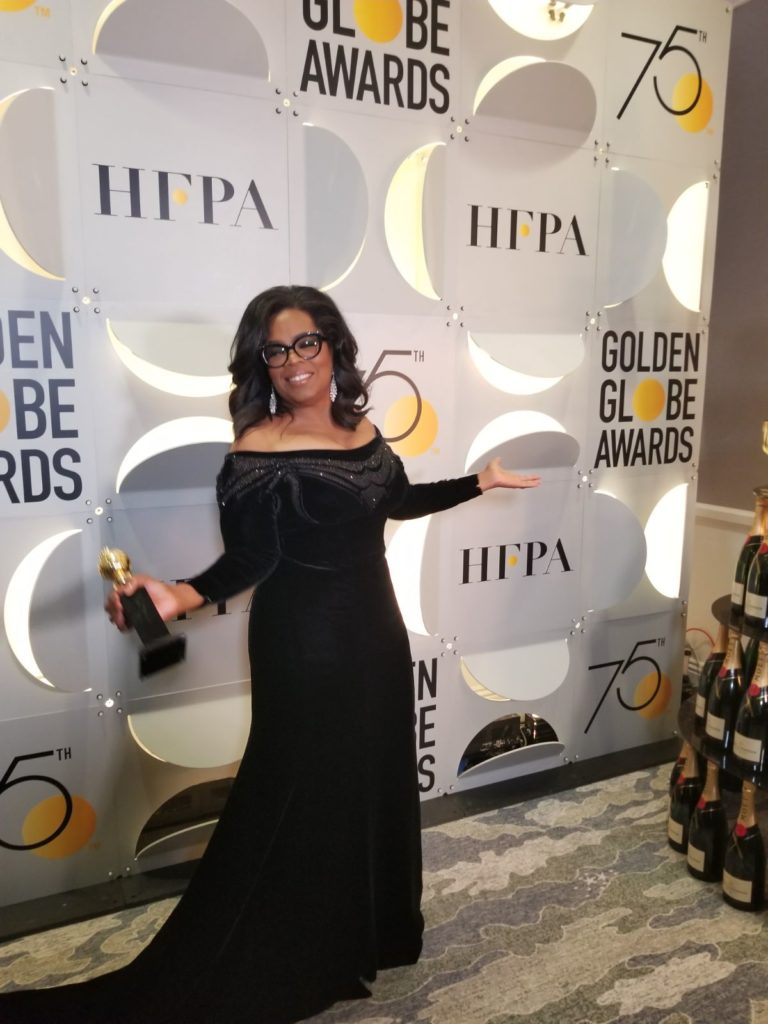 The Golden Globes, presented by the Hollywood Foreign Press Association, has always been a kind of schizophrenic yo-yo of an awards show.
That's due to the nature of the beast. It's set up like a party, with plenty of room for kibitzing: tables upon tables of Hollywood pros, nominees and officials, people moving through the room during the course of the show and, presumably, numerous visits to the bar.
It's also different from the more self-reverential Oscars in that there are television and movie categories and separate sections for musical-comedies and dramas.
Most years, irreverence trumps (and sometimes Trumps) seriousness, depending on who's hosting. This is especially true when comedian Ricky Gervais stands, often irresolutely, at the podium.
Last night, Jan. 7, the 2018 Golden Globe Awards were hosted by ABC "Late Night" host and former "Saturday Night Live" star Seth Meyers.
This time it was different, or, as one presenter leaving the stage said: "What are you going to do? It's a little weird out there."
The Goldens presented several familiar as well as new faces to the gathered audience and millions more around the world. It was the face of let-me-entertain-you, it was the face of keep-your-acceptance-speech-short, it was guessing who was going to win, it was arguing about who should have won and didn't. It was (mostly) a celebration of excellence and unusual and original work, lots of hugging and yelling, with tearful thanks to mom and wife (but not so many agents).
So why were all the women wearing black?
It was a decision — not accepted by all but pretty much so — by the #MeToo movement, a testimonial against sexual harassment and misconduct in the workplace, especially Hollywood (courtesy of Miramax and Weinstein Company cofounder Harvey Weinstein).
The tone was set early on with the bon mots of Meyers's monologue. "Good evening, ladies and remaining gentleman," the bright-eyed Meyers (who dug a grave for Kevin Spacey) said.
All of which meant that the Golden Globes, like many workplace arenas — the media, politics, sports and so on — was swept up in the tidal wave of accusations of sexual harassment which promises or threatens or creates the opportunity for a coming rearrangement of the relationship between men and women, on issues of harassment but also regarding financial parity and, most of all, power.
Those things came up. Women were prominent among the winners, and just plain prominent. Watching the proceedings — amid laughter, to be sure, but eloquence as well — you suddenly noticed just how special an occasion this was.
There was Oprah Winfrey, receiving the Cecil B. DeMille Award for "outstanding contributions to the world of entertainment," who gave what was described as the speech of all speeches. "A new day is on the horizon," she said. "I want tonight to express gratitude to all the women who have endured years of abuse and assault because like my mother they had bills to pay and dreams to pursue." "Time is up," she said, "for those who use their positions of power to abuse others." And: "I want all the girls watching here now to know that a new day is on the horizon."
The eloquence of Winfrey — inspiring, moving, complicated and heart-rending — was noticeable because the evening took place against the background of another fiery day in Washington, where President Trump felt the need to defend himself by saying he was a genius in response to the new and sold-out book "Fire and Fury: Inside the Trump White House."
It was noted that all the nominees for best director of a drama were white men, but the winner, Guillermo del Toro, for "The Shape of Water," said: "Come on, I've waited 25 years for this."
Barbra Streisand said that time was up. "I'm the only woman to receive an award for best director here. Ever. That's just wrong. Time's up."
The acerbic actress Frances McDormand, who won a best actress award for the mystically titled "Three Billboards Outside Ebbing, Missouri," said: "Trust me, the women in this room tonight are not here for the food. We are here for the work. Thank you."
There was also an emotional appearance by Kirk Douglas, superstar from days gone by ("Lust for Life," "Spartacus"), once the essence of a male movie star, now frail at 101 years old.
As the majestic Winfrey said: "A new day is on the horizon, a time when no one will have to say 'Me Too' ever again." For a few hours at the Golden Globes, that time was now.