A Tale of Two Gardens And Their Gardeners
By
May 2, 2018
0
2642
•
---
'CLOSER TO GOD'
It's no great mystery why Susan Pillsbury has a passion for gardens.
"I'm English," she gushes in her kitchen, pouring tea into an exquisite floral cup. "Our gardens and dogs are everything."
As a child in Chester, her father, "a wonderful gardener," gave her a plot in the family garden that she could tend to every morning before school. That little plot inspired a lifelong fascination with beauty and nature, which she likens to a religious experience.
"You don't feel any closer to God than in a garden," she says.
Pillsbury has owned fabulous homes in Hawaii, Switzerland, California and now in Georgetown, but their gardens were always her happiest places. Flipping through photographs of her gardens fills her with pride and nostalgia.
When she and her husband, Michael, were house-hunting in Georgetown more than a decade ago, the large yard of their O Street home, which dates back to circa 1790, was "the selling point."
Being the guardian of such a place is a matter of "community responsibility," Pillsbury explains. She's happy to show off the fruits of her imagination at this year's Georgetown Garden Tour on Saturday, May 12.
Two verandas face the garden, perfect for taking in the lush space with a book, a glass of wine or other, ahem, pastimes: "You can sunbathe in the nude out here," she jokes.
American and British flags flank the lower-level porch that opens to a Georgetown paradise with an Asian influence. Dedicated patrons of the Smithsonian's Freer and Sackler Galleries, the Pillsburys are prolific Asian art collectors and can hold their own in Mandarin.
A Buddha holds court on one side of the garden, while a statue of a dancing Thai girl enchants on the other. In between, there's a freestyle English garden of lilies, peonies, daisies and hydrangeas with Japanese maples and magnolia trees — to name just a few of her charmers.
Stones with the names of bygone pets are warm reminders of her nature-loving heart. She joyfully tells me that a group of cardinals have laid claim to her vintage birdbath. Pillsbury and her gardener, Glenn Bly, have even taken a shine to a group of squirrels that scurry through the oasis.
Of course, no English lady would be caught dead without rose bushes. Pillsbury's peak after the Georgetown Garden Tour, unfortunately, in June. But the pink and white camellias are as fresh and radiant as ever in May.
"It's just a mass of colors here," she says, relishing her breakfasts and teatimes in the many sitting areas during the warmer months.
FIRST BLOOMS OF CAMELOT
Cameron Knight refers to his N Street garden as an "outside room."
"It's not a gardener's garden," he concedes, but it's fit for a modern family of four and their four-legged companions.
His three cockapoos and two teenage sons have the run of the place, and don't have to worry about boys being boys. The patio furniture is from Costco, and it's used to wear, tear and rain.
Chloe, one of Knight's pooches, rests comfortably on the cushions (and my lap) in the afternoon sun, until Knight's mother-in-law comes to visit.
"Nana says no dogs on the sofas," he explains.
The Knight garden is a meeting of his cosmopolitan tastes — his grandfather and great-grandfather were well-known painters — and his family-man sensibility. There's an elegant ease here, where he and his husband held their wedding reception, and where his family can enjoy casual al fresco meals.
Taking on the upkeep of the garden himself, Knight planted European-style hornbeams, which form a makeshift wall. Soon enough, he says, he's going to "give a gift to myself" and build a "real" wall of brick.
The other highlights are coincidental finds, but Knight makes it all work. Two giant urns bought at auction hold massive ferns from Home Depot. The outdoor coffee table, found abandoned in Volta Park by his son, is secondhand Restoration Hardware. A fountain sometimes functions as a kids' pool.
Topiaries and other trees, including pear trees, round out the green family den.
"I confess, I am the family tree-hugger," Knight says. He is a former chair of the Friends of the National Arboretum's youth garden program and involves his sons in the gardening decisions.
A red crape myrtle has been dubbed "Myrtle, the Crape Myrtle," by Knight's youngest child.
"I'm not much for flowers," he admits, but says his geraniums have gotten lots of admiration from neighbors.
In the evenings, the trees come alive with small lights, creating a warm glow for dinner parties.
In the late 1950s, the garden was aglow with the first blooms of Camelot, as this was the house of Sen. and Mrs. John F. Kennedy before JFK became president. Interestingly, Knight's father, Ridgway, served as ambassador to Syria under President Kennedy, but Knight has never fixated on the house's Kennedy connection.
He's not surprised, of course, at the persistent interest in the house and garden, but (in Jackie-like fashion) Knight guards his privacy. This is the first year he is participating in the tour.
PROSPECT STREET
On the tour for the first time, this large garden has three special spaces: a small woodland area, a swimming-pool terrace and a charming rose garden. The marvelous house, built in 1788, was designed by William Thornton, architect of the U.S. Capitol. A belvedere overlooks the Potomac River.
VOLTA PLACE
Lush plantings frame the street entry of this home — a hint of the enchantments inside. A south-facing lawn creates a charming side entry to this sprawling house. Beyond, an Asian-inspired shed transitions to several rear terraced areas, including a lovely swimming pool.
P STREET
Verticality and depth are the hallmarks of this surprising shade garden, a pet project of owner Alec Tomlinson with designer Tom Stohlman. Bamboo and pear trees frame an all-white color scheme, reinforced by potted plants at the swimming pool's edge. Multiple seating groups and statuary beautifully punctuate this long space.
O STREET
A gracious veranda overlooks this enchanting garden. Large magnolias, specimen trees and dense perennial borders frame a generous lawn. Handsome Asian sculptures collected during the owners' travels are found throughout this lush landscape, punctuating a vista or gracing a seating area.
35TH STREET
This lovely old farmhouse, up on a hill, dates from 1800. Two rows of glorious peonies and perennials line the path to the front door with its rich, rose-covered lattice — charmingly old-fashioned. In the back, a seating area overlooks a large swimming pool surrounded by handsome plantings.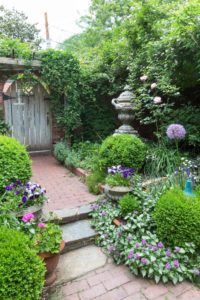 34TH STREET
A wonderful drawing room opens to this charming rear garden featuring a fountain in the center. Enclosed by brick walls, the joys of this garden are found in its formal structure, punctuated by marvelous specimens from roses to a golden chain tree.
N STREET
This garden, on the tour for the first time, belongs to the famous Kennedy house where JFK and Jackie lived just before the inauguration in 1961. Striking in its structure and formality, the space is designed for entertaining on a large scale. Boxwoods, hornbeam and espaliered plants are all at home here.
DUMBARTON STREET
Stairs from the street lead to a formal oval lawn bordered by large trees and perennial beds fronting this historic Victorian home. Across the way, a south-facing rose garden competes for attention. Outside porches and rear patios are inviting counterpoints to the open sunny spaces.
About the Georgetown Garden Tour
Founded in 1924, the Georgetown Garden Club has been responsible for the Georgetown Garden Tour since 2000. The tour was first organized in 1928 by Mrs. Edmonia Whitehead as a way of involving the community in educating inner-city children, benefitting the Georgetown Children's House, the first integrated childcare center in the city.
The tour provided greatly needed funds for the organization through the 1990s. At that time, due to insufficient subsidies from the United Way and the District's Department of Human Services, the Georgetown Children's House closed. Many members of the Georgetown Garden Club by that time had become involved in the annual tour, so it seemed only natural for the club to step in and take over organization of the tour.
Now 51 members strong, the Georgetown Garden Club organizes this springtime tour, showcasing distinctive gardens in the east and west villages. Since 2000, the club has raised more than half a million dollars. These proceeds benefit green spaces and parks throughout Georgetown while providing funds for inner-city youth to learn about gardening and conservation through the Student Conservation Association. Their work in Dumbarton Oaks Park has contributed to the park's revitalization, in the process inspiring lifelong stewardship of the environment in the minds of many young workers.
Other beneficiaries include Book Hill Park, Montrose Park, Tudor Place, Volta Park, Rose Park, Trees for Georgetown, the Georgetown Library and the Georgetown Waterfront Park.
— Victoria Rixey