Whats Cooking IN GEORGETOWN
By
July 15, 2018
One Comment
1263
•
---
By Cameron Hill, Elisa Bayoumi and Marina Shallcross
Angolo Ristorante
2934 M St. NW
This summer, Georgetown welcomed a new restaurant and bar on a busy and historic corner site. Angolo Ristorante, at M and 30th Streets, serves Italian fare from pizza and pasta to veal scaloppini and salmon. The restaurant also offers small plates that will be updated seasonally.
The restaurant's interior features large windows overlooking M Street's hustle and bustle while offering an intimate ambiance with small tables and dim lighting. The outdoor seating, behind the restaurant, facing 30th Street, resembles a sunny, flower-filled Georgetown backyard. With its attentive servers, Angolo will make patrons will feel right at home.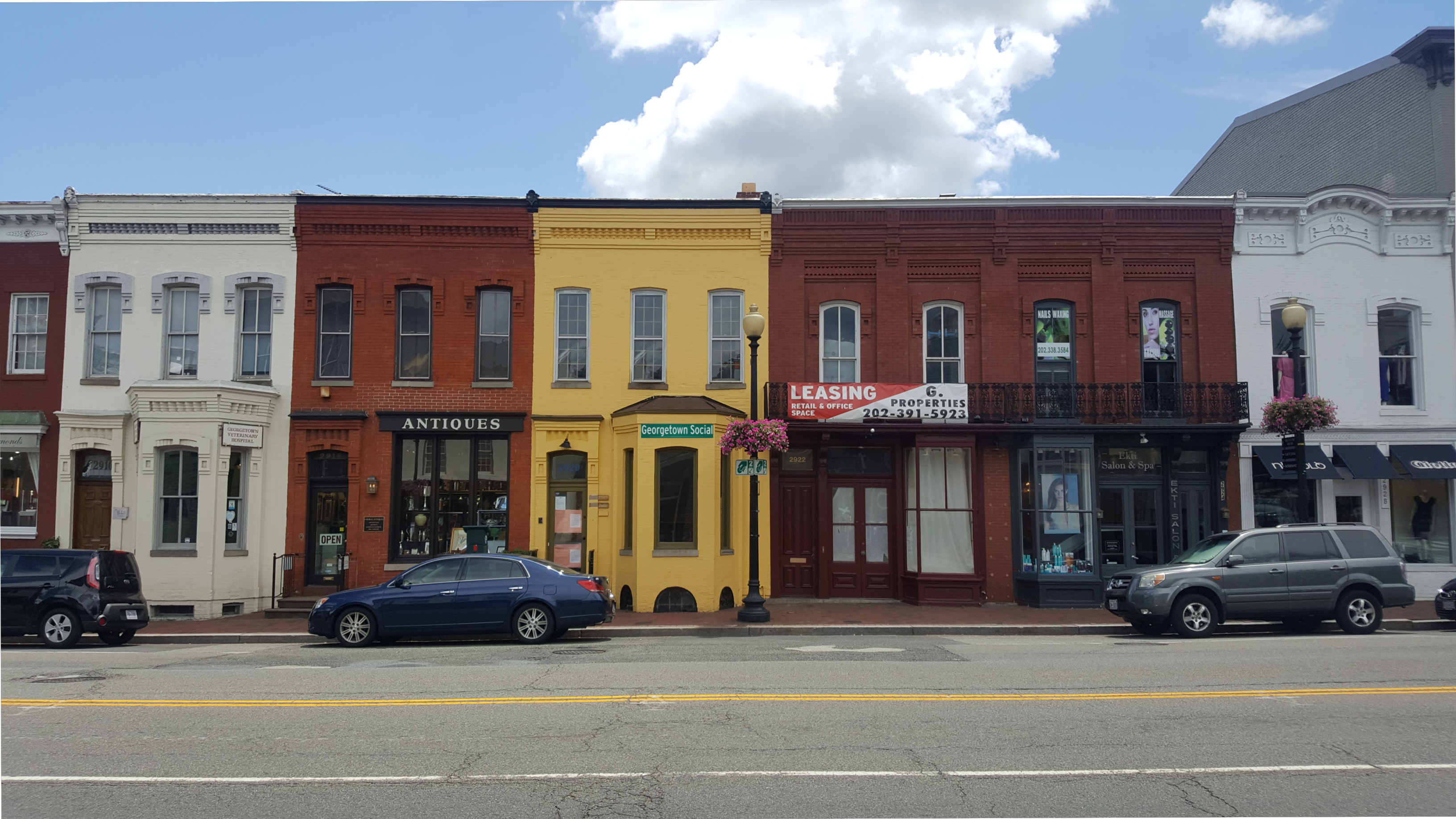 Georgetown Social
2920 M St. NW
2920 M St. NW, vacant since local juice bar Postmodern Foods shut its doors more than a year ago, will soon host a new eatery known as Georgetown Social. According to owner Hazem Alghabra, the restaurant will offer international casual cuisine.
Built in 1900, the former residence contains a front room that Alghabra envisions as a coffee shop; a larger room on the main floor that will serve as the primary dining room; and a basement, where Alghabra hopes to install a bar. There is also a back courtyard that could feature musical entertainment.
Noting that the restaurant is exactly between Georgetown University and George Washington University, Alghabra said: "There's not a single place that college students can really kick back with their laptop, grab a coffee, grab a bite … and enjoy a meal for under 13 dollars."
Georgetown Social will offer a range of foods — from quesadillas to salads to Mediterranean dishes — in a "no drama" environment, with vegan, vegetarian and gluten-free options. Although Alghabra plans to set menu prices low enough to attract college students, he wants Georgetown Social to appeal to other members of the community as well. People working in Georgetown, for instance, could grab a quick, high-quality lunch.
Set to open in October, Georgetown Social will be Alghabra's first independent business venture after a career at the State Department. He chose Georgetown because he loved spending time here while growing up across the river in Rosslyn, Virginia.
America Eats Tavern
3139 M St. NW
America Eats Tavern, José Andrés's new Georgetown venture, specializes in American classics with a twist. Now located in Old Glory's former space at 3139 M St. NW, America Eats began in 2011 as a six-month pop-up collaboration between Andrés and the National Archives. The restaurant aimed to give patrons a history lesson, using historical recipes from the National Archives exhibition, "What's Cooking, Uncle Sam? The Government's Effect on the American Diet."
The menu featured historical facts, explaining the evolution of American cuisine and exploring the changing relationship between Americans and food. The pop-up closed, only to reopen in the former Café Atlántico space downtown, then the Tysons Corner Ritz-Carlton, before finally ending up in Georgetown.
With its layers of history and appreciation of good food, Georgetown would seem to be the perfect place for America Eats Tavern. But if the 1950s steak tartare sounds too old-school, chef Claudio Foschi has made sure to update some of the classics. Andrés said: "Certain traditions you cannot fight with, but certain traditions you can improve upon," the exact philosophy that America Eats Tavern brings to its dishes.
Next to the vermicelli mac 'n' cheese, an 1802 recipe, are housemade pickles with smoked pecans, an Andrés tweak that elevates the original recipe. And never fear for drinks — the restaurant features spirits from all 50 states.
The new home has inspired a new focus on barbecue and smoky flavors. Think FoodGroup's partnership with Capital Restaurant Concepts and Bechara Nammour haspushed American Eats toward American barbecue. In order to create the tavern's beef brisket, pulled pork and spare ribs, there is a wood-fired oven burning cherry wood, delighting patrons with both flavor and smell.
Back in the District, America Eats Tavern is giving Georgetown diners a cutting-edge blast from the past.
Cube & Bale
3251 Prospect St. NW
3251 Prospect St. NW, the address of Café Milano and men's store Sid Ashburn, among other businesses, will soon become home to a new restaurant called Cube & Bale. Taking over the former Chinese Disco restaurant space, Cube & Bale will be a 24-hour eatery with indoor and outdoor seating that the complex's owner, Robert Elliott, hopes will serve as a new venue for entertainment in Georgetown. An opening date has not been announced.
Elliott sees a void in Georgetown's restaurant scene. He told The Georgetowner thatthe neighborhood lacks "cutting-edge cuisine" and places where patrons can see quality live entertainment in the evenings. According to Elliott, although there are numerous vacancies in the neighborhood, restaurants have not been moving in.
"Another thing that's affecting Georgetown is just so many restaurants elsewhere,"Elliott said. "It's hard to hire, it's hard to compete."
Elliott expects Cube & Bale's 24-hour policy to appeal to Georgetown University students looking for late-night coffee or a place to study off-campus, but the restaurant, which will have a liquor license, will serve a variety of food geared to different types of customers.
Regarding community concerns about noise from late-night entertainment and 24- hour businesses, Elliott noted that the space is set back in the Prospect Street complex, facing an interior courtyard rather than the street, and that three of its four walls are built into the ground.
Dyllan's Raw Bar Grill
Dyllan's Raw Bar Grill is expected to open this summer in the shuttered Sea Catch restaurant space in Canal Square. With a large dining space and a side porch stretching along the C&O Canal, Sea Catch closed in January of 2017, to the surprise of many longtimepatrons. Dyllan's is preparing to take over the space, having begun to renovate and to interview potential employees. Donald Carlin, founder and managing partner at Good Apple Hospitality, which owns Dyllan's, formerly worked for Host Hotels & Resorts.
Guapo's
The classic D.C. Tex-Mex restaurant will soon open a Georgetown waterfront location in the previous home of Orange Anchor, 3050 K St. NW. The casual-dining chain will add severalnew dishes, some inspired by the owners' Colombian roots, as well as upgraded plating and a ceviche bar. But the Georgetown Guapo's will still be family-friendly, with no tablecloths,like the locations in Tenleytown, Virginia and Maryland.
Bandoola Bowl
This fall, Bandoola Bowl will be the latest take on customized salads with a Burmese twist, meaning spicy homegrown Burmese and Thai chilies. The fast-casual restaurant at 1069 Wisconsin Ave. NW, a project of longtime family-based restaurateur Aung Myint, will haveextensive seating.
Café Georgetown
Just off Wisconsin Avenue at 3141 N St. NW, near Paolo's Ristorante, Café Georgetown — which will open this fall — is meant to create a community space for Georgetown residents and visitors to get to know one another. Owner Emel Bayrak, White House correspondent for a Turkish broadcasting service, also hopes to use the coffee shop, pastry shop and wine bar to introduce government officials to the everyday life she has enjoyed in Georgetown.
Also coming:
Chanterelle, a French restaurant being planned by restaurateur Hakan Ilhan (Mirabelle, Ottoman Taverna, Al Dente and Alba Osteria), at 3251 Prospect St. NW — in the Morton's space. More on this development in the next dining report.