Sondheim's 'Passion' at Signature
By
August 21, 2018
0
263
•
---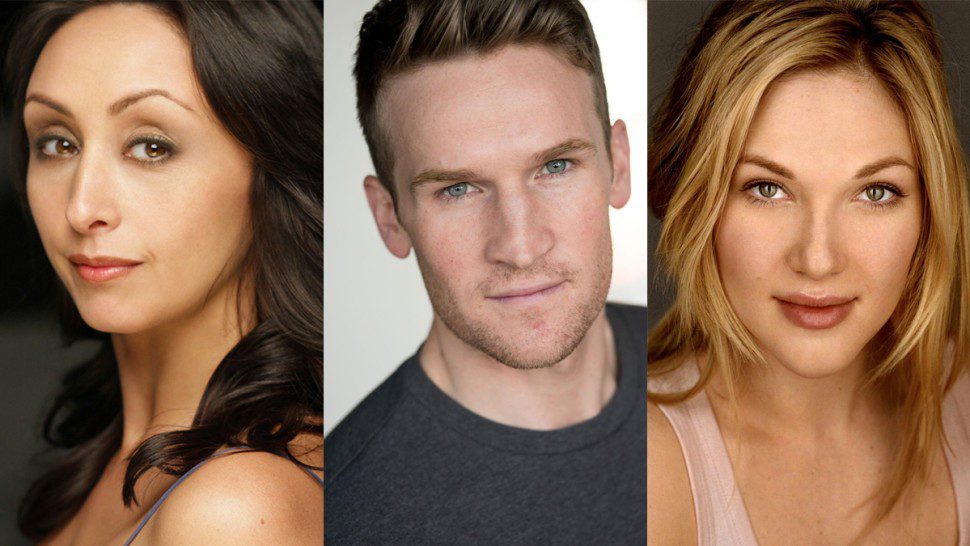 Signature Theatre in Arlington, Virginia — basically the House of Sondheim in the region — is tackling "Passion," arguably the most contrarian, challenging and in many ways fulfilling work of legendary American composer and lyricist Stephen Sondheim. It is a work that musically, conceptually and dramatically turns the conventions of American musicals inside out and upside down.
"I am a Sondheim person," said Signature Associate Artistic Director Matthew Gardiner, who is directing "Passion." "I'd pick many of his works as my all-time favorites. Over time, maybe his works have become at turns unorthodox, intellectual and certainly challenging, but that's why many people consider him one of the finest American composers of all time. I think sometimes critics and sometimes audiences get overwhelmed by him. To me, it's about discovering him, diving in."
Not so long ago, Gardiner was a rising star, with a Helen Hayes best-director award under his belt for Sondheim's "Sunday in the Park with George." At the time, he called "West Side Story" — for which Sondheim wrote the lyrics to Leonard Bernstein's music — his "all-time favorite musical. It's perfect."
Oddly enough, the ever-popular "West Side Story" had never been done at Signature, which under Eric Schaeffer had run through most of the Sondheim canon and found fame early with "Sweeney Todd." Gardiner was to direct a revival of the 1957 classic over the winter of 2015-16.
But however perfect "West Side Story" may be, it seems like a work from another country and time compared to "Passion." Sondheim, working with long-time collaborator and writer James Lapine, explored the essence and definition of love in this 1994 work. It was not so much anti-romantic as the climax of a journey that began much earlier.
For Gardiner, the project was a kind of apex in terms of Sondheim. He is inclined toward new works, premieres and the like, and this particular show fit the bill.
If you search through the Sondheim canon, you see an ambitious journey, a goal clearly in sight. He had a valuable mentor in Oscar Hammerstein II, early success as a lyricist ("West Side Story," "Gypsy") and went on to create works, sometimes in conjunction with Lapine, that would grow ever more intellectual, layered and musically complicated. The landscape onstage would sometimes become dark.
It also seems, looking at the resume, that Sondheim was always moving forward. Sondheim himself seems not to think so highly of his work on "West Side Story" — although the lyrics crackle with energy and edge, a perfect match to Bernstein's music and Jerome Robbins's choreography. Think of the worlds he went on to explore in "Follies," "Company" and the hugely popular "A Little Night Music," his musical recreation of the Impressionists' milieu in "Sunday in the Park with George" and his darkly prickly but highly entertaining excursion into fairy tales in "Into the Woods."
"Pacific Overtures" and then "Assassins," a musical about presidential assassins and would-be assassins, showed the complex nature of his ambitions. "Passion" was the fulfillment of those ambitions.
"It's hard to define completely what 'Passion' is because there's always another revelation, another door opening. And it's not necessarily easy for some audiences. But it is to me the best of Sondheim," Gardiner said. "It's been a long time. It hasn't been here for 15 years. Basically, Eric, who's done it frequently, assigned it to me, saying he had done it often enough."
"Passion" is essentially a love triangle centering around Giorgio, a young, 19th-century officer, who is in love with the beautiful Clara but also becomes involved with the frail, plain and impassioned Fosca. Actually, when you listen to the music, the voices and the emotions expressed, it seems more like a quartet, the fourth partner being and feeling like Sondheim's obsession with the deepest corners of love itself.
"I think of the work in many ways," Gardiner says. "Sure, it's daunting, and difficult. But to me, it's a gift to me to be able to do this and work the art and artists. It's an embarrassment of riches."
While "Passion" is constantly revived and tackled and has been critically acclaimed, it takes something of a commitment, a willingness to open ourselves to feelings not usually accessed by a musical. Sondheim himself has said that he believes the musical is about how "the force of somebody's feelings for you crack you open, and how it is the life force in a deadened world."
Strong words those, not usually used to describe even the great "Carousel," for instance, although in fact they often lie just below the surface of all great works about love. "Passion" runs through Sept. 23.