Five Reported Gas Leaks in One Day
By
October 4, 2018
0
656
•
---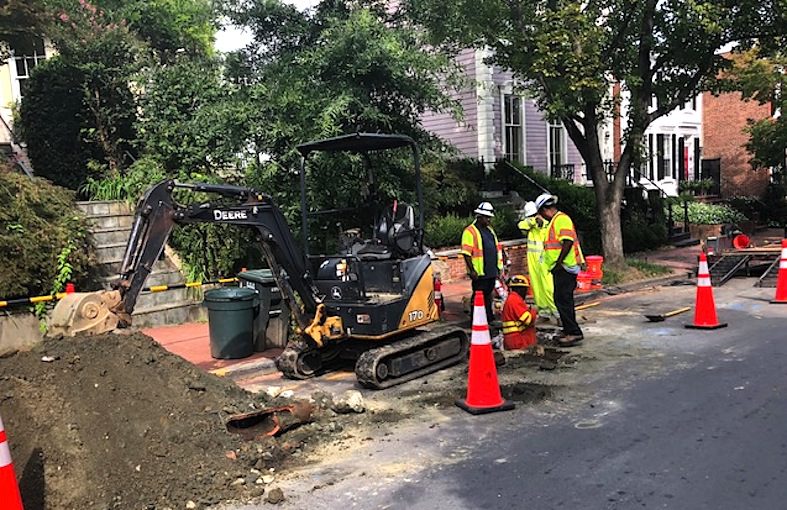 On Sept. 13, multiple gas explosions in dozens of homes in a Boston suburb killed one person, destroyed a whole neighborhood and caused some 8,000 residents to evacuate. They returned a few days later feeling unsafe, despite assurances from the gas company.
Three days later, a serious gas leak was reported on the corner of 28th and Dumbarton Streets in Georgetown. Washington Gas responded immediately, but the repairs, road closures and warnings about gas usage continued for days. Then, the week of Sept. 20, reports of gas leaks began to multiply.
"In what may be a record, on October 2 there were at least five new gas leaks within a block or so of each other in Georgetown. Three of the leaks were around the corner from one another. There have now been at least 35 gas-related leaks or repairs within several blocks of my house since April 2016," wrote Ed Segal, a longtime resident of Georgetown who has been concerned about (some might say obsessed with) gas leaks in the neighborhood.
Segal manages Georgetown Gas Leaks and Repairs, a blog that minutely reports the numbers and kinds of leaks occurring now almost daily in Georgetown, along with his contacts with D.C. utility and advisory neighborhood commission officials and others about them.
"On Tuesday Oct. 2, at the corner of 31st and O Streets in the late evening Washington Gas crews confirmed that there was a leak not related to the leaks earlier in the day around the corner on Dumbarton," Segal wrote. "As I started to take pictures of their work from across the street, he yelled in my direction. It sounded as if he was warning me about some danger, so I left immediately. As I started to take more photos from what I thought was a safe distance down the street and away from where they were working, the same Washington Gas crew member yelled out what sounded like a warning that I should leave again. I yelled back asking if it was dangerous. He yelled back and claimed it wasn't, but said I was making his people nervous by taking pictures. I was about 50 feet away, across the street from the site of the leak, and standing in the dark. I have to ask what they were trying to hide.".
Thousands of gas leaks in the District were found to be responsible for $15 to $20 million in damage to trees, according to a 2011 study done by natural gas safety expert Robert Ackley of Gas Safety Inc. in Southborough, Massachusetts. Last August, Segal hosted Ackley in Georgetown for three days to update his research using cavity ring-down spectroscopy. This equipment detects and documents methane in parts per billion and tags each reading with global positioning coordinates that can be plotted on Google Earth.
"The good news is that most of the leaks detected are not necessarily explosion hazards for buildings. The bad news is no community can afford to be lulled into a false sense of confidence about the safety of their gas pipelines," the report concluded.
ANC member Jim Wilcox has been in contact with Jack Evans, Georgetown's representative on the D.C. Council, and Washington Gas's director of corporate public policy about the rising concerns. "The gas company is in the midst of a three year leak survey cycle for Georgetown, and as part of that, additional leaks will be identified," Wilcox emailed on Oct. 4. "I recommend that they be reported to the gas company for repair, because I am certainly not in the position to assure the community that a potential gas leak cannot pose a risk.
"Although gas leaks pose substantial issues for our community and should be reported for repair, please be assured that ANC 2E is working in collaboration with our City Councilman's office to address the concerns which have been raised," Wilcox concluded. "We can't offer a complete and perfect answer yet, but I can assure you that we are working together on it."