Business Ins & Outs: Reren Lamen & Bar Open, Wine Bar 2622 on Deck, Others
By
September 16, 2020
0
770
•
---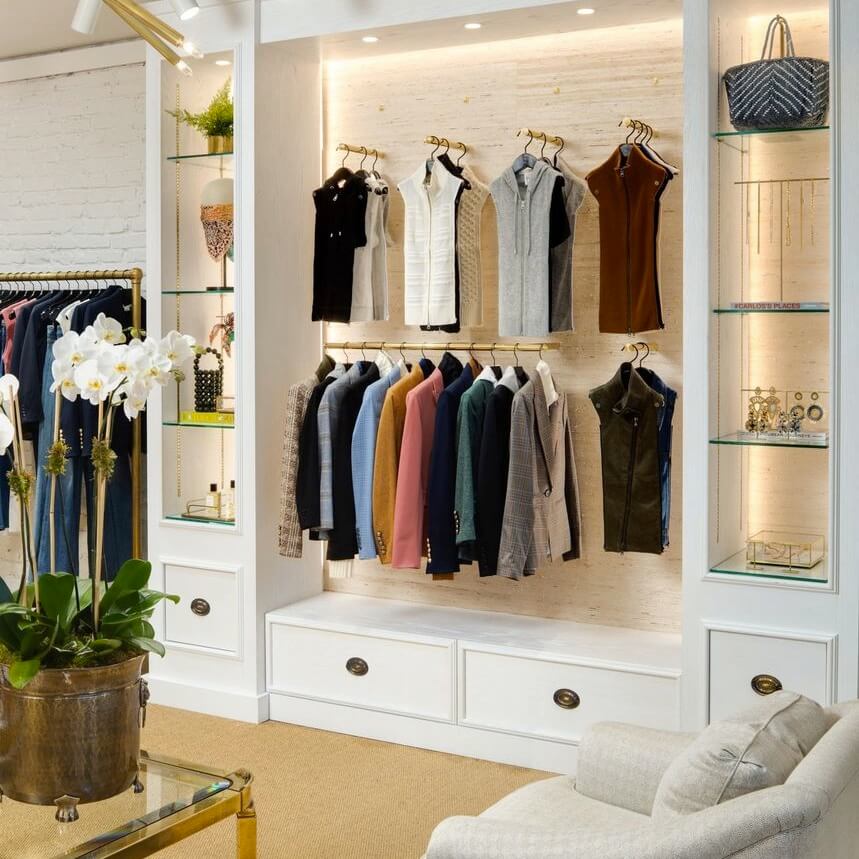 Georgetown's commercial landscape is shifting dramatically not only due to the disruptive headwinds of the pandemic but to major entrepreneurial innovations in fashion wear and design. The opening of Veronica Beard on Wisconsin Avenue has added new concepts in women's wear — created by and for women.
Founded in New York City in 2010 by two sisters-in-law who share the name Veronica Beard, their eponymous store quickly discovered a market niche and expanded with lightning speed to more than 80 stores and $100 million in revenue.
Celebrities, from Demi Lovato to Meghan Markle have been seen sporting their brands. For professional women in search of an elegant "uniform" for work (something men have always enjoyed), stylish, sharp, and edgy designs, tailored blazers and the brand's signature "dickeys" are showcased. For leisurely pursuits, ready-to-wear, jeans, footwear, swimwear, "active sportswear," and other "lifestyle apparel" are featured.
IN: VERONICA BEARD
The first Veronica Beard store in Washington, D.C., opened on Saturday, Sept. 5. Located at 1254 Wisconsin Ave. NW, the store fills a longtime empty storefront that once held the clothing store the Street of Georgetown (and, before that, a Swensen's Ice Cream shop).
As Veronica Beard tells us: "The 1,540 sq. ft. Georgetown boutique was designed to feel vintage and lived in, as if you were at home in your own living room. A marble tulip-base coffee table along with brass fixtures and accents in our signature Pierre Frey leopard fabric are anchored by a vintage sofa in deep orange and brown Schumacher velvet ikat fabric. The boutique will feature our full ready-to-wear, jeans, swimwear and footwear collections, as well as a selection of carefully curated third-party product."
IN: REREN LAMEN & BAR
Reren Lamen & Bar opened this month at 1073 Wisconsin Ave. NW. At Blues Alley, with the colorful mural on the side exterior, it joins other fast-casual restaurants on the block. Besides lamen, the Chinese version of Japanese ramen, Reren's specialties include dumplings and other East Asian noodles.
SOON: FOXTROT MARKET
Having presented its plans for outside dining to the Georgetown advisory neighborhood commission, Foxtrot Market at 1267 Wisconsin Ave. NW (the former Jonathan Adler location) appears close to opening. Positioned as the corner store of the future, Foxtrot has always had high-tech ordering and delivery.
MELTED: PADDYWAX
Trying to get out of its lease is Paddywax Candle Bar, which opened above South Moon Under at 1065 Wisconsin Ave. NW just before COVID-19 struck. This is the kind of bar where you learn to make your own candles — interacting with wax, wicks and optional wine. With its model inoperative during the pandemic, the Nashville-based company, which also sells candles, is suing its Bethesda, Maryland, landlord to break the lease. The suit is considered unlikely to succeed. (Expect to see more of these efforts in the months ahead.)
FOR 2021: WINE BAR 2622
Wine Bar 2622 — looking to open early next year at 2622 P St. NW, formerly the After Peacock Room restaurant — is proceeding with an October protest petition deadline and a roll call hearing date as a Retailer's Class "C" restaurant. The licensee is GothWine Limited Liability Company.
IN: CITY SLIDERS TO OPEN OCT. 1
The well-regarded Zannchi at 1529 Wisconsin Ave. NW may be gone, but get ready for fusion cuisine sliders — priced around $5 — BLTs, Korean fried chicken, brisket, lamb burgers, banh mi burgers, Korean pork belly and crispy cod. Add milk shakes, salads and desserts to the multilingual, multinational comfort food that City Sliders will offer starting Oct. 1.
COMING: AN INN NAMED FOR A (GEORGE) WASHINGTON FAVORITE
The space at 1659 Wisconsin Ave. NW that formerly housed Own Your Wonder is set to evoke Georgetown's 18th-century past. The Fountain Inn was the official name for Suter's Tavern, where George Washington met residents and planners to create the new Federal City. A sign on the door reads: "The Establishment will be a neighborhood tavern based on the former The Fountain Inn providing a daily food menu complimented by aged spirits and fine wines. Seating Capacity of 30 inside and a Total Occupancy Load of 60, including an outdoor Summer Garden with 30 seats." Not sure how adjacent neighbors will feel about that backyard seating.
COMING: GREENHEART JUICE SHOP
Virginia-based Greenheart Juice Shop founder Alicia Swanstrom plans her first D.C. store in Georgetown, in a former dry cleaner at 3345 Prospect St. NW, next to Down Dog Yoga on 34th Street. The corner spot will likely "include Greenheart's treasured signature juices, like the Liquid Gold, a blend of carrot, pineapple, turmeric, ginger and pear, and the wildly popular Cold Brew Latte, featuring cold brew coffee, cashew milk, medjool dates, Himalayan pink salt and more." Why is it called Greenheart? Swanstrom honors her partner Doug Green, a U.S. soldier who was killed nine years ago in Afghanistan. The couple sported matching green heart tattoos.
CELEBRATING 6 YEARS: DISTRICT DOUGHNUT
Six years ago, on Sept. 12, District Doughnut opened in Barracks Row. Since then, it has added stores that include the one in Cady's Alley on the west side of Georgetown, steps from Francis Scott Key Park. Last week's birthday cake doughnuts were a hit. Congrats to Greg Menna, Juan Pablo Segura and chef Christine Schaefer, the three co-founders!