SEOULSPICE: A New Way to Experience Korean BBQ
By
January 18, 2021
0
501
•
---
Korean BBQ is a special occasion with all-you-can-eat food enjoyed with friends and family. You choose from a variety of proteins, throw them on a sizzling grill at your table, and mix in marinated veggies and toppings. You get to make it your own and create your own tradition with the people around your table. So, at first, such a lively experience doesn't instantly say 'takeout' in one's mind. But it seems fitting that a place crafted from family recipes and inspired by Korean comfort foods would create a new experience at home.
SEOULSPICE is a healthy Korean comfort food concept started by Eric Shin (a Georgetown resident) with three locations in the Washington, D.C. metropolitan area. They recently launched a new At-Home Korean BBQ experience with fresh ingredients, prepared sides, and a Korean butane gas grill for preparing a traditional barbeque meal. It's designed to feed four, but you could probably stretch it to feed six.
When I received my KBBQ kit it came in three boxes and a carrying case for the grill. Even though I knew it came with a grill I was somehow still surprised to see it when we unpacked everything at home. It took a couple minutes to figure out how to connect the butane (due to user error not a lack of instructions). Then with everything hooked up, and with a satisfying click of the grill, the blue flame lit up and we were ready to barbeque.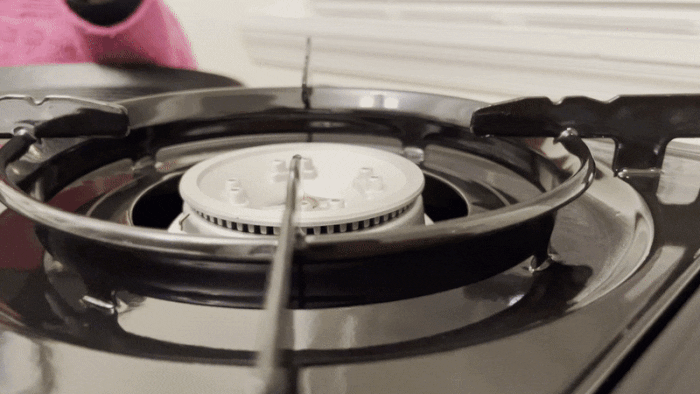 In the three boxes, all the ingredients and sides were packaged up and ready to go. I started with a bowl of noodles (japchae) as my base, with scallions, shredded kale in a sesame marinade (kale-namul), and a tasty Gochujang paste. We put the beef bulgogi and spicy pork (jeyuk gui) on the grill with a satisfying sizzle. Everything is thinly sliced so it cooks quick and gets a nice char within minutes. The mix of flavors was fantastic, and every iteration of the meal was a new adventure.
After trying everything, my favorite flavor was a traditional dipping sauce in Korean BBQ. It has beaming fresh ginger and carrot mixed with cold-pressed roasted sesame oil and salt.
The feast was something fun and new that broke through the humdrum of another day working at home. But my favorite part came in the days after when we made fried rice with the leftovers (instructions included for those new to fried rice at home). We were able to keep experimenting with the mix of flavors and it was nice having everything already prepped. For a restaurant to create something that lasts longer than a single meal is special and I'm excited to share this with friends when we order it again.
SEOULSPICE has locations in NOMA, Tenleytown, and College Park. Pickup is available at all three locations until January 31, 2021, and the At-Home KBBQ Experience can be ordered by emailing kbbq@seoulspice.com.