At First Anniversary, Pinto Prioritizes – and Thanks – Ward 2 
By
June 28, 2021
3
1959
•
---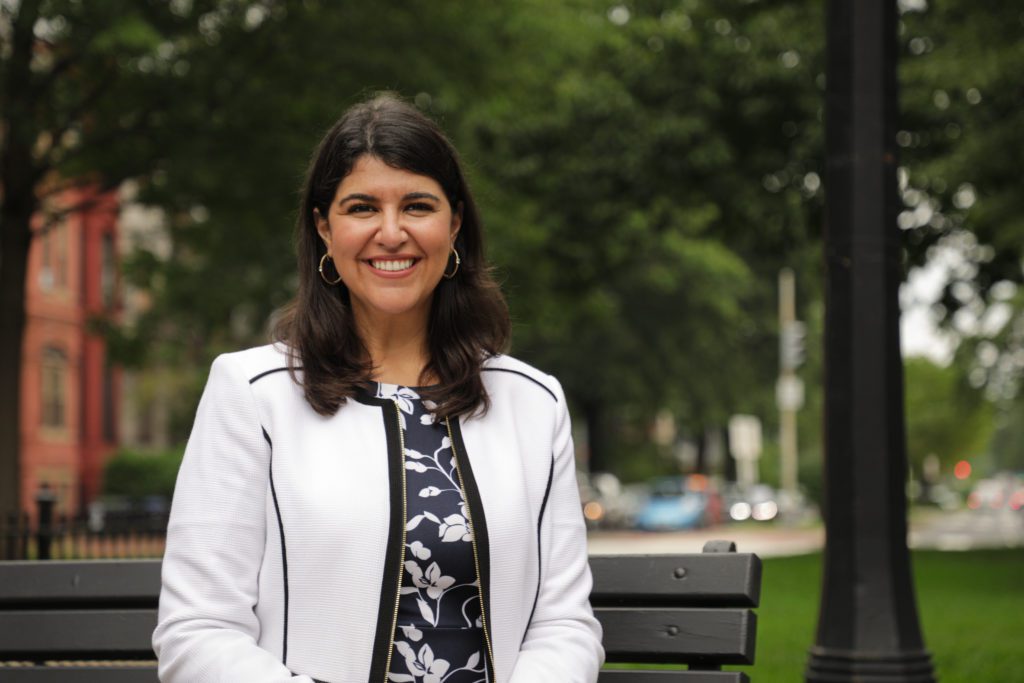 Ward 2 Council member Brooke Pinto is looking up these days.
With the Biden-Harris administration in town, the pandemic's easing and Mayor Muriel Bowser's budget allocating funding to the District's neighborhoods, Pinto's been working closely with Georgetown's community groups to enhance residents' security and quality of life.
Pinto celebrated one year as a member of the District Council on June 27 and thanked her constituents on social media. Two weeks earlier, on June 11, the day Washington, D.C. lifted its final pandemic capacity restrictions, The Georgetowner met with Pinto remotely to discuss her priorities.
After four years of the Trump administration, having Democrats back in the White House is fundamental for Pinto. "It's so exciting to have a federal partner who's on the same page about treating people with dignity and respect, getting everyone tested and vaccinated, believing in science, understanding the need to focus on learning loss for our young children in school, giving our schools resources they need to adequately serve our families and to have increased investment in our infrastructure and in our parks. It's entirely game-changing to everything we want to do and that we know is so important to our residents' quality of life," Pinto said.
Funding from the Biden administration's American Rescue Plan and the closing of the District's $750 million federal budget gap left over from the Trump administration have helped channel significant resources to D.C.'s neighborhoods. "Having access to adequate federal funding is going to be extremely impactful in next year's budget," Pinto said.
Not only will such funding help Georgetown's commercial recovery and development, but social services, parks, schools and affordable housing can all be addressed. 
"Ward 2 has the highest number of individuals experiencing homelessness living in the city," Pinto said. "We know that it's not just an issue that D.C. is experiencing. It's a regional and national issue and to have the federal government recognize that and invest in more funding for housing is extremely important as we work to move more of our neighbors into housing which is a top priority for me and my office this year."
Reviving Georgetown's commercial district is also a top priority.
"We keep hearing from Georgetown's residents about their concern with vacant storefronts and support for our small businesses," Pinto said. "Supporting our small business community has always been at the center of our priorities. It's a large reason I got into the race to represent Ward 2 in the first place and it's become even more evident and dire throughout the pandemic how much need there is and how much support they'll need following the devastating impacts of the pandemic."
For small businesses, Pinto introduced the Great Streets Amendment Act which expands the Great Streets' grant program opportunities to Ward 2 for the first time. To address the needs of Georgetown restaurants, she introduced legislation with Ward 5 Council member McDuffie to extend the streateries program "through the remainder of 2021."
As a tax attorney who previously served in the D.C. attorney general's office, Pinto is committed to reducing red-tape licensing burdens on Georgetown's startup and small businesses and the heavy licensing fees imposed. 
The current requirements, she said, are "extremely arcane" and "confusing." In the D.C. Council Pinto recently introduced the Business and Entrepreneur Support to Thrive Act (BEST) Act. The legislation would reduce the number of business licensing categories from 128 to 10 and eliminate such archaic elements of the existing laws as requirements for "horse-drawn carriages" and "slaughterhouses."
"I think it will be good for new businesses and ultimately it will be great for our workers who are looking for new jobs in our city," Pinto said. "It will be good to address the vacant storefronts that we see throughout the city and I know are of particular concern to so many Georgetown residents. Ultimately, it'll be great for our tax base and our economy to have an inviting, including business environment here in our community." 
Pinto talks up her collaboration and partnership with the Georgetown- Burleith Advisory Neighborhood Commission (ANC2E), the Citizens Association of Georgetown, the Georgetown Business Improvement District, Georgetown Main Street, Georgetown University, Georgetown Heritage and other community groups. She's enthusiastic about the Georgetown canal improvement project and the new visitor center.
Pinto applauded Georgetown Main Street for its recent award from American Express for its Take-Out Tuesday promotions. She cited the BID for helping to keep the commercial sector strong. She also commended the Friends of Rose Park and of Volta Park for efforts to rejuvenate park spaces and farmers markets.
During the pandemic, one of Pinto's major concerns has been the rise of violent crimes in the District. "Crime in our city is a huge challenge and concern. We've seen an uptick in gun violence across our city," she said. Getting to the "root causes" of the problem is a major priority.
She supports Bowser's call for instituting "violence interruption models" to intervene before violence occurs as well as the mayor's $15 million investment in Building Blocks DC, a program designed to provide support services for those most at-risk of perpetrating or falling victim to gun violence in the city.
"We know that when our young people are left unsupervised, particularly between the ages of 13 to 17 it can lead to an increase in crime," Pinto said. "So, we're thinking through citywide issues to increase our violence interruption models, to increase our funding for after-school programming, including Jelleff Recreation Center, to make sure our young people in particular and people who are in more vulnerable communities have other alternatives to turn to than getting involved in dangerous crime."
To address Georgetown's recent rise in violent crime, Pinto has been working in "close coordination with [her] ANC2E partners, the BID, the [CAG] and others to make sure" the approach used is fully "comprehensive." Together, they're working with DDOT to make sure the "streets are better lit." They're working closely with the Metropolitan Police Department (MPD) to reduce car jackings. Also, Pinto is working to address late night car gatherings on Water St. and the "increase in drag racing, fireworks, and other reported drug activity" in the area, noting the "terrible homicide" that occurred there last year.
Following the George Floyd and Black Lives Matter protests last year, Pinto has supported the work of the D.C. Police Reform Commission and applauds the group's "creative approaches" to addressing police brutality. Her approach to police reform is more centrist. She supports funding for mental health and alternative intervention approaches. However, she doesn't want to see police removed as first responders until funding for alternative approaches has been approved and data demonstrating the efficacy of alternative programs has been collected.
"The police are part of our public safety toolkit," Pinto said. "I am extremely grateful for the efforts of our officers in working to keep our communities safe and I believe that addressing violent crime and instituting necessary police reforms "can be done in tandem."
Parking issues are also major for Georgetowners, Pinto acknowledged. She's heard from residents about their frustrations over the lack of parking enforcement in neighborhoods during the pandemic. "It's been so frustrating for so many," she said. To improve the parking situation in Georgetown, PInto is considering rolling out for public feedback a "pilot program for Ward 2." The plan would provide unlimited parking within residents' ANC boundaries, but a two-hour parking limit if parking in another ANC district. "We think this is going to be helpful in prioritizing limited parking spaces for the residents who live in that neighborhood, but will also be good for turnover to support our restaurant and small business community."
Pinto also emphasizes the need to coax new building owners and developers to include public parking in their plans. She would also like to see Georgetown's parking garages "prioritize and provide discounts to D.C. residents because parking is so limited and those parking garages are some of our best opportunities for space."
Georgetown presents its own unique challenges for its council members. One of the most contentious issues Pinto has had to face involves pedestrian danger on the one hand versus historic preservation on the other.
Few features of Georgetown are as iconic as its brick sidewalks. Nevertheless, growing tree roots beneath the pathways' bricks have often damaged masonry work and created fall hazards. In response to the immediate risk, DDOT began using porous flexible pavement (PFP) rather than brick for spot repairs. Community backlash was quick.
"When it comes to sidewalks, pursuant to the municipal code," Pinto said, "Georgetown is a historic district and sidewalk repairs need to be done in brick. Our brick sidewalks are a really important and special part of the neighborhood, so we need to see them maintained." 
Given the risks, however, Pinto understands that DDOT has an obligation to make repairs swiftly: "In my dialogues with DDOT, I made it clear that before we made a move on anything, we had to have a conversation with the Old Georgetown Board as well as ANC2E to invite in community input, talk about what alternatives existed, and how we can move forward. There was a lot of push back from the community. People were very frustrated, and there was a strong desire to have repairs be done in brick."
Of the 18 sidewalk repair sites designated by DDOT, only four were redone with PFP rather than brick due to extensive root growth. "So, we'll be working to coordinate additional community meetings and opportunities for collaboration with DDOT because I hear consistently from residents that people are really interested in having those redone in brick and that's what we'll be fighting to do," Pinto pledged.