Weekend Round Up: Nov. 4 – 7
By
November 4, 2021
0
866
•
---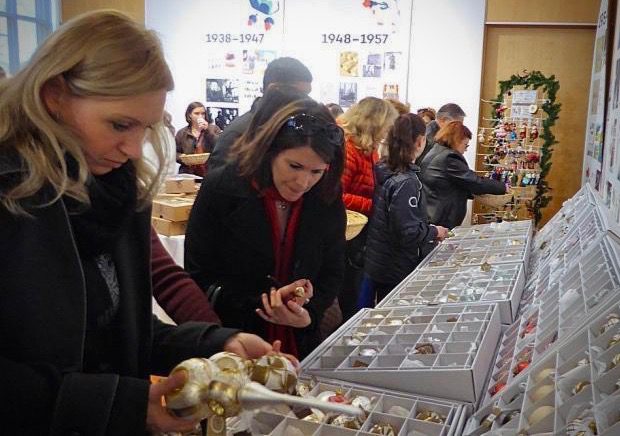 Now that Halloween's come and gone, it's officially time to start thinking about the holiday season. This weekend, we've got a Czech Christmas market on tap for all your holiday gift-giving needs as well as Esprit de Noel at Visitation Prep. There's also a whiskey dinner at the Willard, DC Beer Fest, a celebration of in-person programming with the Washington National Opera at the Kennedy Center, and it's DMV Black Restaurant Week beginning this Sunday. Have a great weekend! Buy some books, too.
Esprit de Noel Returns to Visitation, Nov. 5, 6
Another Georgetown tradition is back in person! Visitation's 51st Annual Christmas Market includes shopping, a car raffle, a new Festival of Trees, a cookie decorating workshop, along with a bake shop, snackery lane. Attend on campus or from the comfort of your home, as Visi Prep celebrates 51 years of Christmas spirit and community. Georgetown Visitation Preparatory School, 1524 35th St. NW — 202-337-3350 — info@visi.org — #VISIDC — #Vistheseason
Used Book Sale at Library, Saturday, Sunday
Neighbors are invited to come by the lower level of the Georgetown Public Library at 3260 R St. NW this Saturday and Sunday — Nov. 6, 7 —  for the Georgetown Library Friends' used book sale. Saturday hours are 10 to 11 a.m. for GLF members and 11 a.m. to 2 p.m. for everyone. Sunday will be a half-price sale 1 to 4 p.m. Capacity may be limited at times for everyone's safety. There is a large array of art and coffee table books suitable for gifts, as well as every other category of book imaginable for all ages. Sales are by cash or check only. Masks are required.
Check Out the Czech Christmas Market This Saturday 
Doesn't it seem like that certain festive time of year gets earlier and earlier? We've got news of a Czech Christmas Market Saturday that is sure to get you in the holiday spirit. From 9:30 a.m. to 6 p.m. at the Embassy of the Czech Republic. Admission is free, RSVP is required — expect mulled wine, Czech pastries, fresh gingerbread, glass ornaments and more. Info on the Czech Christmas Market can be found here. 
French Food and Whiskey? Consider Us Sold. 
The Willard Intercontinental along with Moet Hennessy is hosting a whiskey dinner this Friday at 7 p.m. The dinner begins with a reception highlighting the Willard's Round Robin bar's famous Mint Julep. A four-course dinner comes next, with dishes like smoked flounder filets, roasted wild boar and a decadent caramel chocolate mousse tart for dessert. Mais oui! More information can be found here. 
DC Beer Fest This Weekend 
This Saturday from 12 – 3 p.m. and 5 – 8 p.m. at Nationals Park, DC Beer Fest returns. The festival brings back dozens of craft breweries with fall seasonal beers, food trucks, live music and more. General admission will set you back $50 but includes unlimited samples from over 80 breweries, live music and access to a dueling piano bar and food truck alley. VIP admission is $90 and includes all the benefits of general admission plus access to the warning track and dugouts, a commemorative tasting glass and a DC Beer Fest beanie. More information can be found here. 
Come Home: A Celebration of Return at the Kennedy Center 
The Washington National Opera is putting on a show beginning this weekend through November 14 to celebrate the return of in-person performances. Expect to see a starry cast with Lawrence Brownlee, Alexandra Shiner and a musical tribute to Justice Ruth Bader Ginsburg. Tickets run $45 – $299 and can be purchased here. 
DMV Black Restaurant Week Begins Sunday 
DMV Black Restaurant Week brings Black restaurant owners, managers, chefs, caterers and more together to talk options for entrepreneurial ventures and continuing education. Why have a DMV Black Restaurant Week? Well, the web site dmvbrw.com explains: nine percent of African Americans make up restaurant owners and the same share of restaurant managers (from the National Restaurant Association). Also, according to the National Bureau of Economic Research, 41 percent of African American businesses declined from February to April of 2020. Support eateries like Matchbox, Ben's Chili Bowl, All Set Restaurant & Bar and more here.