Mapping Georgetown: Raising Our Spirits
By
December 6, 2021
0
93
•
---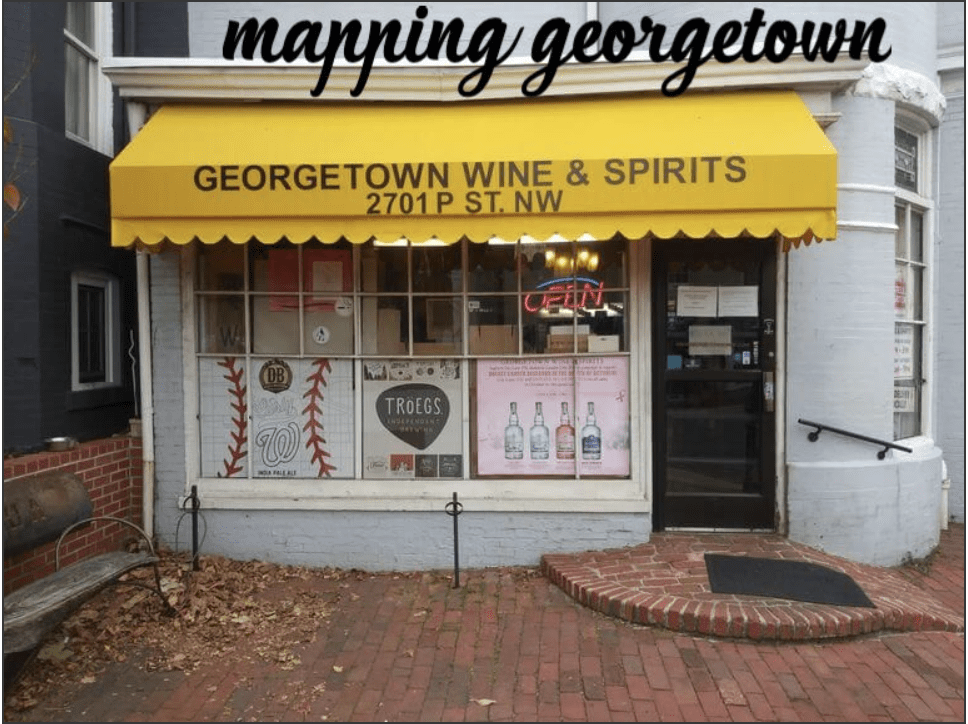 When we received this map story from Georgetown Wine and Spirits at 2701 P St. NW it made us want to tip our glasses!
There's no better balm for the holidays than having a neighborhood haunt nearby where "everybody knows your name," as they say about Cheers. It's also been a place like Seinfeld where humor and good cheer can be found in anything and everything.
Here's Georgetown Wine and Spirit's story:
Local (beverage) liquor store. Store was open in 1934 as a neighborhood market. The original Meat Locker is now used to store beers. We carry over 200 different beers, mostly craft, a huge selection of wines from around the world and a wide variety of liquors especially bourbons, scotches and whiskeys. We concentrate in friendly customer service and as possible, a good laugh.
Their last sentence is a bit of an understatement. They are super friendly and provide wonderful laughs.
We asked Robert Devaney, editor-in-chief of The Georgetowner, about his recollections of Georgetown Wine and Spirits and he said: "Well, I believe Pascal [the author of the story above] was in the French Air Force — and was a fighter pilot. He knows just about everything about everything — in a good way. He's full of stories — both humorous and highly technical — and is happy to just keep on talking until another customer shows up at the register. He's smart as a whip. If you were planning an expedition, you would want to have him in your group. I believe there's another brother from the Kapoor family which owns the business…. You're right — you'll meet your neighbors there, one time or another. They even offer a CAG discount of 10 percent."
These are the sorts of connections and recollections that bring Georgetown's local history to life and knit us all together as a community.
We tip our glasses and say "Happy holidays!" to our friends at Georgetown Wine and Spirits and all around Georgetown. Cheers!
——-
This Mapping Georgetown story can be viewed in full at https://mappinggeorgetown.com/2019/05/16/georgetown-wine-and-spirits/.
We encourage you to submit your story to this community collection. Blank templates can be printed from the home page of www.mappinggeorgetown.com or picked up from The Georgetown Public Library.
To learn more about the Mapping Georgetown project see https://georgetowner.com/articles/2021/07/19/marilyn-butlers-vision-for-mapping-georgetown/. If you need any help or assistance, please don't hesitate to contact Marilyn Butler at: marilyn.butler@gmail.com.