Mapping Georgetown: Forever Grateful, From Lebanon
By
December 13, 2021
0
768
•
---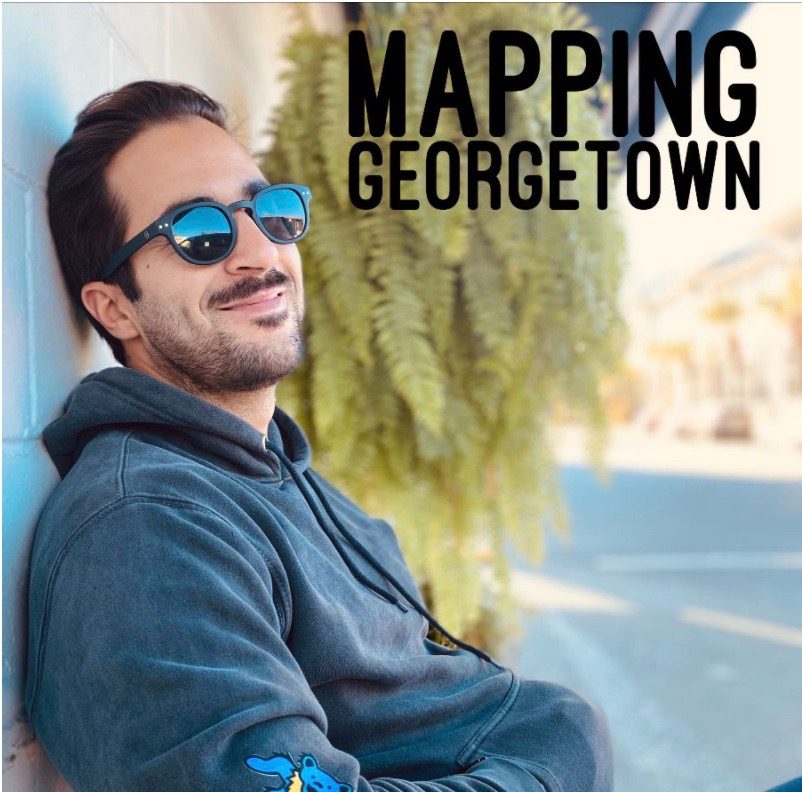 Never for a moment did I not feel at home….
     From Ramzy's Mapping Georgetown Story
If there were a contest for cutest person in Georgetown, Ramzy would be my nomination! He's as cute on the inside as he is on the outside as you will notice in his story:
One day I will look back at Georgetown as the place where I formed. Before here, I had never lived alone, I did not know how to cook, I couldn't tell bad wine from good wine, and I didn't have neighbors to call my own. They say life is about the little things – good friends, insightful conversation, nice meals, tasty coffee, and random encounters that turn into unexpectedly fun times.
Georgetown is full of the little things, while being as charming as a place can be. Most of all it's the people that make it special. The random "hello" from dog walkers, the warm greetings from the guys at Stachowski, and the courteous invites for wine, cheese and popcorn. Never for a moment did I not feel at home.
My favorite basketball player growing up was Allen Iverson, the only player my mom knows by name. To think that he and I went to the same school is still mind-blowing to me.
Stachowski – in my mind one of DC's best although I can't tell why – groundedness maybe.
Georgetown University – Here is the place that opens doors #FOREVER GRATEFUL
Compass Coffee – (nothing beats a nice cortado with almond milk.)
Rose Park – A bit of solo shooting-around make me feel at peace
Georgetown Wine and Spirits – I never thought a secret beer cave could produce so much joy every single time — bonus points for carrying Almaza Lebanese wine.
I love how these stories magically thread together. Ramzy came to Georgetown originally for graduate school and is now based in Beirut, Lebanon where he works for a "D.C.-based international organization that [focuses on] economic policy." He thinks back fondly to the time he spent at Georgetown Wine and Spirits — our Mapping Georgetown story last week – saying, "I never thought a secret beer cave could produce so much joy every single time…." Mapping Georgetown is finding that those six degrees of separation might only be three?
The wide variety of people in Georgetown are here for a reason, a season or a lifetime. People here for a 'season' remind me of a gift exchange. We share with them our resources and our affection and they leave us with an everlasting sense of their joie de vivre! 
And the circle continues to expand. Ramzy describes Georgetown as a place that open doors #Forever Grateful! Thank you, Ramzy, for sharing this mapping story of your 'season' in Georgetown. We are forever grateful as well. Best wishes for a very successful and bright future!
This Mapping Georgetown story can be viewed in full at https://mappinggeorgetown.com/2021/07/03/here-is-a-place-that-opens-doors-forever-grateful-ramzy-al-amine/  We would love to have your story for this community collection. Blank templates can be printed from the home page of www.mappinggeorgetown.com or picked up from The Georgetown Public Library.
To learn more about the Mapping Georgetown project see https://georgetowner.com/articles/2021/07/19/marilyn-butlers-vision-for-mapping-georgetown/. If you need any help or assistance, please don't hesitate to contact Marilyn Butler at: marilyn.butler@gmail.com.