Laura's Candy Cane Cookies
By
December 16, 2021
0
397
•
---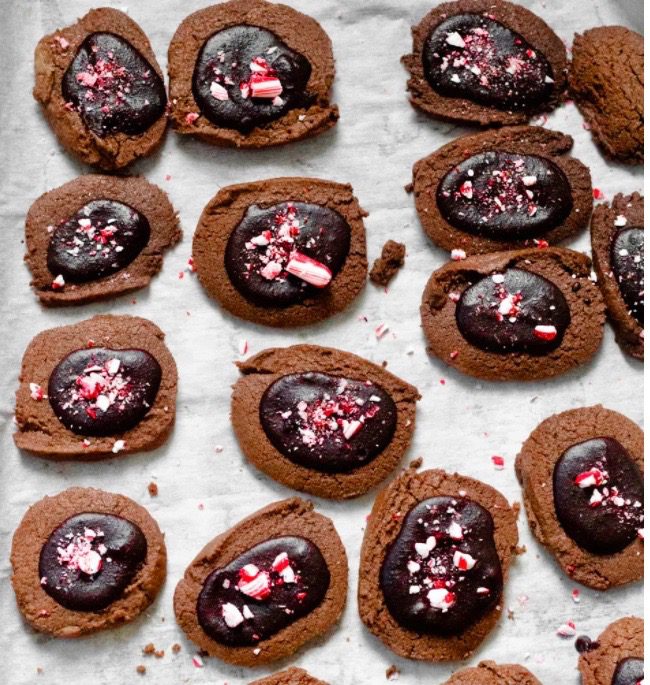 I'm not a big candy person. I love baked goods, pies, cakes, patisserie — you name it. Candy, however, has never been my thing. On Halloween, I was the kid who would trade candy for chips.
The one major exception to this rule is candy canes. One Canadian coffee chain, Second Cup, serves up the very best Candy Cane Latte every winter. These cookies fill me with nostalgia for that drink, but better than that, they satisfy my craving!
These are easy cookies to make and it's great because it is a 1:1 recipe. Easy to make gluten free for those who cannot eat gluten and just as easy for those who do! The cookies are chewy, chocolatey, and delicious either way!
What You'll Need for this Candy Cane Cookies Recipe:
1 1/4 cup gluten free flour (regular flour if you are not gluten free)
1/3 cup good quality cocoa powder
1 egg yolk (from large egg)
1/2 tsp salt
1 tbsp vanilla
14 tbsp unsalted butter (room temperature)
1 cup white sugar
1/4 tsp baking powder
1 cup sugar
3/4 tsp peppermint extract
For the Icing:
1/2 cup milk chocolate & 1/2 cup dark chocolate chips
2-3 tbsp heavy cream
2 tbsp unsalted butter
Topping:
Crushed Candy Cane
Prep Time:

10 minutes

Cook Time:

20 minutes

Total Time:

1 hour (plus chill time)

Yield:

48 cookies 

1x

Diet:

Gluten Free
For full recipe and instructions, go to https://siftrva.com/candy-cane-cookies-recipe/.