At Noosh, Persian and Mediterranean Dishes Delight
By
December 16, 2021
0
608
•
---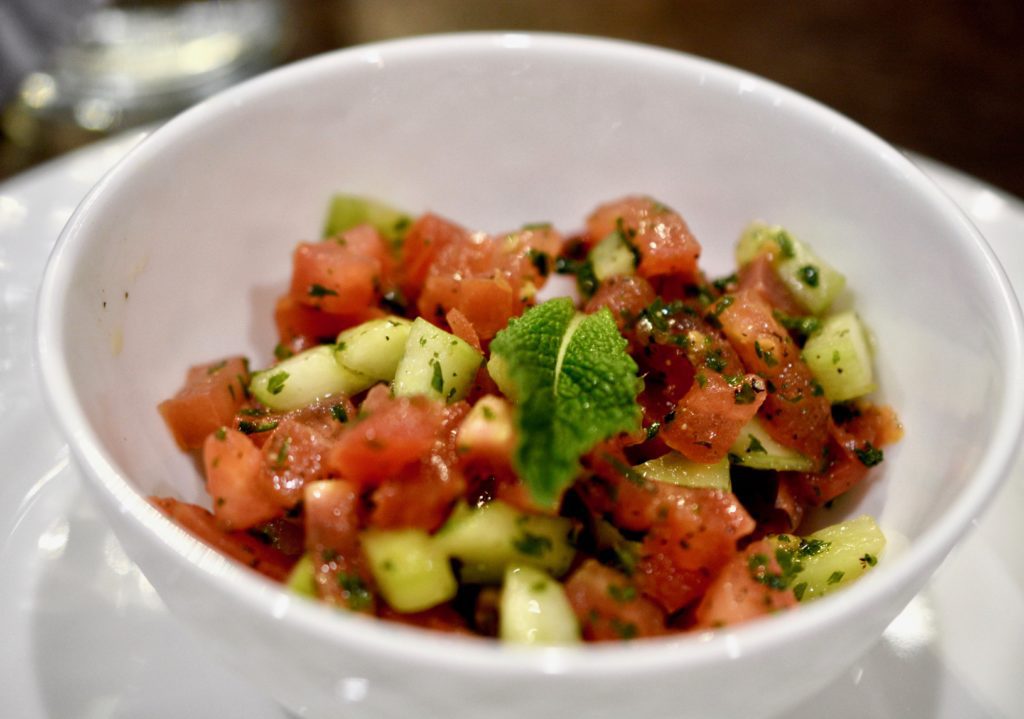 Chef and co-owner Tarek Diab is proud of the flavor-packed Persian dishes he offers at Noosh, his recently opened upper Georgetown retreat at 1721 Wisconsin Ave. NW. In Farsi, Noosh means "sweet, lovely and attractive."
Born in Egypt and classically trained in its four-year culinary college, Diab brings a wealth of experience – honed under the tutelage of chefs Michel Richard and Jean-Louis Palladin and in Ritz Carlton kitchens around the world – to his ambitious menu.
The tastefully refurbished bistro setting, with its soft tones and inviting bar, provides a relaxing backdrop for dining with friends and family.  
Chef Diab is drawn to classic Persian cuisine because of its "intriguing" use of herbs and spices and its "complexity." For example, he explains, the ash soup (ash reshteh) he serves has eight different spices and herbs, several kinds of beans, nuts and dry yoghurt, and it takes a "long time" to make.  
He is especially captivated by Persian rice dishes and features several of them on his menu. There is a classic with sour cherries, almond and crispy onion, another with bayberries and specialty nuts, a third features dill and fava beans and a fourth combines bayberries, sour cherries, nuts, crispy onions and orange peel. It's a cuisine that is "proud" of rice and takes great pains to cook it in complex dishes, he explains. Diners can pair the rice dishes with several equally complex Persian beef and chicken stews or kebobs of meat, chicken, fish or seafood.  
Noosh also offers an impressive menu of Mediterranean dishes ranging from North African claypot-cooked tagines to Egyptian falafel made in house with fava beans as well as chickpeas, authentic hummus and an intriguing focaccia-like bread. There are appetizers, salads, kebobs and gyros typical of various Middle Eastern cuisines.
Chef Diab and his wife go on frequent forays to Spanish, Asian, Italian, Mediterranean and Indian markets to "see what there is that is unfamiliar" and to find just the right ingredients for his specialties. 
When he describes the desserts he crafts, Chef Diab gets really excited. His Persian ice cream, more "elastic" than American, is marshmallow-like and flavored with saffron. His wife is Greek, and he is proud of his baklava made with cashews in bite-sized nuggets. There are also date delights, Yaya almond cake and tiramisu. His classic French training can be tasted in the rollett, a sponge cake layered with creme Chantilly.  
Persian and Mediterranean food works especially well for family and communal dining, he says. He loves to see the tables at Noosh covered with appetizers and salads, meat and seafood and rice dishes – with everyone digging in.