Amid Scandal, Duke Ellington School to Transfer to DCPS        
By
February 24, 2022
0
2287
•
---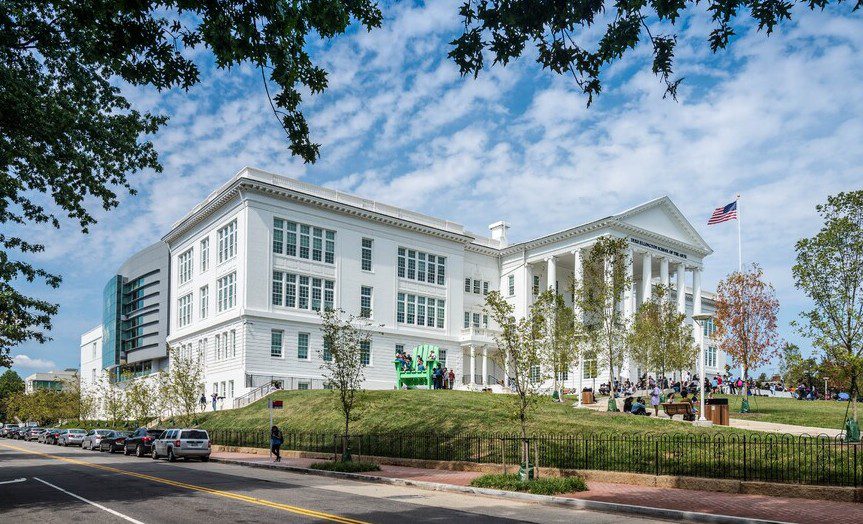 This article has been updated.
The palatial $200-million renovated Duke Ellington School of the Arts, comprising a large block at 35th and R Streets and Reservoir Road NW, is considered to be the jewel of public high schools in Washington, D.C., and one of the top performing arts secondary schools in the country. But now it is facing an administrative scandal which will change its unique independent operational structure.
Last week, D.C. Public Schools said it plans "to assume full operation of Duke Ellington School of the Arts," according to News4, which first reported and "raised questions about how the school's unique relationship with the school district may have contributed to lapses in teacher sex abuse investigations."
Such a move will make Ellington School directly subject to the DCPS oversight system and operational structure.
D.C. Public Schools Chancellor Lewis Ferebee confirmed that the school district is "currently in discussions with the school to create a plan for a smooth transition." He indicated that the non-profit Duke Ellington School of the Arts Project board of directors would no longer govern the school, according to News4, a change "that would drastically alter the current operating structure that's been in effect for more than 20 years.… it will no longer govern the school."
The trigger for the transfer were recent revelations about how the mishandling of almost two decades of sex abuse claims against writing teacher Mark Williams were reported but apparently were never investigated — nor was he charged or even reprimanded. He resigned voluntarily in 2019. 
On Jan. 30, stories by News4 I-Team prompted a letter by Ward 2 Council member Brook Pinto and Ward 2 State Board of Education Member Allister Chang to the D.C. State Superintendent of Education Christina Grant about the situation.
"This is completely unacceptable," Pinto and Chang wrote in their letter to Grant. "A (DESPA) teacher preyed on multiple students evading reprimand and investigation by the school, the District of Columbia Public Schools, and the Metropolitan Police Department (MPD)." 
The two elected officials called for a formal review of the school's board structure and the addition of an objective person who is a trained Title IX expert.
"There were system breakdowns at every level," according to Pinto. "That is part of the reason one of the requests we made is to maintain a centralized system through DCPS of all personnel files and make sure that there [is] updated record-keeping for these types of allegations and complaints."
"I want to honor that independence because it is such a unique place," said Pinto. "But there have to be protective mechanisms in place so that when something like this happens, there is an objective third party to participate in the oversight, in the investigation and in ensuring that our kids are kept safe."
"The teachers there are held to a different standard from other DCPS teachers," reported NBC4. "It is managed by its own nonprofit board. The Kennedy Center and George Washington University also partner with that board and Mark Williams — the writing teacher accused of, but never charged with, sexual relations with two students over about a 15-year period, also was a DESPA governing project board member."
In a written statement to the I-Team, the Ellington School Principal Sandi Logan confirmed that "any Title IX investigations are conducted by DCPS." But in response to a Freedom of Information Act request, the school district told the I-Team it has no records of any investigations of Mark Williams.
"We understand and support the school's unique nature of Duke Ellington as a place where talented students can thrive in the arts and to be taught by faculty with diverse talents and expertise. While maintaining these strengths, attention must be paid to the systemic lapses and changes must be made," wrote Pinto and Chang.