Mapping Georgetown: 'DC Sketcher' Inspires Our St. Patrick's Day Tribute
By
March 14, 2022
0
807
•
---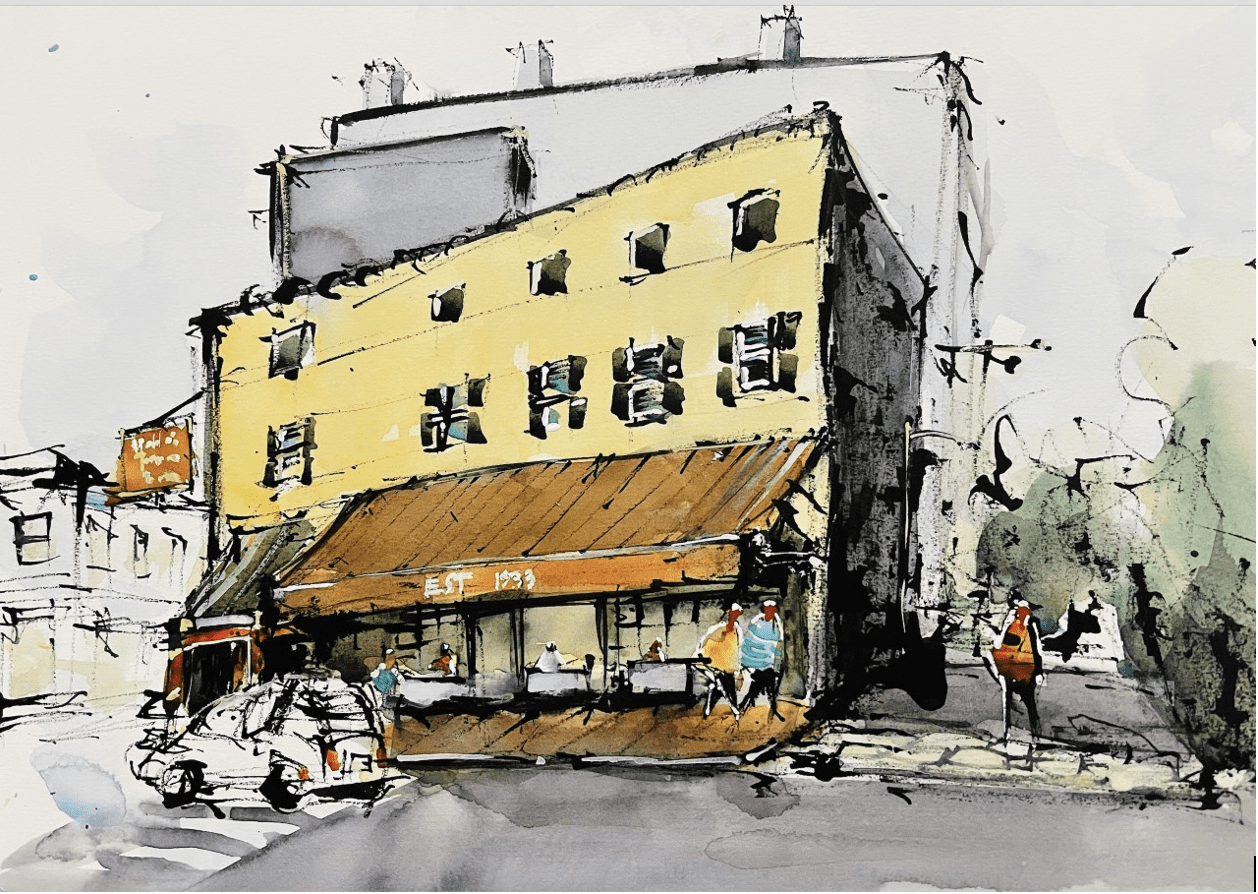 When Mapping Georgetown received a wonderful sketch of Martin's Tavern from DC Sketcher (aka Avela Semana), we knew we needed to save it as a tribute to one of our favorite places and favorite days – St. Patrick's Day. With this beautiful treasure, we've found the perfect time and place to wish everyone a Happy St. Patrick's Day!
DC Sketcher's Mapping Georgetown Story:
"Ironically it was at the height of the pandemic that my spouse and I frequented Georgetown primarily to walk around the neighborhood and marvel at the architecture of historic row houses and buildings that I may use as inspiration for my paintings. Because of its charm, Georgetown has been a recurring subject of my artworks. When the weather was good, we stopped by several coffee shops or sat on the bench in Georgetown University to paint on location. 
We even invited our friends during winter to wander around Georgetown and tread along the cobblestone streets to find interesting cafes in the alleys, sit on the patios and pretend to be fine eating with gloves, beanie, and scarves, with heaters around our heads and legs. This was not tolerable when solitary but with our friends, it felt just fine to laugh out whenever we needed to switch positions to allow everyone to experience the fake summer heat. 
One super cold morning in January 2021, we started walking from Dupont Circle to Call Your Mother Deli to get some babkas and then headed to Martin's Tavern, where I ordered my favorite mussel soup, steak and tiramisu. We were seated in two separate tables as we were a big group and we were too worried to miss juicy stories at the other tables and they felt the same way, so I thought we were even.
Many times, I attempted to paint while waiting for our order but unlike Elsa, the cold did bother me as I cannot endure exposing my hands at 4 degrees celsius. While I wanted to paint plein air, I just took some photos and did it once at home. 
Georgetown is a must-see enclave in DC where the historic and the rustic ambience meet the diverse food and drink scene."
I am now in the Philippines working as a desk officer at the Environment and Climate Change Division of the United Nations and International Organization Office —  Department of Foreign Affairs.
—
Thank you, Avela (aka DC Sketcher) for sharing your time and talent with Mapping Georgetown and The Georgetowner. We're so honored by your personal gift!
—
To learn more about the Mapping Georgetown project see https://georgetowner.com/articles/2021/07/19/marilyn-butlers-vision-for-mapping-georgetown/.
To submit your Georgetown recollections to Mapping Georgetown go to www.mappinggeorgetown.com  or visit the Georgetown Public Library to pick up a physical map-story form to fill out.
Marilyn Butler can be reached at: marilyn.butler@gmail.com.