Georgetown Village at 10: 'No One Looked a Day Older'
By
May 23, 2022
0
1808
•
---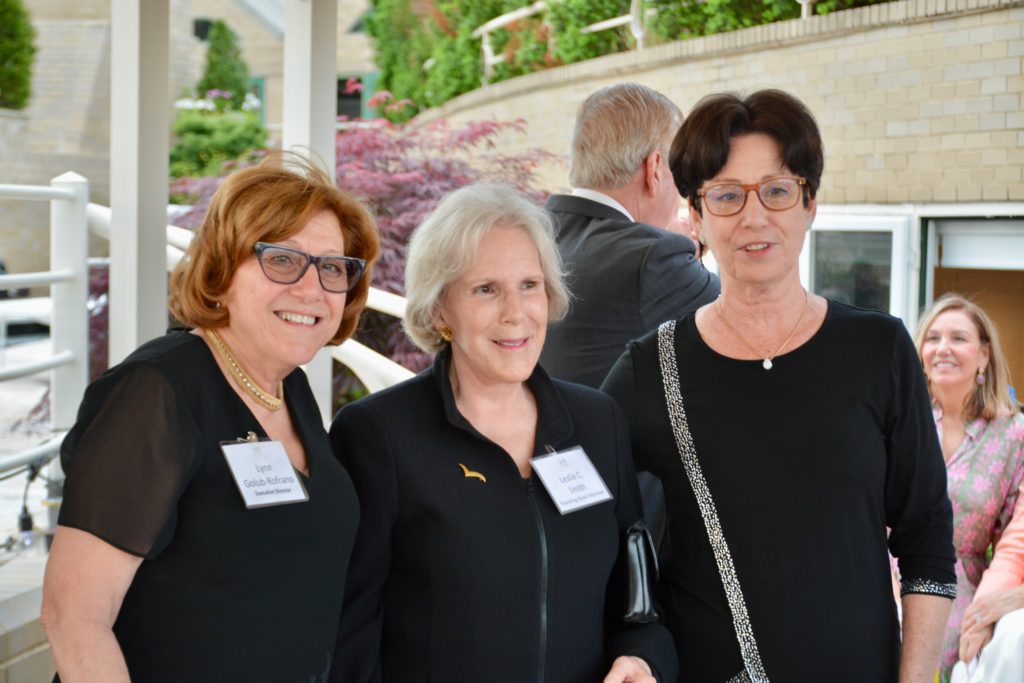 Maybe it was the stunning setting in a Georgetown private penthouse with three levels of hospitable terraces (one with a pool and spa) overlooking the Potomac River, from the Kennedy Center to Key Bridge. Maybe it was the perfect 70-degree evening and the chance to wear spring dresses, sandals and light suits and no masks on the open air decks. Certainly, it was the mixing of old friends and helpmates, to share stories with help from the organization they were there to celebrate.
All that made the tenth anniversary of the founding of Georgetown's Village — a growing organization for Georgetowners 55 years and older to stay engaged with the community, their homes and to thrive — a joyous gathering on May 18. Members and supporters were there to honor the founders of the Georgetown Village and to wonder that, as many remarked, hardly anyone looked a day older than the last in-person gathering a few years ago.
Those honored included Sharon Lockwood, Founder & Chair, Jessica Townsend, President, Robert P. vom Eigen, Vice President, Leslie C. Smith, Secretary, Patricia Scolaro, Treasurer, Susan Cohen, Joan Kennan, Nancy Roll, Ann Satterthwaite, Gail Nordheimer, Founding Advisory Board Member and Lynn Golub-Rofrano, MSW, founding and current Executive Director. Each received an engraved crystal plaque with their names and a tribute that read "whose vision and dedication brought Georgetown Village to life in December 2011."
"As the United States [and the Georgetown population] ages, current senior generations are committed to thriving and living in their own homes. That desire is reflected in the mission, actions, services and activities of our Village," said Board President Carol A. Kelly. As one of the first senior villages in Washington, D.C., Georgetown Village embraced the aging-in-place community model with a unique offering of services by experienced volunteers as professionals.
Social activities grew to include exercise programs, concert and museum outings and social events. Georgetown Village also hosted — even during the pandemic shutdown — online talks, speakers, coffee chats and a book club that often features authors and experts who were former colleagues and friends of Georgetown Village members; they had served together in the highest levels of government, the media, academia, think tanks and the like, so that the Q&A following the expert presentation is often like a high-level insider briefing, this reporter has noted before.
But it is the services that make the village unique, according to Golub-Rofrano. Especially during the past two years, in-person transportation and on-line health care information, grocery and drug store pickups and help at home from raking leaves to changing hard-to-reach light bulbs became essential as did help for those who were too ill to walk, feed pets, pick up mail, even to call for plumbers and the like. "100 percent of our members got their Covid vaccinations, some certainly due to Georgetown Village help," she said.
Perhaps the biggest growing sector of services Georgetown Village offers is electronics support. "Two years ago many of us had never heard of Zoom," said Golub-Rofrano. "Today, it is an essential part of our new normal."
"Among the new programs, services and initiatives to benefit everyone that we are planning in our second decade, a key one is our new Georgetown Village Tech Hub," said Kelly. It will work with our technology-proficient members and volunteers to improve their skills online and seek to bring those who are not currently online into the online world.
The reception was hosted by Alan and Nancy Taylor Bubes at their home at the Georgetown waterfront.