Vibrant Outdoor Market Pops Up at Georgetown Park
By
May 23, 2022
2
2635
•
---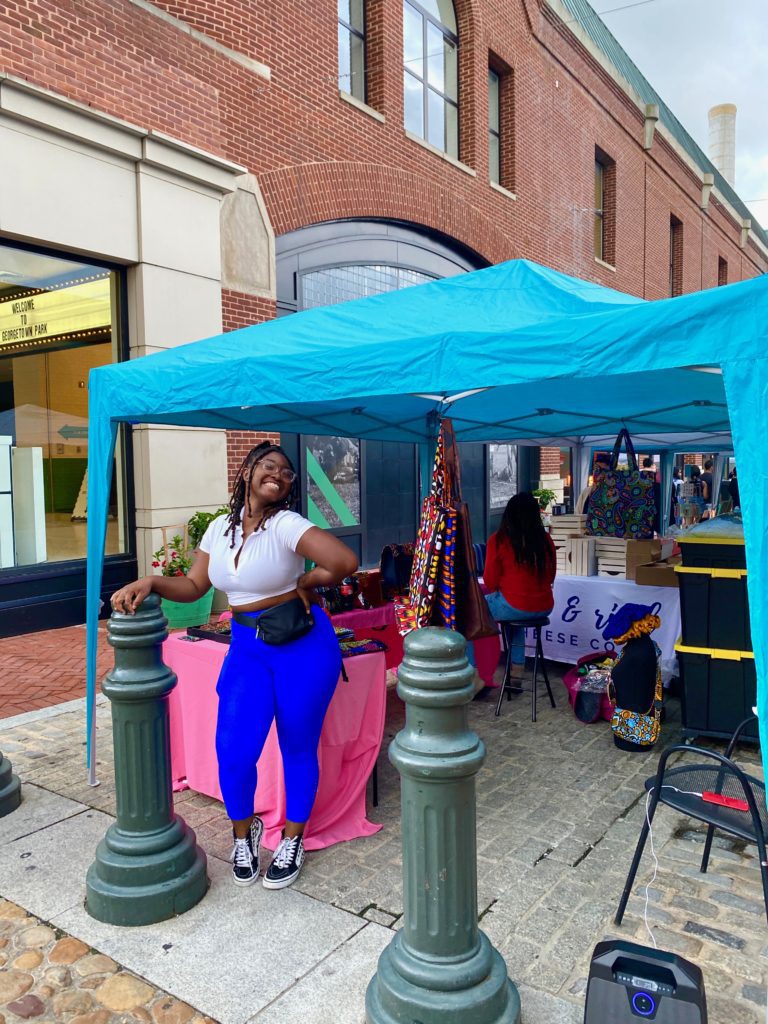 Have you been to Georgetown's new pop-up?
Just in time for summer, Neighbors DC (NDC), a vibrant new weekend outdoor market on East Market Lane at 3276 M Street NW – between Georgetown Park and the former Dean & Deluca building – will be showcasing a variety of local, artisanal, and multicultural vendors each Friday through Sunday until October 30.
Founded last summer by local entrepreneur Enica Barnes, NDC (which stands for "Neighbors Diverse Community") invites Georgetown residents and visitors to "shop with our amazing curation of 12 awesome vendors from all over the DMV."
The Georgetowner spoke with Barnes about her mission to bring commercial vibrancy and a sense of community to the heart of Georgetown.
While many hunkered down at home during the pandemic, Barnes had a vision to help support struggling and start-up businesses by jump-starting local outdoor markets. "I really felt in my spirit this need to create a space for people, like there was a yearning for all these creative entrepreneurs to come to this space and sell their goods. And the DMV is much like New York. It's a melting pot of so many different cultures and so many different backgrounds. So, we're a diverse community in D.C., as we commonly say, and "Neighbors Diverse Community" is the home of that idea. So, if you're a home-based entrepreneur of any background, you can come here, you can sell your goods, and we promise you'll thrive and grow… and you'll meet some amazing people," Barnes said.
How did Barnes get into the business of setting up outdoor markets? The pandemic had forced her to pivot away from working as the social media and events lead at Steadfast Supply, a gift shop at The Yards in D.C. that "supports independent makers across the globe." Anxious about which way to turn, she turned to her faith. "I was like, God, what should I do?" she beseeched. "And God said, 'Bake!' " she said. So, why not sell her baked goods online? "So, then I started baking and made a Caribbean 5-spice leches and it sold out that day and that really lit a fire under me."
Soon after, Barnes founded another online company, A Contemporary Market, where she added skincare and other products to her baked goods offerings. "I have a wellness shop connected to a bakery and I consider it to be a lifestyle brand," she said.
Based on her entrepreneurial experiences, Barnes developed a successful formula for sponsoring outdoor markets. Instead of offering percentage-of-sales deals to vendors, she charges a single "fair rate" where a vendor can easily profit from a day of sales while reimbursing NDC for tent space (Barnes owns all the 10-foot by 10-foot tents used in the market), promotions, bathroom access and other amenities covered by the one-time fixed charge. Rather than spending on expensive marketing campaigns, Barnes reaches a wide audience of potential vendors through her Instagram account and website, NeighborsDC.com.
NDC is a "community rooted pop-up and creative hive for small, local, and independent brands in the DMV and beyond," the NDC website declares. "We share space, network, and promote each other's businesses, all while offering opportunities for brands to thrive and grow!"
"The business model is super simple," Barnes said. "I find spaces and partner with major conglomerates and small businesses and I charge a fair rate for you to pop up… I look at other pop-ups and ask what they're not doing that I can do for you… I think what separates Neighbors DC from other pop-ups is we provide tents for you and we're intentionally looking for spaces and places for you to thrive and grow."
With her business savvy, experience and effervescent personality, Barnes recently partnered with Georgetown Park to branch NDC into the heart of the Georgetown's commercial district, having launched originally at NoMa Union Market. The Georgetown Business Improvement District (BID) helped pave the way for the deal. Barnes cites Economic Development Director Faith Broderick of the BID with helping connect NDC to the folks at Georgetown Park. "It's been exciting," Barnes said. "The Georgetown BID helped out immensely in making that partnership come to pass."
Barnes is highly enthusiastic about the vendors she cultivates and the great shopping experiences they provide. She loves seeing folks enjoy Honey Go!'s spoons of honey for people on the go, or Jujuteh's designer espadrilles handmade from around the world, or All Mapped Out's high-quality laser cut gifts, or And Besties' doggie bandanas with "matching crunchies if you're a dog mom" [laughs].
In a visit to the NDC pop-up at Georgetown Park on a recent sunny Saturday afternoon, I saw Barnes joyously greeting shoppers while turning up the feel-good music on the portable speakers and chatting with the vendors like a coach before the big game. She immediately introduced me to one of NDC's "fan favorite" vendors, Maryland Okoro – a first-generation Nigerian with a Pharmacy PhD who works full-time as a pharmacist, but operates a very successful side gig. Okoro launched Maryland Adure, an online-based Afro-fashion accessory brand with high-end handbags made from imported African print fabrics, jewelry from Sierra Leone, beads from Ghana and Nigeria, shoes from Kenya and Tanzania and Afro-inspired jewelry. "I started this business in pharmacy school," Okoro said. "I had spent all my life in the sciences. Then it was one spring break and I kind of wanted to do something different. Personally, I'm Nigerian, so I thought of the idea of modernizing our African prints and that's how we got started."
Next to Maryland Adure's tent, Kara McGrath of Paste & Rind Cheese Company displayed enticing and exotic cheeses from locally-sourced Virginia and Maryland farms. For McGrath, this pop-up has a positive political effect. "Everything is small producer, artisan, hand-made cheese. And I really prioritize women-owned dairies and women-owned cheesemakers… I'm not making the cheeses but I'm 'spreading the word of curd' with other people's cheese products," she said.
A few tables down, Antoinette Murphy, a full-time employee of the Environmental Protection Agency, is living the dream, promoting her side-gig selling her own "all natural and organic skincare products." A year ago, at the height of the pandemic, she launched her start-up. "It was therapeutic," Murphy said. "I named the company and the product in honor of my grandmother, Mary Louise." Showcasing the attractive bottles of lotions and creams of Mary Louise Lux Beauty, LLC, Murphy said, "I call it 'food for your skin."
Murphy's optimistic about popping-up from the new Georgetown location. "Oh, I love it. Being a Washingtonian, I like being in the heart of things. This is an excellent spot. Lots of good people coming through. So, I'm here for the summer. Come on by and check us out."
Neighbors DC market will be popping up in Georgetown on Fridays from 5-9:00 p.m.; and from 10:00 a.m. to 5:00 p.m. on Saturdays and Sundays through Oct. 30, 2022.