Feta Cafe and Bakery Offers Fresh Mediterranean Fare
By
May 26, 2022
0
3554
•
---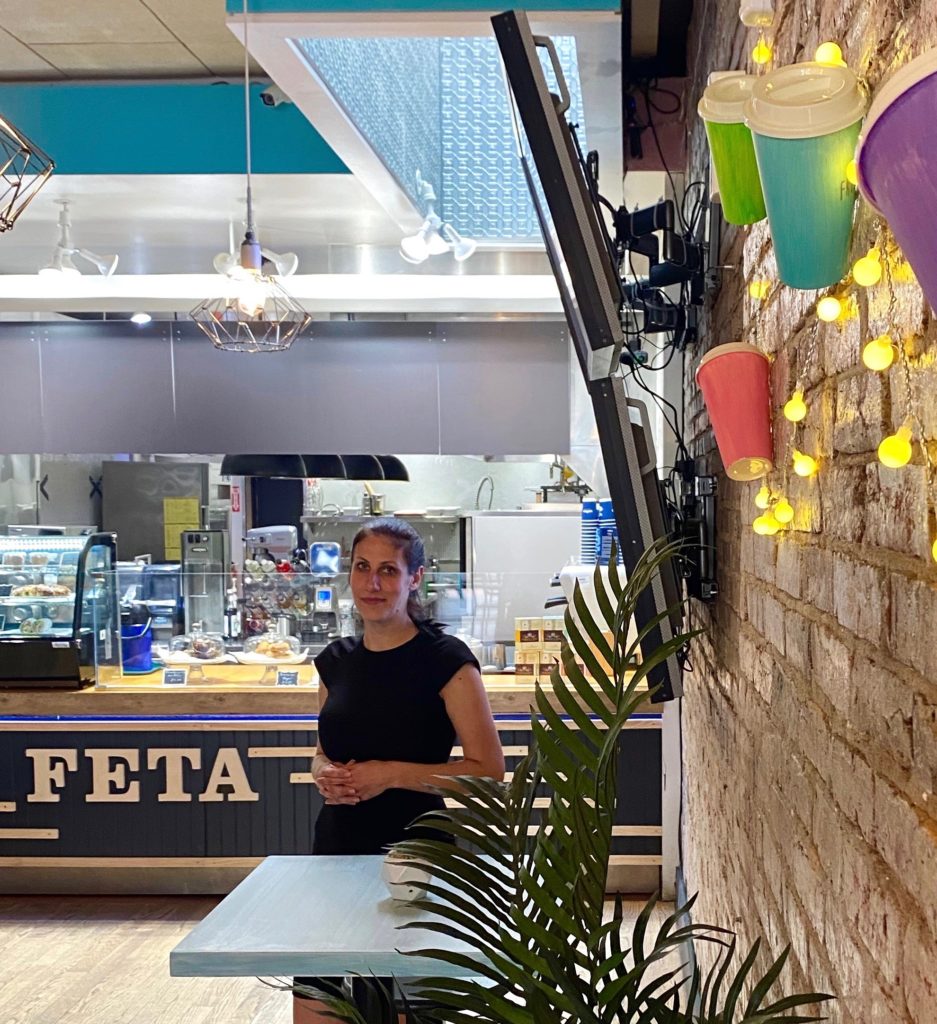 Strolling down M Street looking for the perfect late-breakfast, lunch, or early dinner spot? The newly opened Feta Cafe and Bakery at 2805 M St. NW — with its healthy, fresh and affordable Mediterranean menu — is a must.
Experienced restaurateurs Stoyan and Martina Hristova, who moved to the United States only a year and a-half ago from their native Bulgaria, have re-imagined the storefront restaurant where several dining establishments — Freshbee's, Bibibop, ShopHouse and Furin's Bakery — have all come and gone in recent years.
This time, however, the Hristovas might have hit upon a formula for long term success in the neighborhood.
For those who love to eat outdoors and people-watch but are not enamored of streateries perched so close to passing traffic, the wide tree-lined brick sidewalks in front of the dining area (seating 15) provide a splendid vantage point from which to cast eyes across ever-captivating M Street and toward other nearby diners at Taj of India or La Chaumiere to the west.
For your morning cappuccino ($4.00) and pastry, two funky purple plush chairs with mini tables are set up in the storefront windows designed by co-owner Martina Hristovo, suggestive of that perfect used book store reading nook you've discovered but don't want others to know about.
Order from the pastry counter in the back of the vividly decorated brick interior (seating 15), the star feature of which is the wide-ranging Mediterranean menu above with a sprinkling of Bulgarian delights.
"It's what we love to eat at home," Martina Hristovo told The Georgetowner. It's not simply Bulgarian dishes, but a broad range of Mediterranean samplings.
Feta cheese, the main theme of the menu, is served in so many parts of the globe, Hristova observed. While the Greek salad is actually Bulgarian-inspired, as well as the lamb meatball marinara, many of the dishes are found throughout the middle-eastern and Mediterranean worlds. The Hristovas have added one particularly popular Bulgarian touch, the labneh dishes (labneh is a soft Middle Eastern cheese made from strained yogurt.)
Sampling the Greek salad ($12.99) for lunch, I found the cucumber, tomato and fresh herbs sparklingly fresh, the feta toppings delivering that distinctive sharp and salty flavor punch with protein benefits.
Hristova wants her diners to feel energized rather than drained after they sample the menu. "It's more healthy to eat here. We try to use less sugar, and to replace that with fruit sugars and less butter." More vegetarian options than in their Bulgarian restaurants are added to this menu, she emphasized. "With my husband, we decided to have healthier [options] here," Hristova said. Vegan choices are also on the menu, including omelets, sandwiches and hummus dishes. They're also working to set up local and sustainable sourcing for their fresh foods.
One diner named Rachel (preferring not to give her last name) approached our interview to share her unvarnished love of the cafe. "I'm a Georgetown local and live a couple of blocks away. I've got to run –  but let me just say the vegetarian options here are incredible! We were just talking about this. The [cafe] has a very European flair and everything's very fresh and healthy and indulgent without being heavy at all."
Another recognizable local, Rebecca Klemm — the  "Numbers Lady" known for her renowned mathematics walking tours for kids at Rose Park — also gushed over the restaurant's menu and what the Hristovas have brought to the neighborhood. Having lived in the Middle East, Klemm is particularly enamored of the menu's tartine dishes and is looking forward to sampling some of the breakfast "handhelds" (all for under $13.00) and the rest of the menu. "I just had one of the raspberry mascarpones and they are to die for," she said. "Not overly sweet. This is European food that's really good quality and not as sugary as we tend to get in the U.S." Pointing to the dish elegantly served in a little glass, Klemm then enticed this reviewer to try a sample, graciously offered by Martina. Indeed, Klemm's assessment holds; it's a truly tasty not overly heavy dessert.
Other menu highlights: A full range of coffee specialty and ice cream drinks all under $6. Breakfast Plates, including "All American Breakfast" all under $16. Sandwiches and Plates including " Kabob Gyro Plate" and "Vegan's Dream" all under $16. Side dishes including prosciutto, "home-made oven-roasted tomatoes," tomato side salad, and lamb meatballs, all under $4.
So far, the Hristovas have loved setting up their restaurant along M Street. The neighbors and customers have been wonderful and there wasn't too much red tape to set up shop. "I just love it," Hristova said. Georgetown reminds me of Europe very much…. There are small businesses here, and I just love that. And the people here and especially the people who live around the neighborhood, they are so nice!"
Feta Cafe and Bakery is located at 2805 M St. NW. Hours: 8:30 a.m. to 7 p.m. Monday to Saturday; Sunday, 9 a.m. to 7 p.m. The restaurant is looking to hire a baker, counter staff and a barista. You can find the restaurant's Instagram account here.