Lively Mayoral Debate at Georgetown's Gaston Hall
By
June 2, 2022
0
995
•
---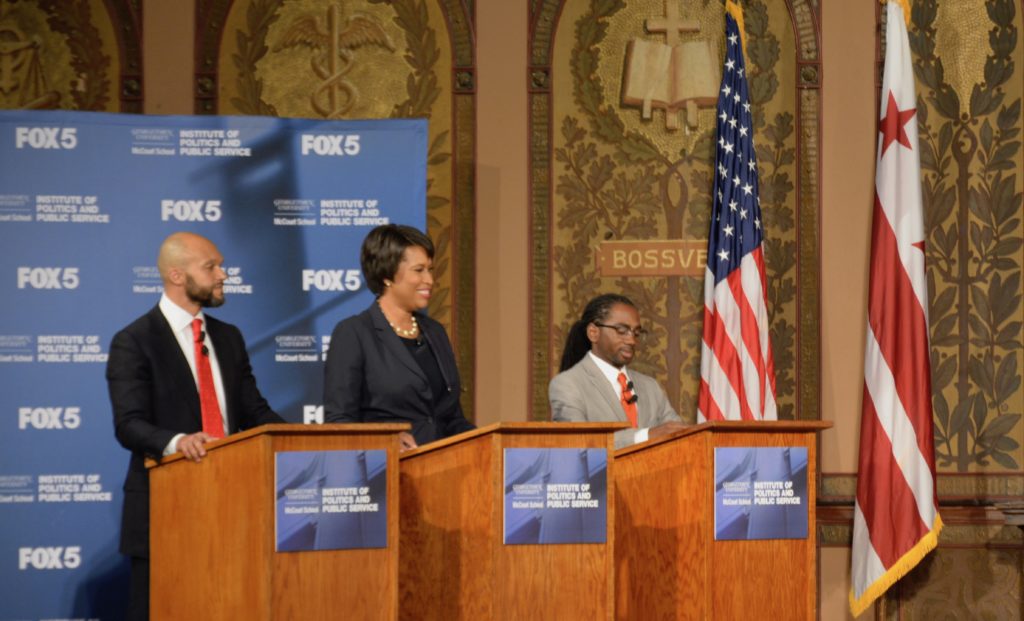 Mayor Muriel Bowser and her main Democratic challengers, Council members Robert White and Trayon White met at Georgetown University's Gaston Hall June 1 in the only televised debate before the June 21 primary. It was lively — and live on Channel 5 at 7 p.m. and streamed online.
All three candidates brought their A-game, stuck to their talking points and responded vigorously to each other.
Moderators were Fox 5 morning anchor Jeannette Reyes, Fox 5 political anchor Tom Fitzgerald and Mo Elleithee, Executive Director, GU Politics.
The first question asked is the one on most people's minds: crime and public safety. Other topics discussed during the hourlong debate included schools, business, affordable housing, mental health and health care.
White and White both criticized Bowser for being slow to set up violence interruption programs and offer more "opportunities for young people" to which the mayor, who is pushing for 4,000 officers in the Metropolitan Police Department, shot back that the two supported "defunding our police force." (Homicides hit an 18-year high in 2021; they are up 7 percent this year.) Bowser added: "We know what they chose to do was serve an ideology and not the residents of the District of Columbia and making sure that we have the police officers we need."
Fitzgerald then asked the three, "Last calendar year there were 420 carjackings, and just 150 arrests – two thirds of those juveniles. What do you think is the root cause of that issue and how would you address it?" 
Trayon White responded by advocating for more mentor programs in the community and in schools. Robert White said he wanted more counseling in school for the problem of Black trauma. Bowser offered a different take: "If anybody promises you that the government can do it all, they are woefully mistaken,"  "What we know is that strong kids, healthy kids, come from strong, healthy families. How we support families matters."
Still, the two Whites got in their points — and to loud applause from their supporters. For Robert White, points on education and his "bold vision" as well as nixing the Washington Commanders' coming to the RFK Stadium site: "If anybody believes housing is going to be affordable next to a professional football stadium, they are fooling themselves." For Trayon White, points on saying traffic fines and parking tickets were too costly as well as observing, "We spent almost a billion dollars in the last 10 years on affordable housing, but almost every day I'm getting calls in my office, 'I can't find anywhere to live.' " He added that affordable housing projects have "become a slush fund for developers."
At the debate's conclusion, Elleithee asked a slightly surprising final question to each candidate: tell us of one decision you regret.
Trayon White said he regretted being sometimes "very off-the-hip," adding that it has "cost me tremendously." He did not refer to his past anti-semitic remarks.
Bowser was specific: "My parents always taught me to stand up for myself and defend myself and make sure people respect me. And that led me to oppose a sitting council member in her reelection. I don't regret standing up and defending myself, but I do regret that it got personal." She was referring to her support of Dionne Reeder's unsuccessful bid to unseat Council member Elissa Silverman four years ago. Bowser did not name names.
Robert White said he did not think about "coulda, woulda, shoulda done differently" but was always learning and looking to the future. 
The Georgetown University Institute of Politics and Public Service at the McCourt School of Public Policy (GU Politics) and WTTG FOX 5 DC hosted the debate, which was co-sponsored by the D.C. Democratic Party. Before it all started, Christopher Murphy, Vice President for Government Relations & Community Engagement, discussed the history of the university and ground rules on civility for the audience.