Sunflowers Appear to Rile Russian Embassy
By
August 4, 2022
0
2141
•
---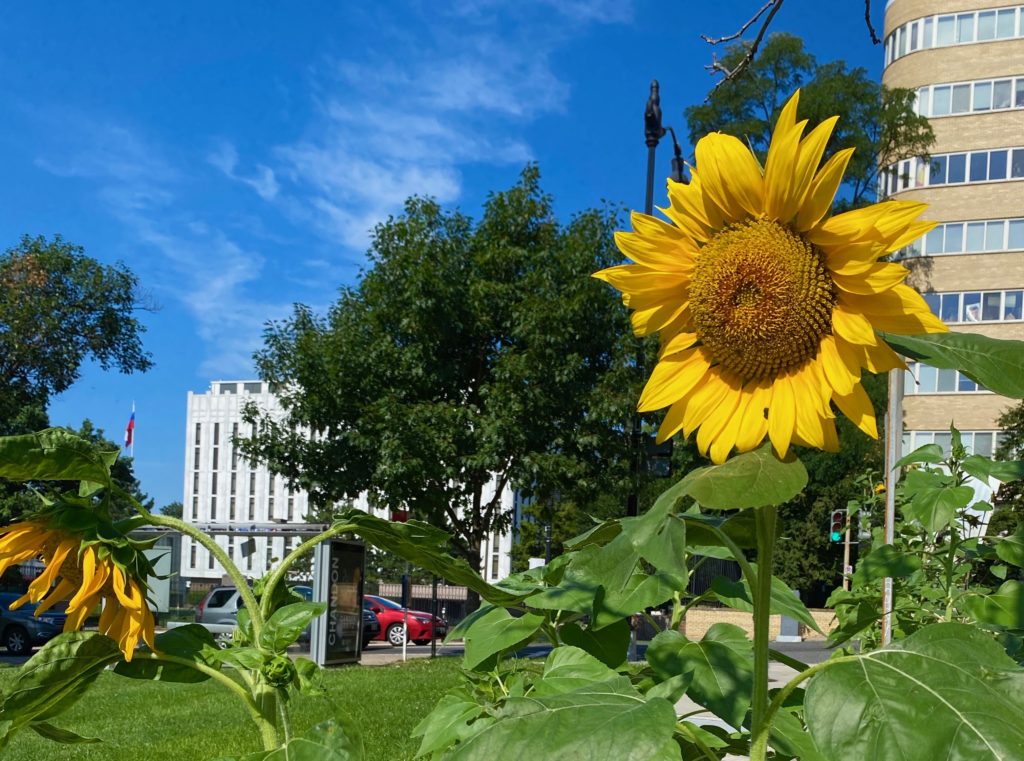 Dear Georgetowner,
After you wrote about our Wisconsin Avenue Beautification Project in March [https://georgetowner.com/articles/2022/03/14/russian-embassy-protests/], we wanted to update you on the latest news from across the Russian Embassy at 2650 Wisconsin Ave. NW, Boris Nemstov Plaza.
There's bad news and good news.
Thanks to Benjamin Wittes and his Twitter followers, in April, a very large crowd showed up to help the community plant sunflowers "on the east side of the street to catch the mid-day and western sun."
By mid-July, we had lots of tall, beautifully blooming sun flowers. Then, disaster struck. We don't know who did it, but someone must have felt threatened by the flowers, because they came and pulled them all out by their roots. Who would be so uncultured as to go around uprooting beautiful, blooming sunflowers?
And then, we saw a case of life imitating art, in this case a cartoon! On Saturday, July 23, an Italian friend involved in the original planting effort texted me the following: "Passing by where we planted the sunflowers on my scooter, I discovered an absolute crime has been committed: all the sunflowers have been eradicated from their roots and just left to die."
She was outraged. Another friend, who lives in the area and has cared for the flowers, confirmed that the deed was done over two nights, after she had tried to replant some of the first uprooted plants. She sent a number of pictures like the ones above. The news began to travel and made all who had planted the seeds very sad and angry. As the news spread, others expressed horror and disgust. My friends started tweeting and alerted Ben, who in turn Tweeted the pictures of the uprooted flowering plants to all his many followers, many of whom started calling for replanting. So, Ben called for volunteers to replant seeds on Sunday, July 31, at 10:00 a.m.
Sure enough, on that Sunday, people started arriving and asking, "What can I do? Where do I plant my seeds? How far apart should we space them?" Having learned how hard the dried-out tree box soil can be, one man brought his pick-ax to help dig holes. As the photos show, some dug holes; others planted seeds or flowering plants, and still others brought bouquets of sunflowers with which to decorate light poles or leave at the gates of the Russian Embassy.
Strangers from all walks of life, appalled by the brutal uprooting, came together to replant sunflower seeds and flowering plants. It was a very positive and joyous experience for everyone, and we all hope that others will soon be able to enjoy beautiful blooms once again. Hooray for intrepid lovers of sunflowers!
~  Stephanie Kinney, Washington, D.C.