Remembering David McCullough 
By
August 11, 2022
One Comment
984
•
---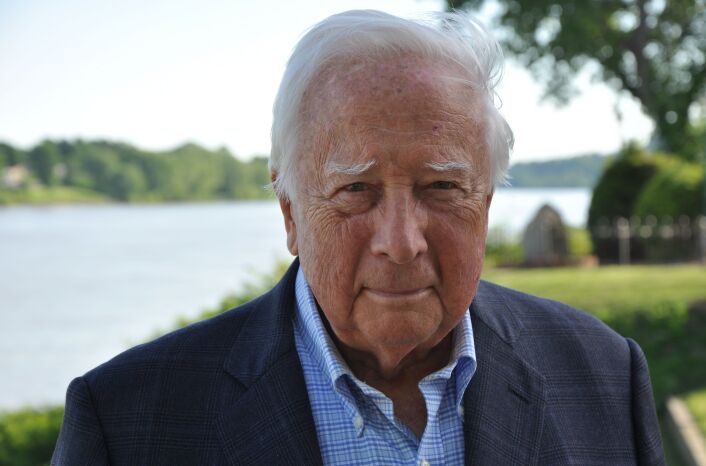 It is hard to say goodbye to my friend David McCullough, who died Aug. 7 at the age of 89. We met in 1989 in Johnstown, Pennsylvania, at the centennial commemoration of the Johnstown Flood. David's book about the flood gave readers a fresh look at an event we thought we knew all about. That was his gift, to take a familiar subject—a bridge, a canal, presidents, artists, inventors—and create a dramatic story based on deep research and an enormous amount of human empathy.
I was in Johnstown that day in my capacity as the director of Pennsylvania's history and museum programs. As a Pennsylvania native, David had a special interest in the state's history inspired in childhood by the historical novels of Conrad Richter. Fortunately for me, our mutual interests brought us together many times in the 1990s and our friendship grew when I came to Washington in 2002 to direct the Smithsonian Institution's National Museum of American History. David joined the museum's advisory board and became an influential advocate for our goal to "shine new light on American history."
I shared so many memorable events with David—at the White House, the U.S. Capitol, Mount Vernon and the Smithsonian. I was his guest at an Alfalfa Club dinner and at countless breakfasts at the Hay Adams Hotel with his wonderful wife, Rosalee. A dinner at La Chaumière on M Street—his "favorite French restaurant in Washington"—with Senator Robert Casey was an occasion to renew our connections to Pennsylvania. Regardless of the place or the company, David never failed to engage, educate and entertain.  And above all, he never failed to listen.
One of my favorite memories occurred in 2008 when my wife, Cathryn, and I hosted David and Rosalee at our home on R Street in Georgetown. Cathryn made a great dinner and then we settled in to watch the first episode of the John Adams series on HBO. It seemed like just another normal Sunday night in Georgetown, but I knew then and realize even more now that I had the privilege of friendship with a truly extraordinary man. He loved to sing and dance and tell stories. In spite of all his success and honors, he remained curious, generous and genuine. In a phone call, he would greet me with "Hi, pal"— and I knew he meant it. I will miss that voice very much. So will we all.
Brent D. Glass is Director Emeritus, National Museum of American History, Smithsonian Institution, and author of "50 Great American Places, Essential Historic Sites Across the U.S."