Fall Arts Preview: Performing Arts
By
September 14, 2022
0
1481
•
---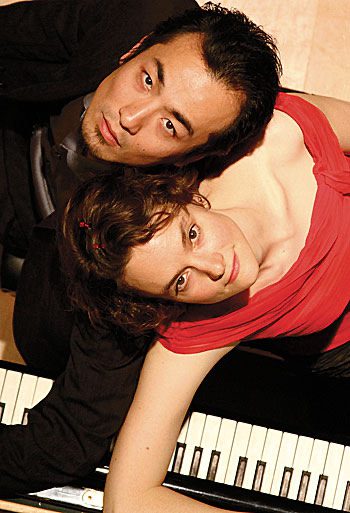 OPERA  
The D.C. United stadium will become a square in Seville when Washington National Opera brings "Carmen" to Audi Field for this fall's free Opera on the Field (Sept. 25). WNO's season in the Kennedy Center Opera House will begin with Verdi's "Il trovatore" with Latonia Moore (Oct. 22 to Nov. 7), followed by Richard Strauss's "Elektra" with Christine Goerke (Oct. 29 to Nov. 12).  
Later on, Washington Concert Opera will present Donizetti's "Roberto Devereux" in George Washington University's Lisner Auditorium, with the Earl of Essex (René Barbera) and Queen Elizabeth (Roberta Mantegna) singing their hearts out in Italian (Dec. 4).  
CLASSICAL  
Leonard Bernstein's "Mass" will return to the Kennedy Center Concert Hall, the scene of its 1971 premiere, as the last splash of the center's 50th anniversary celebration, with the National Symphony Orchestra joined by the Heritage Signature Chorale and the Children's Chorus of Washington (Sept. 15, 17 and 18). The following Saturday, Gianandrea Noseda will conduct the NSO's season-opening gala concert, featuring pianist Daniil Trifonov playing Rachmaninoff (Sept. 24).   
Craving more orchestras? Strathmore's got 'em: the Baltimore Symphony Orchestra with baritone Thomas Hampson singing Mahler (Sept. 24); another Bernstein bonanza, his "Kaddish," with the BSO, the University of Maryland Concert Choir and the Maryland State Boychoir (Oct. 9); the São Paulo Symphony Orchestra conducted by BSO Music Director Laureate Marin Alsop (Oct. 12); the City of Birmingham [U.K.] Symphony Orchestra, presented by Washington Performing Arts (Oct. 21); and the National Philharmonic, featuring violinist Gil Shaham playing Saint-Saëns (Oct. 22).  
One more: Capital City Symphony will perform works by Brahms, Hindemith and African American composer Adolphus Hailstork at Atlas Performing Arts Center. Hailstork, 81, is professor emeritus and Eminent Scholar at Old Dominion University in Norfolk (Oct. 16).   
In partnership with the Washington Chorus, Wolf Trap is hosting Joyfully Together, a new community choral festival. Also performing, and participating in a massive sing-along: the Children's Chorus of Washington, the Alexandria Harmonizers, the Gay Men's Chorus and its GenOUT Youth Chorus, the Duke Ellington School of the Arts Chorus, Towson University Singers and the Washington Performing Arts Women, Men and Children of the Gospel Choir (Sept. 18).  
Choral music at Washington National Cathedral: the Cathedral Choral Society, joined by Atlanta Ballet, will present Berlioz's "Roméo et Juliette" (Oct. 22); and Choral Arts will perform works by composers with local ties at "O! What a Beautiful City" (Nov. 19).  
Folger Consort — having moved around the corner to St. Mark's, Capitol Hill, during the Folger Library's expansion project — will present Music for the Last Raj, intermingling Carnatic music from South India and baroque works brought there by British colonists (Sept. 23 to 25). Opening the Phillips Collection's Sunday Concerts: Sirocco, a celebration of folk traditions by the U.K.'s Manchester Collective and South African cellist Abel Selaocoe (Oct. 9).   
More of note in October: tenor Michael Spyres and pianist Mathieu Pordoy, presented by Vocal Arts DC in the Kennedy Center Terrace Theater (Oct. 10); also in the Terrace Theater, pianist Igor Levit (Oct. 20) and violinist Midori (Oct. 30), presented by Washington Performing Arts; and quintets from the Chamber Music Society of Lincoln Center at the Barns at Wolf Trap (Oct. 28).  
What's a ZOFO? The "20-fingered orchestra" of piano duo Eva-Maria Zimmermann and Keisuke Nakagoshi. Dumbarton Concerts' 45th season at Georgetown's Dumbarton United Methodist Church will open with ZOFO's Mind Meld program of works by Bernstein, Debussy, Harold Shapero and Stravinsky (Oct. 22).   
Finally, coming up in November in the Kennedy Center Terrace Theater: PostClassical Ensemble, led by Angel Gil-Ordóñez, will present "Paris at Midnight: Jazz and Surrealism in the 1920s," featuring a screening of the 1924 Surrealist film "Entr'acte" with a live performance of the Erik Satie score, plus a tribute to jazz clarinetist Sidney Bechet and a Ravel piano concerto (Nov. 9).  
JAZZ, POP, ROCK AND HIP HOP 
Duck into an alley — Georgetown's legendary Blues Alley — for D.C.'s best jazz. Some of the big names: Eddie Palmieri (Oct. 6 to 9), Arturo Sandoval (Oct. 27 to 30) and Bob James (Nov. 4 to 6). Coming to the Kennedy Center's KC Jazz Club are pianist Chucho Valdés with the Yoruban Orchestra (Oct. 16); trumpeter Terence Blanchard's tribute to 89-year-old sax legend Wayne Shorter, "Absence" (Oct. 21); and Cécile McLorin Salvant, singing about a female ogre in "Ogresse" (Nov. 12).  
As usual, Strathmore resists pigeonholing, for example: Sweet Honey in the Rock (Sept. 16), Sergio Mendes (Sept. 29) and Ray LaMontagne (Oct. 25). Notables coming to the Warner Theatre include Regina Spektor (Oct. 16) and Joe Satriani (Oct. 26). The Boyz II Men show at Wolf Trap's Filene Center is sold out (Sept. 16), but you can still get tickets for Tom Jones (Sept. 17). The following month, Australian cabaret performer Meow Meow will be at the Barns (Oct. 23).  
The Birchmere draws folks to the Alexandria outskirts by booking acts such as: Marshall Crenshaw (Sept. 28), Milton Nascimento (Oct. 4), Rufus Wainwright (Oct. 12), the Whispers (Oct. 21 and 22) and Steve Vai (Oct. 25), not to mention War, for the band's 50th anniversary tour (Oct. 16).  
Guided by its Hip Hop Culture Council, the Kennedy Center has made a Potomac-side home for hip hop. Upcoming events include: Making Beats, a beat battle hosted by 9th Wonder (Oct. 30); and a tenth-year celebration of Robert Glasper Black Radio (Nov. 13).    
Wrapping up with the big commercial venues: Capital One Arena will host, among others: Mary J. Blige (Sept. 18), Lizzo (Sept. 27), Panic At The Disco (Oct. 1), Post Malone (Oct. 4), The Smashing Pumpkins (Oct. 18) and the Iron Maiden Legacy of the Beast World Tour '22 (Oct. 23). Coming to the Anthem at the Wharf: Father John Misty (Sept. 20), Rosalía (Sept. 26), Death Cab for Cutie (Sept. 27), Demi Lovato (Oct. 10) and two double-bills, the B-52s' farewell tour with KC & the Sunshine Band (Oct. 1) and Arcade Fire with Beck (Oct. 27, 28 and 29).  
THEATER  
You know about the name-brand musicals at the Kennedy Center — "Hamilton" in the Opera House (through Oct. 9) and "Dear Evan Hansen" (through Sept. 25) and "Guys and Dolls" (Oct. 7 to 16) in the Eisenhower Theater, right? And you've probably heard that "Tina" (Oct. 4 to 23) and "Chicago" (Nov. 15 to 27) are coming to the National Theatre.  
Meanwhile, at Signature Theatre, you can catch Marsha Norman's musical adaptation of Alice Walker's novel "The Color Purple," with music and lyrics by Brenda Russell, Allee Willis and Stephen Bray, directed by Timothy Douglas (through Oct. 9). A cabaret show, "Both Sides Now: Joni Mitchell and Leonard Cohen," will follow (Nov. 1 to 13).  
What's a zarzuela? A light opera from Spain. GALA Hispanic Theatre is presenting "La Reveltosa (The Troublemaker)," with music by Ruperto Chapí, which premiered in Madrid in 1897 (through Oct. 2). GALA's season will continue with "La llamada de Sylvia Méndez (Separate Is Never Equal)," set in 1940s California (Oct. 11 to 24).  
Theater J is bringing us "a hit new klezmer musical": "Old Stock: A Refugee Love Story" by Hannah Moscovitch, Ben Caplan and Christian Barry, directed by Barry (Sept. 7 to 25). The show after that, not a musical, is Lynn Nottage's "Intimate Apparel," directed by Paige Hernandez, about a Black seamstress in the New York of 1905 (Oct. 19 to Nov. 13)  
And now for something completely different: In Series is presenting "The Nightsong of Orpheus," pairing two works by early 17th-century composer Claudio Monteverdi with… Japanese Noh drama. Remaining performances are at Dupont Underground (Sept. 16 to 18) and Baltimore Theatre Project (Sept. 23 to 25). The second production of the In Series season, "Requiem" — a weaving together of Mozart's Requiem with "death musics" by two 20th-century composers — will be performed at Hand Chapel on George Washington University's Mount Vernon Campus in Foxhall (Nov. 4 and 13) and at three D.C. churches (Nov. 5, 6, 11 and 12) and a former church in Baltimore (Nov. 18 to 20).   
At Shakespeare Theatre Company's Klein Theatre (formerly the Lansburgh), the Goodman Theatre's production of Mary Zimmerman's "The Notebooks of Leonardo da Vinci" stars eight different Leonardos (Sept. 29 to Oct. 23). Brush up your Shakespeare at STC's "Much Ado About Nothing" at Sidney Harman Hall, directed by Simon Godwin (Nov. 10 to Dec. 11), and at Bethesda's Round House Theatre's (in collaboration with Folger Theater) "The Tempest," adapted and directed by Aaron Posner and Teller. Round House's season begins with Natasha Gordon's "Nine Night," directed by Timothy Douglas, about a family taking part in a traditional Jamaican mourning ritual (Sept. 14 to Oct. 9).   
A trip and a holiday: Ford's Theatre will present Horton Foote's 1953 "The Trip to Bountiful," directed by Michael Wilson and starring D.C. favorite Nancy Robinette (Sept. 23 to Oct. 16); at Arena Stage, Anita Maynard-Losh is directing the 1920s Broadway play "Holiday" by Philip Barry, which became a 1938 film with Cary Grant and Katharine Hepburn (Oct. 7 to Nov. 6). Just announced: The last production Molly Smith will direct as Arena artistic director will be "My Body No Choice," a collection of 10-minute monologues by eight playwrights in response to the overturning of Roe v. Wade (Oct. 20 to Nov. 6).  
Now playing at Dupont's Keegan Theatre is Paul Slade Smith's "The Outsider," directed by Ray Ficca, a comedy about an unlikely candidate for governor (through Sept. 24). After that comes "Elegies: A Song Cycle" written by William Finn, composer and lyricist of "The 25th Annual Putnam County Spelling Bee," in response to 9/11 (Oct. 22 to Nov. 20).  
Woolly Mammoth started its season with "Ain't No Mo'," a black comedy about Black America by Jordan E. Cooper, directed by Lili-Anne Brown (through Oct 9). At Studio Theatre, Will Arbery's "Heroes of the Fourth Turning," directed by Sivan Battat, peers into a corner of white America, a late-night gathering of Catholic college alumni (Sept. 21 to Oct. 23)  
A major undertaking for Mosaic Theater Company, based at the Atlas Performing Arts Center, is "The Till Trilogy" by Ifa Bayeza, directed by Talvin Wilks. The three components: "The Ballad of Emmett Till" (Oct. 4 to Nov. 19), "That Summer in Summer" (Oct. 5 to Nov. 25) and "Benevolence" (Oct. 6 to Nov. 19). Atlas is brimming over with theater this fall, with the ExPats Theatre's production of "Einstein's Wife," a play by Snežana Gnjidić, translated from the Serbian (Sept. 23 to Oct. 16); a weekend of (voice-interpreted) Deaf BIPOC Solo Shows by Natasha "Courage" Bacchus, Mervin Primeaux-O'Bryant and Stella Antonio (Sept. 23 to 25); and Charades Theatre Company's "The Mold That Changed the World" about penicillin discoverer Alexander Fleming (Oct. 18 to 23).   
DANCE  
The Library of Congress will host a Coolidge Auditorium event, Celebrating Hazel Scott: Pianist, Singer, Actress and Activist, including a panel discussion, a performance by the Janelle Gill Trio and an excerpt from a new Dance Theatre of Harlem work, "Sounds of Hazel" (Sept. 28). The Trinidad-born Scott was the focus of a Washington Performing Arts "centenary-plus-one" celebration last season. The full work will be performed by Dance Theatre of Harlem in Sidney Harman Hall (Oct. 7 and 8).  
Also at Sidney Harman Hall, the Washington Ballet will open its season with the latest edition of NEXTsteps, featuring works created for TWB by Silas Farley, Dana Genshaft and Andile Ndlovu (Oct. 12 to 16).  
In conjunction with the National Portrait Gallery exhibition "One Life: Maya Lin," the Dana Tai Soon Burgess Dance Company will premiere "Surroundings" in the gallery's Kogod Courtyard (Oct. 16, 23 and 30).  
Visiting companies performing in the Kennedy Center's Eisenhower Theater: Cloud Gate Dance Theatre of Taiwan, presenting "13 Tongues" about Taipei's Bangka district (Oct. 20, 21 and 22); Mark Morris Dance Group, presenting "The Look of Love," set to Burt Bacharach hits (Oct. 26 to 29); and Les Ballets de Monte-Carlo, presenting "Cendrillon," an adaptation of Prokofiev's "Cinderella" by Jean-Christophe Maillot (Nov. 17 to 20).   
A few more steps: Mummenschanz, marking its 50th anniversary, will perform at Lisner Auditorium (Oct. 22); and Indian classical dance company Kalanidhi Dance will present "Sundari Kalapam," a reimagining of "Beauty and the Beast," at Atlas Performing Arts Center (Oct. 28 and 29).