Georgetown Community Day Delights at GU
By
September 19, 2022
0
1245
•
---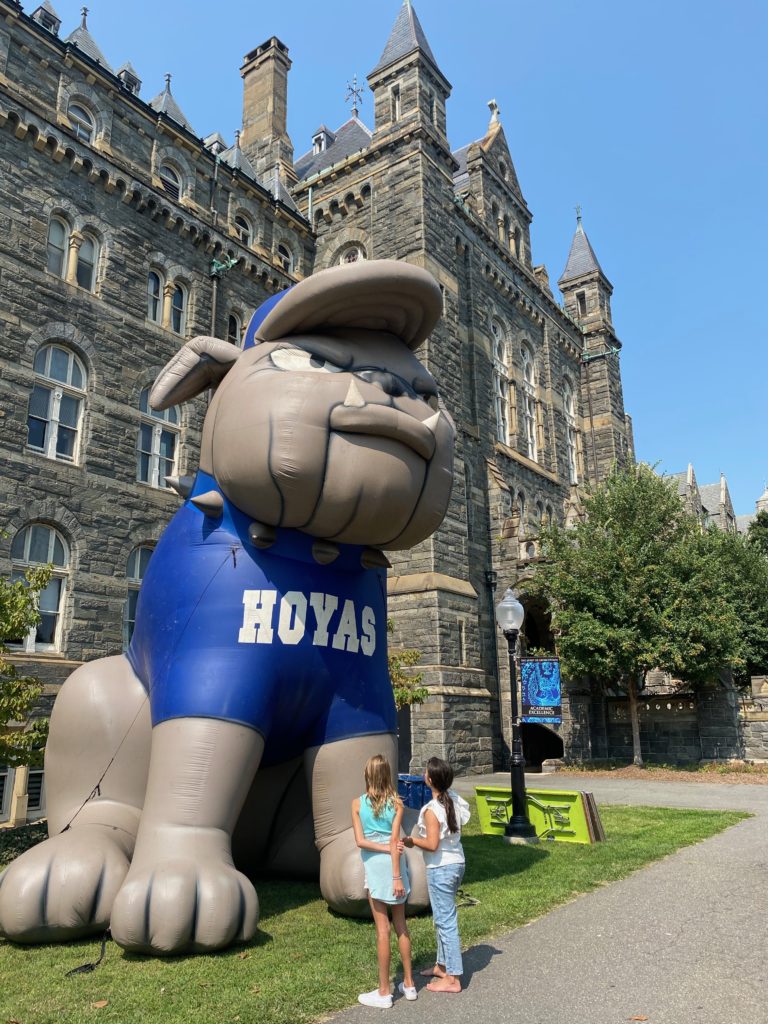 In the brilliant sunshine of a late-summer Saturday, Georgetown University held its annual fall Georgetown Community Day – a fun and family-friendly festival bringing together students, faculty and staff, local businesses and community agencies – on Healy Lawn, Sept. 17 from 11 a.m. to 1 p.m. 
Organized by the university's Georgetown Event Management Services (GEMS), the community celebration featured fun activities for kids, students and adults, including DJ Greena Marie (a GU alum), catered lunch from the university, face painting, a balloon artist, a cotton candy machine, an ice cream cart, an inflatable "bouncy house" and giant racing slide course, a cornhole pitch, hula hoops, an adult-allowed obstacle course, and, of course, a giant inflatable Jack the Bulldog. 
At the welcome table near the campus gates, Fidiki Tarawali, community director in the Office of Neighborhood Life, enthusiastically welcomes participants. "I think this is an amazing day," he told The Georgetowner. "I love how Georgetown University integrates itself so seamlessly with the community and opens itself up to events like this. It just shows how Georgetown is easily bridged together between students, faculty, staff and the community….  It's great to work with the local businesses. It's great to see the community in full swing."
"We love this celebration," said Chris Murphy, GU's Vice President of Government Relations and Community Engagement. "It's just a wonderful opportunity, especially since the pandemic, to provide everyone an opportunity to come together and just enjoy each other's company and to celebrate our community…. We're all just so lucky to live here."
"You know, it's been three years because of Covid and so we're really happy to be back now," said Karen Salmeron, engagement coordinator for the festival. "It's such a great event because we celebrate our shared community with the neighborhood and the university community and it's just a fantastic time for all of us – families, children and students."
With the theme of "community," the university invites "a lot of community organizations, government agencies, local businesses as well as Georgetown University departments" to participate, Salmeron said. "We try to create a mix so that everyone's included and invited… And we welcome anyone who's just walking around."
Designed to connect new students with the Georgetown neighborhood, Georgetown Community Day often reaches students inadvertently. Kate Allen, a GU sophomore and pre-med hadn't known about the festival until she walked outside on Saturday morning and witnessed the hubbub. She had just scored a free cookie from Bakeshop's table. At the Georgetown Main Street (GMS) table, Allen first heard about Georgetown's Art All Night festival coming to Wisconsin Avenue NW this Friday evening, Sept. 23. "I didn't know about Art All Night, so I might just pop by if I have a chance. It looks cool," said Allen. Hailing from Seattle, Washington, Allen said she "can't imagine a better place for college," than Georgetown. "It's exciting… it's a really fun social scene with great people and I love D.C."
On the grassy grounds and beneath the shady trees, close to 30 information tables were set up from university groups, local businesses and government agencies. University tables included: Government Relations and Community Engagement staffing the welcome table, Nomaddctheatre, BellRinger, Georgetown Lombardi Cancer Center, GU Student Association, the Center for Social Justice, Georgetown Emergency Response Medical Services (GERMS), Georgetown University Retired Faculty and Staff (GUARFS), Georgetown Early Learning Project, and, near the ice cream cart, the Georgetown police department (GUPD). 
Community organizations included: Citizens of Georgetown (CAG), Georgetown Main Street (GMS), Rose Park Farmers Market, Friends of Georgetown Waterfront, DC Public Library, American Third Pillar Charities, Georgetown Village, Holy Trinity School and Mapping Georgetown. Government agencies included: the Metropolitan Police Department (MPD), Advisory Neighborhood Commission (ANC) 2E, and the D.C. Mayor's Office of Community Relations and Services.
Shop Made in DC, Bakeshop, Take Care, Mason's Famous Lobster Rolls and Wawa had tables for local businesses.
At the ANC 2E table, outgoing chair Rick Murphy (2E03) effused about the day. "I think this is a great event that we haven't had for several years because of the pandemic and it's wonderful to be back out again. We've got a super day for it." The festival provides "the one opportunity to get the community and students all in one place interacting in a way that is designed for people to have a good time. It helps build a bridge." In his six years of involvement with the ANC, Murphy said "the relationship between the campus and the community has improved dramatically and we love having the students back. The neighborhood suffered during their absence. So, it's really good to have them back."
"It's such a nice chance to meet people and get to know what they might need," said Daniela Krum, admissions director for Holy Trinity School. " Sharing the university's commitment to "cura personalis," Krum emphasizes to folks strolling by Holy Trinity's tradition of building and nurturing the "whole child" in the Jesuit educational tradition.
Announcing Rose Park's centennial celebration at the next Rose Park Farmers Market this Wednesday, from 3 to 7 p.m., Jim Coleman told The Georgetowner "We just want to make sure everyone knows about our little neighborhood gem, the Rose Park Farmers Market, running every Wednesday until Oct. 26 of this year. We're always looking for great new local vendors as well as more input for the community…. It's our 100th anniversary and we'll have all kinds of new vendors and excitement. And,  we couldn't be prouder."
With their two and a-half year old son William on dad's shoulders, parents Douglas and Lexi Crawford first learned about Georgetown Community Day from a friend who attended the university several years back. "I think it's great to bring the surrounding community to the university campus," Lexi Crawford said. "It's part of greater D.C.'s support for the university." We just "spent a lot of time in the moon bounce and we just did the slide, so we're going to get some balloon animals next," she said, referring to the fun William was having.
At the Shop Made in DC table, Miranda Stein described how vital it is to support D.C.'s small and local businesses. "Something we learned from the pandemic is that people really wanted to support their local community and their local artists as opposed to just shopping on Amazon." 
At a table for nearby Wisconsin Avenue business Take Care, Elizabeth Baker, a native from Nashville, Tennessee and now a Georgetown resident chats with folks about the "clean and natural" products at their "green beauty and aesthetics shop." She had just finished texting a friend to say "what a sweet event" Georgetown Community Day was. "It's my first time here on the campus. It's very wholesome. I was sending photos of how beautiful the buildings are and the architecture…. I absolutely love the architecture. I love to walk around. It's got such a feel-good energy here and in the area. I'm very happy to be here in Georgetown. Everyone's super kind."