Fire Damages Blues Alley Building 
By
October 26, 2022
0
795
•
---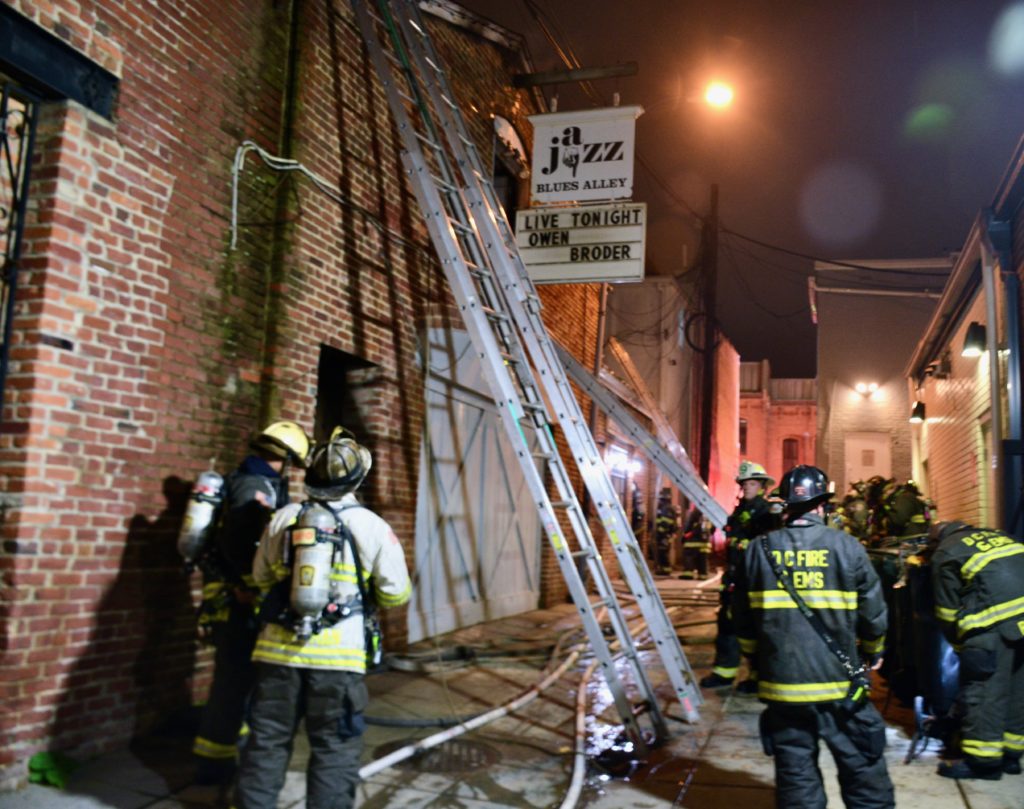 This article was updated Oct. 27.
A fire broke out on the second floor of the Blues Alley music club around sunset Oct. 25. D.C. Fire & EMS quickly responded to the incident in the alley between Wisconsin Avenue and 31st Street NW in Georgetown.
WTOP reported: "D.C. fire officials say the fire at the legendary D.C. jazz club Blues Alley Tuesday night caused $50,000 in damage, and that the cause hasn't yet been determined. Firefighters found the fire between the ceiling and the roof.… Fire and EMS said about 50 firefighters were on the scene, and one firefighter fell through part of the roof while fighting the fire." The news outlet added that "the person is expected to be OK."
People left the building as smoke poured out of the roof around the cockloft where ductwork is located. The first floor of the club appeared to have suffered no smoke or water damage.
On that evening, Blues Alley was set to present Owen Broder and his band, who retrieved some of their instruments before moving to safety.
Last night, Blues Alley owner Harry Schnipper wrote on social media: "Blues Alley will not be defeated. Blues Alley survived the pandemic, and Blues Alley will survive this set back."
Schnipper stated today: "Blues Alley is temporarily closed due to last night's unfortunate occurrence. They are currently assessing the damage and how long it will take to re-open. Some news reports have exaggerated the severity of the water damage which is confined to the 2nd floor and roof only. The club will re-open very soon."
"Any shows cancelled will be rescheduled as soon as possible, and we ask you to wait before requesting a refund until the new date is confirmed. If you can't make the rescheduled date, then a refund will be given. We appreciate your patience on this, and more information will be available soon."
"Just get the word out that we are alive and well," Schnipper told the Washington Post Oct. 26, adding that he expects to resume scheduled shows on Tuesday, Nov. 1.