Shop Conscientiously in Georgetown This Small Business Saturday, Nov. 26
By
November 21, 2022
0
713
•
---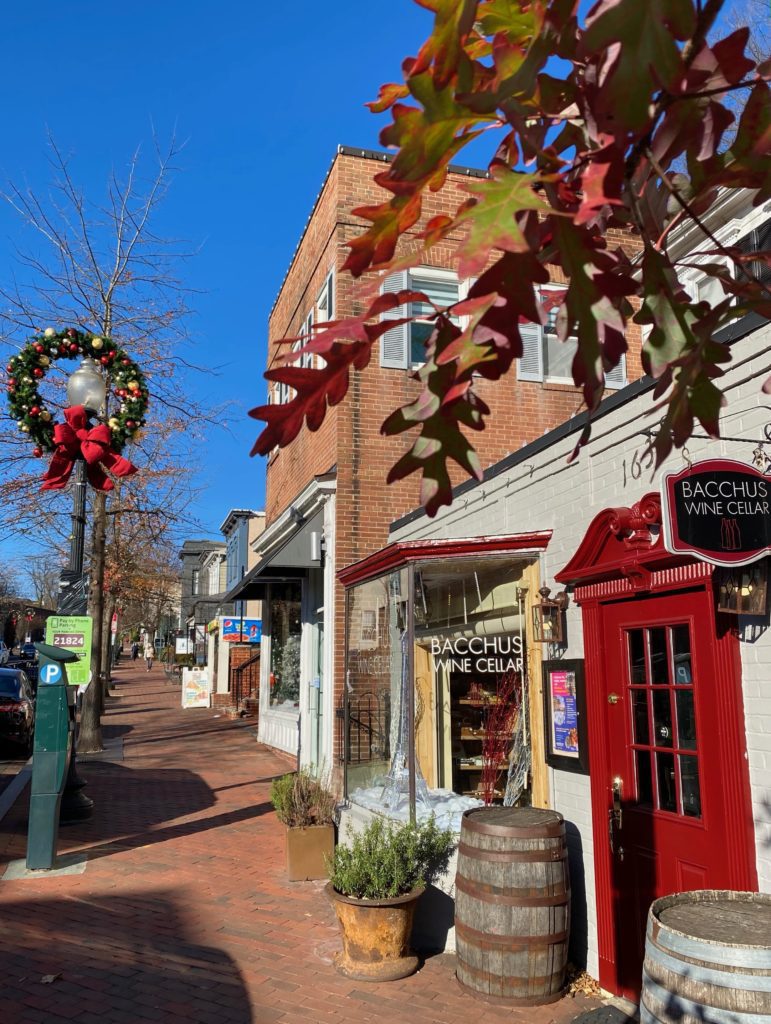 Want to give Georgetown commerce a boost? What could be more productive than supporting our local small businesses on Small Business Saturday this November 26? And a boost to local businesses is a boost to the community. 
Small Business Saturday (SBS) began in 2010 at the height of the Great Recession as an effort to restore economic vitality along the nation's often beleaguered Main Streets, to boost local employment and wages, and to assist with the historic preservation and revitalization of such communities. Launched by the non-profit National Trust for Historic Preservation which joined that year with American Express, the day was designed to redirect consumers away from big box holiday shopping toward "shopping small" locally. 
As an antidote to the shopping frenzy of Black Friday, SBS was established to be held yearly on the first Saturday following Thanksgiving, the day after Black Friday and its association with desperate consumers trampling Walmart greeters in search of midnight bargains. Countering Amazon's rising domination in online holiday sales was also one of its implicit messages.
And, since 2010, the success of SBS in helping boost local small businesses every year since it started is undeniable. "According to the results of the American Express 2021 Small Business Saturday Consumer Insights Survey, total reported projected spending among U.S. consumers who shopped at independent retailers and restaurants on [SBS] reached an estimated $23.5 billion, up 18 percent from $19.8 billion in 2020 and an increase from pre-pandemic spending in 2019 ($19.6 billion)," the National Main Street Center reported. 
Without federal pandemic relief funds this year, many small and local businesses see this holiday shopping season as even more crucial to their financial success than last year's. A recent QuickBooks survey cited by the U.S. Chamber of Commerce found that, "80 percent of small businesses say the 2022 holiday season is more important to their overall financial health than last year." 
For Ward 2 Council member Brooke Pinto, SBS is a particularly important day for the Georgetown community. "As we head into the holiday season, I am moved by the many reminders for all of us to support our communities, especially the small businesses that bring vitality… and make our neighborhood special and unique," she told The Georgetowner. "This is especially true in Georgetown with streets lined with small businesses that satiate our appetite for great food, wonderful books, hospitable home goods, and so much more."
Pinto emphasized that SBS helps support one of her top priorities, "ensuring our small businesses have the support they need… and [making] D.C. the best place to do business in the region." She's hoping the D.C. Council passes her Business and Entrepreneurship Support to Thrive Act (the "BEST Act") designed to simplify business licensing and to remove barriers to women and minority business entry. "I will be supporting businesses this [SBS] and encourage all our neighbors to do the same and shop local this holiday season!" Pinto said. 
At the Georgetown Business Improvement District (BID), Nancy Miyahira, vice president and director of marketing, also emphasized the importance of SBS to the community. "Each of our small businesses has its own unique story, products and hardworking owners who contribute to the rich fabric of our community," she told The Georgetowner. "They have persevered while facing unprecedented challenges during the past three years, and they remain the heart of Georgetown – not only on [SBS], but throughout the year. Supporting these businesses is essential to our neighborhood's continued recovery." 
According to Miyahira, more than 300 small businesses "call Georgetown home, comprising 60 percent of the commercial district's restaurants and retailers." This year, she said, "more than 25 Georgetown shops, restaurants, galleries and services are offering special promotions and events on [SBS]." 
Highlights of such SBS promotions include: 
Up to 70% tent sale at Ella-Rue
Special pop-up exhibition at Klagsbrun Studios
Free glass of bubbles while you shop at LiLi The First
Maker pop-ups at Shop Made in DC
20% off your first appointment at Violet Salon and Spa
Raffle for a free one-night stay in the penthouse suite of The Graham's townhouse
A full list of participating shops can be found here. 
At Georgetown Main Street, Executive Director Rachel Shank is always on the lookout to support the small businesses along the Wisconsin Avenue business corridor, especially during the all-important holiday season. "Black Friday, Small Business Saturday, Cyber Monday, and the entire holiday season is crucial for Georgetown's small businesses," she told The Georgetowner. "Despite the vacancies and perceived precariousness of brick and mortar retail, the Georgetown market is on the rebound."
As big box stores recover, however, there's always a threat to local small businesses, however. "Small businesses don't have the same flexibility, capacity or deep pockets as the corporate enterprises which are needed to address persistent labor shortages, rising inflation and climbing rents still present in November, 2022," Shank said. So, "put your money where your heart is this holiday gifting season," and shop small and local.