Hopper at the Whitney, Katz at the Guggenheim 
By
January 5, 2023
0
1723
•
---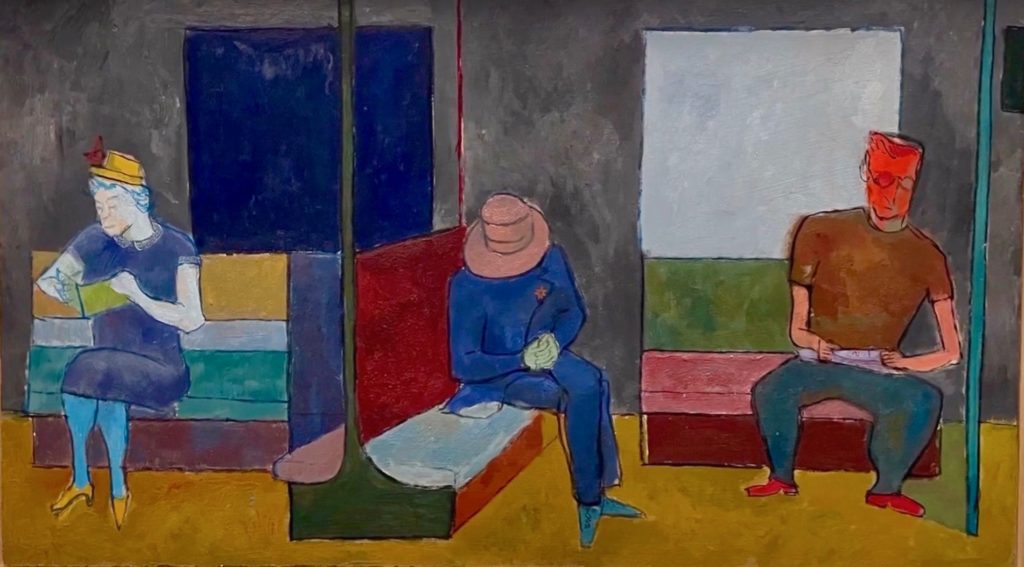 Now on view in Manhattan are major exhibitions of the work of two influential American artists, Edward Hopper (1882-1967) and Alex Katz (b. 1927). "Edward Hopper's New York" is at the Whitney through March 5; "Alex Katz: Gathering" is at the Guggenheim through Feb. 20. 
The two shows, about four miles apart, make for a stimulating comparison. 
The prime years of Hopper and Katz bookended the decade or so — from the late 1940s to the early 1960s — when the turbulent, large-scale paintings of Abstract Expressionists such as Jackson Pollock, Willem de Kooning and Franz Kline dominated the contemporary art scene.  
Hopper, committed to the quiet, realist compositions he had been producing since the 1920s, greatly resented the postwar eclipse of representation by abstraction. More than 40 years younger, Katz likewise scorned abstraction. In fact, the flat representational style he latched onto in the late 1950s hinted at the rise of Pop Art. 
Equally stubborn about his personal style, the young and middle-aged Katz was less of a loner than Hopper. Several works on view at the Guggenheim — including a painting of a performance by the Paul Taylor Dance Company, for which Katz designed many sets and costumes, and a standing "cutout" portrait of poet Frank O'Hara — illustrate his participation in New York's 1960s bohemia. 
But in both cases marriages of long standing were essential to their work. Hopper was married for 43 years, until his death, to artist Jo (short for Josephine) Nivison Hopper, the model for most of the women in his paintings — of whatever age and dress or undress. There's no mistaking the woman in Katz's portraits; in well over 200, she is his wife of soon-to-be 65 years, Bronx-born biologist Ada Del Moro. 
Like a still from a movie starring Ada, "Blue Umbrella 2" of 1972, from a private collection, is the signature, bottom-of-the-ramp image of the Guggenheim show. Not only its composition but the rain, stylized as long white teardrops evenly spaced on a slant, references Japanese prints, one of Katz's influences along with midcentury films and posters. 
Among the other Adas in the exhibition: "Ada Ada" of 1959 (two identical small Adas in a blue dress on a bare white background); "The Black Dress" of 1960  (six adjacent Adas in different poses, with half of Katz's portrait of poet James Schuyler on the wall); "Ada and Vincent" of 1967 (Ada's face, partially blocked by the face of their 7-year-old son in her lap); "Departure (Ada)" of 2016 (six tiny identical Adas facing away from the viewer along the top of a solid green background); and "Ada Evening" of 2019 (Ada, lost in thought, holding her face in her left hand, a stream of gray hair at right).  
What brings the show to life, and adds to its visual appeal in the Guggenheim's helix, are a less familiar side of Katz: his flower portraits and landscapes. Raised in Queens, after attending Manhattan's Cooper Union, Katz studied at Skowhegan in Maine, where he has spent summers since the 1950s in Lincolnville, a coastal town north of Rockport. 
Hung next to "Ada and Vincent" is "Rose Bud," a close-up of two blooms painted the same year. Other Katz portraits of people (mostly, but not only, Ada) are interspersed with portraits of flowers, and as one ascends landscapes appear, simplified in recent decades to the point of abstraction.  
"Gold and Black 2" of 1993 is a breathtaking horizontal painting of five tree trunks, green leaves sprouting at the top, on a flat background of burnt gold. "Crosslight" of 2019, a patterning of white patches and flecks on forest green, is shown with two oil studies from the year before, one for "Crosslight" and one for "Crosslight 3." Even larger abstract works drawn from nature are on view in the gallery at the top of the helix, including "Black Brook 16" of 2001, almost 30 feet long. 
Born in the Hudson River village of Nyack, New York, Hopper, too, spent summers away from his Manhattan home and studio, on Cape Cod in Massachusetts. Unlike the retrospective that filled the National Gallery of Art's East Building in 2007, the Whitney exhibition focuses on his New York subjects, with thematic sections titled "Washington Square," "The Theater" and so on. Though the Art Institute of Chicago did not lend "Nighthawks," Hopper's widely reproduced (and parodied) diner scene of 1942, such famous works as "Early Sunday Morning" of 1930, "New York Movie" of 1939 and "Office at Night" of 1940 are on view. 
Jo Hopper, who died in 1968, left virtually all of her and Edward's works to the Whitney, which mounts Hopper exhibitions regularly. What makes "Edward Hopper's New York" unusual is the generous inclusion of watercolors, drawings and etchings and the debut of the Sanborn Hopper Archives, a newly catalogued collection of materials acquired by the Whitney in 2017. (The origins of this collection, its unavailability until recently to scholars and the circumstances of its acquisition by the museum are a matter of controversy, brought to renewed attention by Hopper biographer Gail Levin.) 
Works on paper enrich the exhibition throughout. Easy to miss (so don't!) is a gallery titled "Sketching New York." Tucked away past a corridor hung with three large drawings, it displays some 30 drawings in charcoal and chalk — including three preparatory drawings for "Nighthawks" — and a Central Park painting from a private collection, "Bridle Path" of 1939. 
Several of the displays of Sanborn materials are knockouts. For instance: 24 issues of magazines such as Wells Fargo Messenger and Tavern Topics with covers designed by Hopper, a commercial artist during World War I and the 1920s; 63 theater ticket stubs, annotated by Jo, from the '20s and '30s (in 1936, an orchestra seat to see John Gielgud play "Hamlet" cost $3.30); and an exchange of letters between unsympathetic New York redevelopment czar Robert Moses and Hopper, when the Hoppers were fighting eviction by New York University. 
Though the label doesn't mention him (instead crediting Swiss photographer Rudy Burckhardt as the inspiration), there is a Hopper moment in "Alex Katz: Gathering." Katz's 1997 painting "Cornice," showing the top corner of a brick building across from his SoHo home and studio, immediately brings Hopper to mind.  
Now 95, Katz has been mainly concerned late in his life with painting the effects of light in nature. But he was long an important exponent of American art's persistent realist branch, which was tugged into the 20th century by the Ashcan School painters. Who led that group? Robert Henri, teacher of both Edward and Jo Hopper.  
"Edward Hopper's New York" is at the Whitney through March 5; "Alex Katz: Gathering" is at the Guggenheim through Feb. 20.