Business Ins & Outs: Nike, Banana Republic Toppled
By
January 23, 2023
One Comment
2134
•
---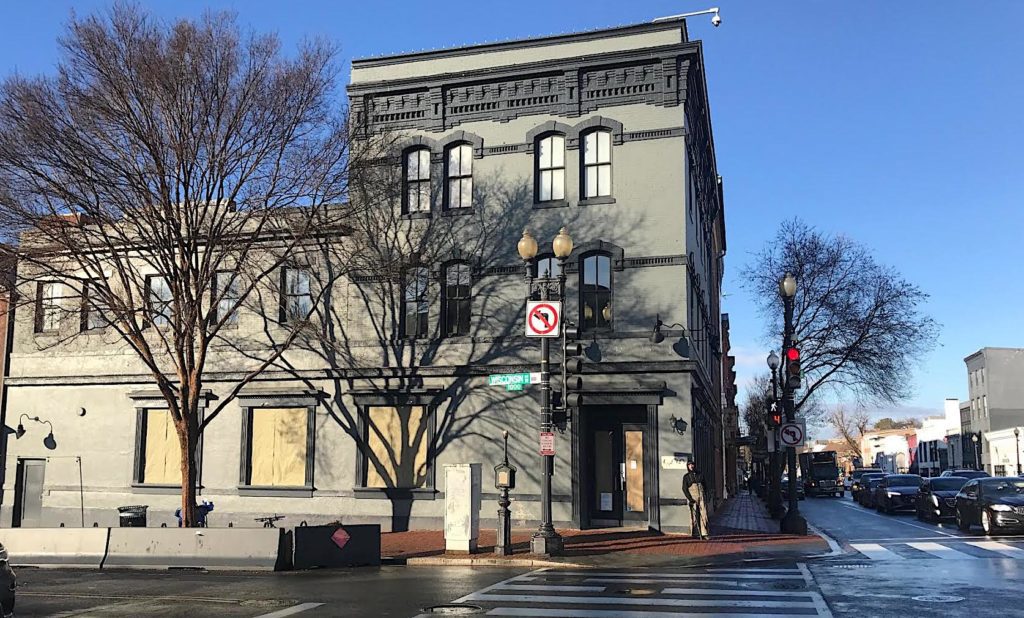 We thought we'd begin with the Outs, as the loss of Nike and Banana Republic is a big deal.
Out: Banana Republic
Another fallen retail legend. The Banana Republic at Georgetown's iconic intersection closed on Martin Luther King Jr. weekend — and will be succeeded by a yoga store and exercise spot. As first reported by UrbanTurf last year, "Yoga clothing and accessory company Alo Yoga appears to be taking over the prime Georgetown retail space currently occupied by Banana Republic at the corner of Wisconsin Avenue and M Street NW. Plans filed with D.C.'s Historic Preservation Review Board outline a series of changes to the exterior of 3200 M Street NW to make way for the new tenant."
The corner property's most legendary occupant was the haute cuisine French restaurant, Rive Gauche.
Out: Nike
The Nike footwear store is emptying its roughly 33,600-square-foot space at 3040 M St. NW — but reportedly seeking a smaller space along the 3200 block of M Street NW, where a few stores are vacant. Nike's current lease expires in the first quarter of 2023. "Lincoln Property Co. is seeking replacement tenants for Nike Inc.'s Georgetown retail store, more than a decade after the athletic apparel giant inked a deal to fill the gap created by Barnes & Noble," reported the Washington Business Journal last year. Nike inked its lease in 2012.
The building at the corner of M & Thomas Jefferson Streets NW was previously owned by an affiliate of Vornado Realty Trust. In the 1970s and '80s it contained the movie theater, Cerberus — and, after that, the beloved bookstore.
In: Commonwealth Proper
Welcome to Commonwealth Proper at 1355 Wisconsin Ave. NW, above the incoming bakery, Maman, next to Compass Coffee. It is, we're told, "a modern ensemble of the best tailors, designers, and personal stylists in America working together to make exceptional custom clothing. As a 'New School' clothier, we not only craft amazing custom-made suits, but we also source innovative fabric, design our own jacket lining, offer in-house bespoke tailoring and our own branded whiskey." The company is based in Philadelphia — hence, its name referring to Philly's past textile glory. Gentlemen, check it out and say hello to Craig Arthur von Schroeder. 
In: Fuel Body Lab on P
Fuel Body Lab has begun its 13th year in Georgetown at a new location — 3003 P Street NW, next to Morgan's Pharmacy. Says the team on P: "The new, cozy studio lends itself to private sessions, duets and small, focused group classes. We have state of the art Pilates equipment including four reformers, three chairs and a full-sized cadillac for private sessions."
In: Oakberry
A new eatery — Oakberry —  has opened at 1560 Wisconsin Ave. NW. The franchise is all about smoothies and açai bowls. It takes over the former spot of  La Jolie Bleu bakery and, before that, Dolcezza gelato — at Q & Wisconsin, next to Los Cuates Mexican restaurant.
Coming: Away
A contemporary, cool luggage store is coming to 3237 M St. NW, the former space for Same Day Health. It began as a direct-to-consumer brand on the web and will be opening its own own brick-and-mortar stores.