Meet Executive Chef Anton Bolling of Fiola Mare
By
February 2, 2023
0
1074
•
---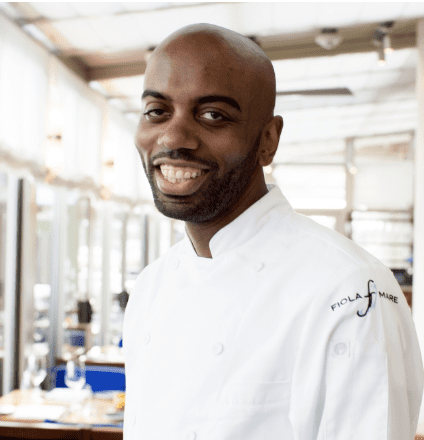 Executive Chef Anton Bolling has been running the busy, celebrity-studded Fiola Mare kitchen on the Georgetown waterfront at 3100 K St NW since 2017. But who's the man behind the food that everyone raves about?
What is your philosophy in the kitchen?
You always have to start from the bottom and work your way up. As a cook, you start as a student, then an intern, then cook, then you move to chef de partie to sous chef, and so on. As you move up, do not get discouraged by the challenges you face. Keep pushing hard, keep doing the things that make you a good cook.
When did you fall in love with food? 
It all started at my grandmother's kitchen table. Watching her cook dinner for my sister, and especially during the holidays for the entire family, made it for me. I learned many techniques from her that, later in life, I discovered to be classical French.
What's your secret ingredient?  
Fish sauce. It's so versatile. I also like to use pickled hot cherry peppers. I'm from Philadelphia, and I miss my hoagies, which have lots of them. Cherry peppers taste like home. GO BIRDS!
What should everyone try at Fiola Mare? 
Definitely try the crudo selection. It showcases our creativity and highlights the ingredients Fiola Mare is best known for – high-quality, fresh seafood.