Laura's Vegetarian Tortellini Soup with Spinach
By
February 16, 2023
0
575
•
---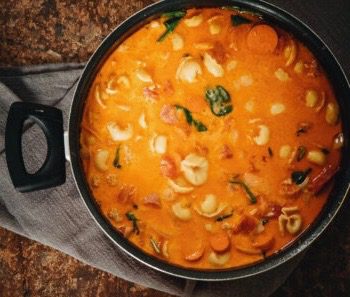 We're officially in soup season! It's one of my favorite times of year as soup is so hearty, easy, and delicious. I often admire longingly the soups others make that have pastas in them that are sadly not gluten-free. And I dreamed of the day I could one day have tortellini again. My friend Amanda at Midwest Nice makes this beautiful looking tortellini soup. As she is married to a meat eater and I'm not, I was inspired by her recipe to come up with a creamy vegetarian tortellini soup with spinach! It is packed full of vegetables so it is healthful. So let's get to it.
What Substitutions Can You Make in This Vegetarian Tortellini Soup?
If you want to swap the spinach for kale you 100 percent can; you can even omit it completely if greens in a soup are not your thing!
If you'd like to make the soup more healthful, you can also sub out the cream with half-and-half. I've even gone as far as to make it with whole milk. While it's still absolutely delicious, you won't have the same level of creaminess that you would get from cream.
Can You Have a Gluten-Free Tortellini Soup with Sausage without Meat?
Yes! Thanks to companies like Beyond Meat and they're developing of faux meat products in the past few years. For this recipe, I find that the best sausage to use is the hot Italian. If you wish to use another company, that should work just as well. However, make sure it's a hot Italian "sausage" that you plan to use.
Is There Gluten-Free Tortellini?
Yes! I'm so thrilled to say that there's actually now quality gluten-free tortellini. I'm fortunate I live near a Wegmans and use their brand. However, here are a couple of others.
Gluten Free Four Cheese Tortellini
DePuma Three Cheese Tortellini
Troubleshooting: What Does "Deglaze the Pan" Mean?
To deglaze a pan is: after you've cooked something that has stuck to the bottom of the pot or pan (often a meat or fish), you then put a liquid in the base of the pan or pot to help break up what's there yet retain the delicious flavors of what was previously cooked in the pot. You would often either use stock or a wine.
Ingredients
1 cup cream
1 onion (medium sized)
4 cups vegetable stock
3-4 carrots
1 28 oz can diced tomatoes
18 oz tortellini (gluten-free of course, regular if you'd like!)
1 teaspoon garlic minced
1 package of Beyond Meat Hot Italian Sausage
1-2 cups spinach (optional if you don't want a leafy green. Kale would also be a great substitute!)
Parmesan to top (optional)
For full recipe and instructions go to Sift.