Business Ins & Outs: Cafe con Bagel, Citibank; &pizza
By
May 22, 2023
0
587
•
---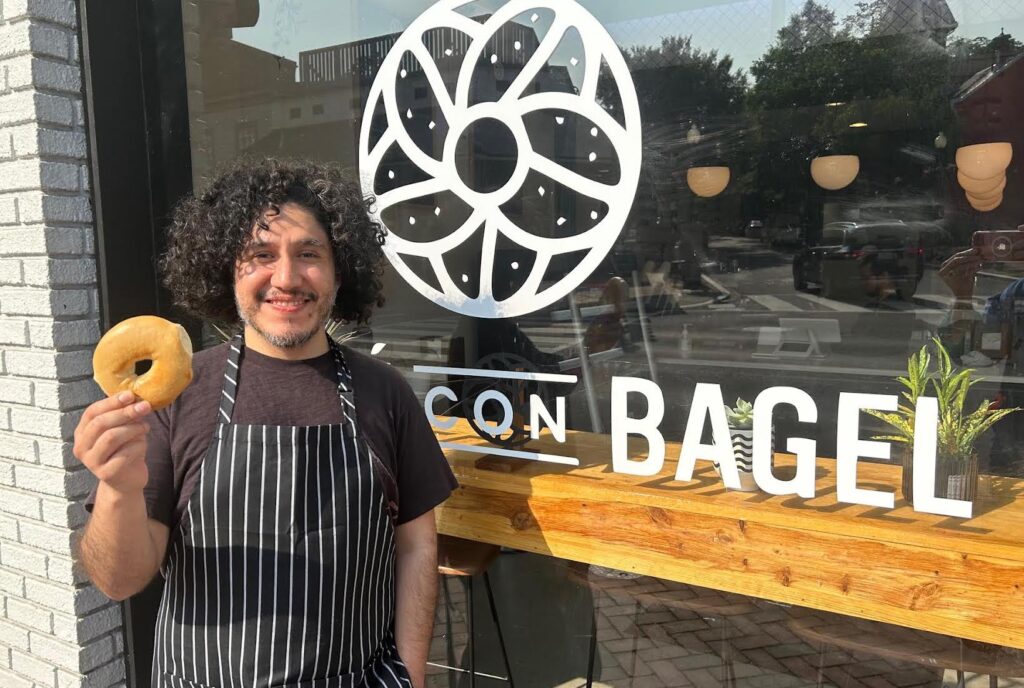 In: Cafe con Bagel
Owner Pablo Salazar finally got to open his coffee and bagel joint at 1332 Wisconsin Ave. NW in the former space for Petite Soeur and, before that, the Cookie Dough Jar and, before that, Beard Papa, a cream puff shop.
The business's motto is "In Coffee We Trust, On Bagels We Feast." The affordably priced menu includes lox and bagel, "A-ham" (ham, egg, American cheese and pepper jelly), "Pardoned Turkey" as well as pastrami, Swiss cheese, egg and avocado.
Salazar went to Kennedy High School in Silver Spring and hails from Bolivia. Before setting out on his own, he helped his parents with their cleaning business — and is also a musician.
Stop by and welcome them to the neighborhood.
In: Citibank Center to Replace Empty Gap
An expediter for the property owner and Citibank has submitted a conceptual plan to the Old Georgetown Board for a Citibank Center at 1258 Wisconsin Ave. NW, the former Gap space, next to Martin's Tavern. As first reported by the Georgetown Metropolitan (tell what you're really think, Topher), the stand-out white building will contain, among other amenities, a Citigold lounge.
The property owner is TI Asset Management, Inc., of Marietta, Georgia. No timeline for construction or completion was provided. 
The four-level historic building used to be called Forrest Hall, built in 1851. An assembly hall, it was used during the Civil War for offices and a prison. Mark Twain spoke there. It was the site of many community meetings.
Citibank is the main sponsor of the Washington Open tennis championship — which is also known as the CitiOpen. Citibank's parent company, Citigroup, has assets totaling more than $2.4 trillion.
Former EagleBank Converting to Eatery
Now that the Georgetown Branch of Eagle Bank at 3143 N St. NW has closed, renovations are beginning in the space. It will become another fast-casual eatery, according to business insiders. The address is situated between Cafe Georgetown and Dig at the corner of N Street and Wisconsin Avenue. (More details to follow.)
Out: &Pizza to M St. (?)
Last week, the &pizza at 1335 Wisconsin Ave. NW abruptly closed. The Georgetown location opened in November 2016 in the former Five Guys hamburger joint. The corner property was most famous for being Au Pied de Cochon (1976-2004), serving late night French food and the scene of a Soviet spy escape from CIA operatives in 1985.
The pizza shop will reportedly move down to M Street "near the Four Seasons," according to a note in the window, but no specific location has been provided. The move was prompted by flat sales during the evening hours, according to an employee.
&pizza (originally called H&pizza) was founded in 2012 by Michael Lastoria and Steve Salis, with the first shop opening in July 2012 on H Street NE. Headquartered in Washington, D.C., it boasts 36 locations along the East Coast.
Temporarily Closed: Dr. Martens
Dr. Martens, the iconic footwear brand and retailer supplying chunky shoes and work boots, has temporarily closed its store at 3108 M St. NW for renovation. The work is ongoing, and the retailer claims it will reopen in the summer.