New Stats about Georgetown Crime Shock Many
---
Crime in Georgetown is reportedly changing for the worse. Compared to the same time last year, Georgetown's total crime has decreased, yet there have been startling rises in violent crimes and burglaries.
Dating from May 23 to June 21 in 2011, violent crime increased in Georgetown by 233 percent and burglaries increased by 350 percent, compared to the same time in 2010. This dramatic increase has shocked local residents and has caused much concern.
Numbers are rising not just annually, but monthly as both burglaries and violent crimes increased from May to June: 100 percent for violent crimes, and 50 percent for burglaries. The spike was influenced by the seven robberies and three assaults with a dangerous weapon, even though Commander Michael Reese expected a dip in crime due to the arrests of four burglars.
The too-common property crimes in Georgetown decreased this path month compared to 2010 statistics but, unfortunately rose compared to May 2011. However, sexual assaults dropped compared to both last year by 100 percent and last month by 200 percent.
Last week at the Citizens Advisory Meeting, Reese did not comment about the new statistics because Chief Cathy Lanier was addressing the redistricting realignment issues.
'Next to Normal' Review
---
The Kennedy Center is currently hosting two very different productions that nevertheless call themselves Broadway musicals.
There's the big, splashy, big voice, big sets, big show, big bucks (theirs and yours) "Wicked" heading through August at the Opera House, with tickets as hard to come by as a debt ceiling solution. And then there's "Next to Normal," with big voices, but also with big ideas, a show horse of an entirely different color and progeny.
Both probably are indicators of where Broadway might be headed, a two-way street where there's room for both.
"Next to Normal" is such a surprise in content, intent and intensity that to call it merely a "musical" would be a serious understatement. More of a rock opera—most of the dialogue is sung in one way or another—it deals with a dysfunctional, contemporary American family struggling with its bi-polar mom at the center of its universe.
With such an inferno of psychological stress to deal with, there's not much room for fun and funnies, and only the barest of razor-sharp ironies and tight, to the point humor. But what you end up with is something entirely original and unlikely. A frayed Cinderella of a show which began as a one-song fragment, expanded to a full-blown show, had a difficult off-Broadway run and came to be part of an Arena Stage season two years ago. Returned to Broadway, won Tonys, and—a rarity—a Pulitzer Prize, and a Tony for its star, the amazing Alice Ripley.
Ripley is on hand for the road company now at the Kennedy Center's Eisenhower Theater and if you get a chance, (July 11 is closing time) go see "Next to Normal." It's heart-breaking, punch-in-the-mouth, astonishing theater.
Ripley plays Diana, a diagnosed bi-polar mom, former architect, and huge bundle of unpredictable and often destructive behavior which has the whole family on constant edge. This has been an over-a-decade life situation for this family—the infinitely patient husband, the gifted daughter who feels invisible, her astonishingly kind boyfriend, the son, and of course Diana, feverish, coltish, dramatic, desperate, sexy and fascinating in a glow-in-the-dark way that people with mental illness can sometimes be. She is the dark sun of the house, along with her dark son.
The folks who put this together have some experience with "serious" musical shows—Michael Greif directed the smash hit "Rent," a rock musical with a La Boheme touch on urban artists and their lives.
"Next to Normal," if it has antecedents, seems a stage cousin to "American Beauty," the dark, bitter, funny cinematic riff on suburbanites. But "Normal," with a book by Brian Yorkey and a rock score that's more like a condition and state of mind than tuneful or lyrical, isn't concerned with class, place or work. It's about a family caught up in an iron, tension-stress filled issue of illness and emotional crisis that's just plain ongoing. The solution is very American: medicate the patient and embrace denial like a fiend, and if that doesn't work, there's always electric shock therapy.
In the end, of course, this isn't social criticism or even a heavy dose of profundity with music: It's a show about emotional pain and secrets, and the cost in wear and tear over time. It's a tight night where you can't get away from the anguish that everyone's feeling, anguish we've all felt at some point in our lives over something. In "Next to Normal," we really feel their pain.
The music and Ripley are the keys here—it's not your normal Broadway score with recognizable songs and borders and cutoffs, not even next to normal, so integrated is the music into the life of the characters. While there's recognizable "songs"—"Just Another Day" sets the sparse stage and set, "I'm Alive" is a defiant lament by the son, "Hey" is a touching, very now love song for the daughter and her new friend – the score keeps insinuating itself like another character.
Ripley has pretty much owned the part of Diana since she took it over on Broadway, and it appears to have taken a toll on her voice, which is now rich with rasp, as well as a capability to hit long and high notes, she now seems to sing the way people talk under stress. Asa Somers as her husband Dan, Preston Sadler as Henry, Curt Hansen as Gabe and Jeremy Kushner as two different shrinks are all emotionally affecting, but that's especially true of Emma Huton as the daughter, who gets richer and better through the course of the show.
You won't be dancing when you come out, or defying gravity. You might be a little shaky in the knees after a night with "Next to Normal." But that's a good thing. It's practically next to normal.
BID Members, Friends 'Come Out and Play' at Swedish Embassy
---
Board members, staff, friends and business leaders met June 9 for a lively annual meeting of the Georgetown Business Improvement District at the House of Sweden on the edge of the Potomac. The main event was the unveiling of the redesigned BID website and a new logo and tagline for the merchants of the town – "Come Out and Play" – as well as staff, safety and finance reports. Along with Design Cuisine finger food, guests later got those cool brown swag bags with the new logo and enjoyed desserts from Sprinkles Cupcakes on M Street and Georgetown Candy on Wisconsin Avenue. Sweet! [Editor's Note: See GT Observer in this issue for news on the BID update.] [gallery ids="100065,106149,100066,100067,100068,100069" nav="thumbs"]
DC Tops the Charts Again
---
According to an article in the Atlanta Business Chronicle, Washington DC ranks 3rd in the nation as a city with the best opportunities for young people ages 20 through 30. The research methods looked at 65 metro cities (over 800,000 in population) and used a 10-part system to mark areas with large amounts of young people with careers, strong grow rates and a reasonable cost of living. The top ten for this year are:
1.Austin
2.Houston
3.Washington
4.Raleigh
5.Dallas-Fort Worth
6.Boston
7.Oklahoma City
8.Salt Lake City
9.Seattle
10.Baton Rouge, La
A fair guess to Washington's success is all the internships available which can provide great networking opportunities, open doors and lead to employment offers. Politico estimates that DC had over 20,000 interns in 2009 and that the numbers are continuing to rise.
Cities that did not land high on the list include Riverside-San Bernardino, Calif, Detroit and Atlanta due mostly to the lack of employment opportunities.
Tudor Place Faces Review by ANC and OGB
---
Tudor Place Historic House and Garden's expansion plans moved a step forward this week as new preliminary building plans were reviewed by ANC2E and the Old Georgetown Board.
At this Tuesday's ANC2E meeting, Tudor Place Executive Leslie Buhler presented changes made to the site's preliminary plans for expansion. These changes were made in response to recommendations made by the National Park Service, which holds an easement on the 5.5 acre property. First, the proposed education center on the North side of the property has been moved off of the easement line. Second, the proposed gatehouse to be built at the 31st Street entrance has been moved from the North side to the South side of the entrance.
Neighbors of Tudor Place, a group of about sixty neighboring homeowners, still oppose the current preliminary plans. One of these neighbors, Outerbridge Horsey, voiced a number of concerns at the meeting, including the height of the buildings and the number of trees that would be cut down in the construction process. The property is covered by 75 percent canopy.
The Neighbors have proposed alternative plans that would minimize the visual impact of the buildings.
On Thursday morning, the preliminary plans were reviewed by the Old Georgetown Board. Leslie Buhler says that the Board's criticism was "very constructive," and that Tudor Place is eager to move towards the design phase.
Thunder Burger Gets Wild
---
Need something more exotic in your meat life? Tired of the same old, steak, ribs, hamburgers, and chicken breasts? How about half-pound ostrich burger with figs and elderflower jam or rattlesnake fritters? Have some kangaroo slider hop right in your mouth because every Wednesday at Georgetown's rock-n-roll burger joint, Thunder Burger and Bar is offering some avante-guard options for the meat-adventurer.
"Wild Wednesdays at Thunder Burger and Bar" has officially started and taking burgers to new and exotic places by offering a new meat-opening items each Wednesday to try. Rumors of kangaroo, rattlesnake, and antelope will grace Wednesday menu each week, changing up the status-quo burgers and fries combo.
Don't worry Georgetown, they are not letting the wild animals loose on M Street; chefs have found specialized exotic animal food farms to get their meat from. Excited about the variety, Thunder Burger and Bar keep pushing diners to try something new.
So no more 50's roller-skating waitresses and double-straw milkshakes. Burgers are now about hardcore rock-n-roll: black leather, studs and exotic meats. No fear in Thunder Burger and Bar about but, still they have some of the best tasting burger in Georgetown… Just with a more wild side.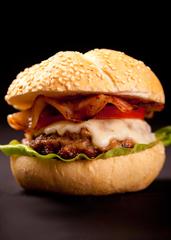 Georgetown Connected Via Metro… in 2040
---
According to The Washington Examiner, and following blogs, the Brown Line proposal is getting more attention from Metro Officials. The Brown Line proposal would connect Georgetown to the rest of Washington via the Metro. The plan is to connect Friendship Heights to downtown, then to Silver Spring and White Oak.
While the plan has caught some officials' eyes, nothing too serious has been planned: no funding, no engineering, no construction, yet. The goal is, by 2040, to have efficiently expanded the Metro to accommodate the vast growth of Washington and make travelling throughout the city much easier. Metro officials are not very interested in opening completely new lines; they would rather expand current ones in order to be more efficient and cost effective. Officials last Wednesday proposed the plane to regional officials, and are going to survey riders' opinions during the month of July.
On estimation, the Brown Line would add about 20,000 more daily trips on the Metro, and increase Washington and Arlington residential travel from 70 percent to 74 percent, according to the Georgetown Metropolitan.
A different plan for adding Georgetown to the Metro map calls for splitting the Silver Line, another line that is in proposal status. Studies concluded that this proposal would have fewer riders than the Brown line, especially from Arlington residents because of the few stops that it would have in that area.
However, even with all this talk, there is no need to worry about up-coming delays; the goal deadline is 2040, so proposals are still in infancy. Metro officials are trying to consider every option possible first before beginning projects so that they will be cost efficient and least stressful for riders during construction.
A Neighborly 4th of July for Georgetown
---
Whether you attended the reading of the Declaration of Independence at the National Archives or the parade along Constitution Avenue, the hometown parade along MacArthur Boulevard is also a favorite of Georgetowners. Add to that list the Citizens Association of Georgetown's July 4th celebration at Rose Park, kicked by a sidewalk parade of toddlers around the block. The Image Band provided music and opened with a reggae "Star-Spangled Banner." Sprinkles cupcakes, Häagen Dazs ice cream, a pie-eating contest and tug-o-war: what's not to like? Later, many a Georgetown rooftop held groups cheered by the fireworks from the National Mall for America's 235th birthday. [gallery ids="100224,106399,106425,106421,106404,106417,106413,106409" nav="thumbs"]
Weekend Round Up June 1, 2011
---
With the weekend around the corner, it's the perfect time to start planning your weekend activities!
SAVOR: An American Craft Beer & Food Experience
June 3rd, 2011 at 07:30 PM
$110 General Admission
julia@brewersassociation.org
Tel: 303-447-0816 x113
Now in its fourth year, SAVOR returns to Washington, D.C. as the benchmark of beer and food events, is a must-attend happening for beer lovers and foodies alike.
Attendees will sample craft beers from 72 small and independent craft brewers who team up with expert chefs to pair each craft beer with delicious savory and sweet dishes. Educational salons & private tasting salons will provide additional opportunities to interact with some of America's most talented craft brewers and chefs.
National Building Museum
401 F Street NW
Washington, D.C. 20001
Lake Anna National Open House Day
June 4th, 2011 at 11:00 AM
June 4th, Vicki Johnston will be participating with other local realtors in the 1st annual Lake Anna National Open House Day! Hours are from 11 am to 3 pm and just about every waterfront and water access house for sale at Lake Anna will be open for your viewing pleasure.
Complimentary Boat Tours
Join Dockside for a complimentary boat tour of Lake Anna following the open house event. Since our Spring Flotilla got washed out a few weeks ago, we are looking forward to firing up the boats and showing guests how beautiful Lake Anna is from the water.
For more information visit www.vickijohnston.com
Location:
Lake Anna, Virginia
Live Jazz at Historic Henley Park Hotel
June 4th, 2011 at 07:30 PM
No Cover Charge, No Minimum
Tel: 202-638-5200
Nancy Scimone sings lively jazz and lush ballads by Mercer, Berlin, Jobim, Gershwin and Ellington. She's sung at the Kennedy Center, Twins Jazz, Carlyle Club and sparkles on the intimate stage of Henley's Blue Bar Lounge. Cozy tapestry seats and ambiance for conversation or listening. Classic cocktails, extensive wines, shareable small plates (tuna au poivre, pear bread pudding.) 7:30-11:30 pm Near Metro www.HenleyPark.com 202-638-5200 A prestigious member of Historic Hotels of America.
Address
The Henley Park Hotel
926 Massachusetts Ave. NW
Washington, DC 20001
Find more event on our Calendar
Waterfront Gets Wet n' Wild
---
The Georgetown BID sponsored the re-opening of the Georgetown Waterfront Sunday, after last April's rain caused flood damage. The celebration consisted of food, live music, games, and a watery war.
The highlight of the festivities was the water balloon toss. Teams of two attempted to throw their balloons back and forth without getting soaked. After many rounds of toss matches, the joyful crowd made a splash, grabbing the reaming balloons and turning it into an all-out water balloon battle.
Georgetown BID Executive Director, Jim Bracco, believes the event will successfully bring guests back to the waterfront area. "This really was a great event, just a great day, and I'm happy," he siad. "I'm dry."
To watch a video recap of the revelries, click here.